Chichester Open Studios!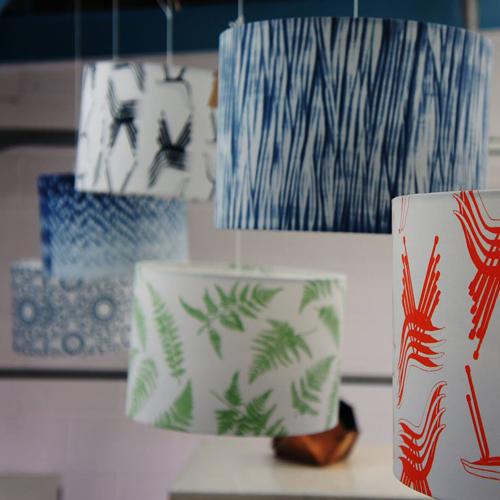 We are thrilled to be taking part in this year's Chichester Open Studios Art Trail. 119
venues are opening their doors to 155 local artists exhibiting a wide range of work in and around the city of Chichester, West Sussex.
The two of us here have been working hard putting together a body of our own work to exhibit in the Handprinted Studio.
We've got examples of all of our favourite techniques: screen printing, linocut, woodcut, indigo shibori, batik, drypoint and cyanotype in framed prints
as well as in the form of lampshades, bags, tea towels, garments and sketch books!
We opened last weekend on the 30th April and will be exhibiting again this weekend on the 7th and 8th May.
Some of our new range of lampshades and garments, all hand printed and dyed by Shirley and Holly.
'Branches' – a linocut by Shirley
Screen printed sketch books with Shirley's designs.
'Flight' – a two layer photographic screen print by Shirley
Our lovely Adana press tucked in the corner with four of Holly's botanical drypoints and one of Shirley's cyanotypes.
There are plenty of additional prints in the browser!
'Venetian Door' – a five layer reduction linocut by Holly
Screen printed tea towels featuring Holly's 'Polyprop' and 'Fern' designs
Screen prints by Holly – 'Botanical' and 'Hydrangea'
Please pop by and see us this weekend if you are in the local area! We are venue no. 59 on the map at Handprinted, 22 Arun Business Park, Shripney Road, Bognor Regis, PO22 9SX.