Jigsaw Linocut with a Rainbow Roll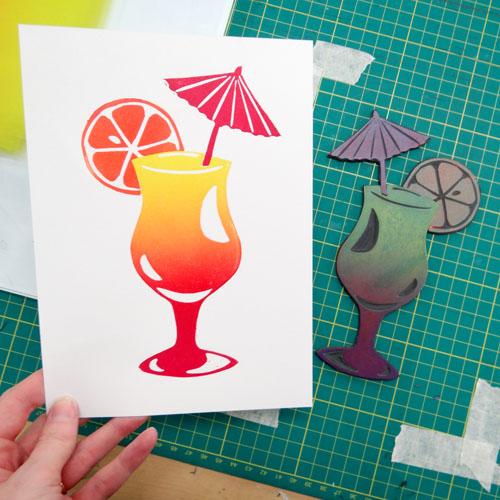 A rainbow roll is a great way to easily add a beautiful range of colours to a linocut. This project uses only two colours to create a range of shades,
all in one printing layer. 
We are using the jigsaw linocut technique to give us areas of different colours. We want our background to be completely white so instead of carving it
out let's cut it out!
Japanese Vinyl is a lovely block to carve – it has some resistance like traditional lino but allows you to glide around carves very easily. It's also soft enough
to cut with a scalpel – perfect for jigsaw linocuts.
Begin by carving around the edge of your shape with a V gouge. We're using Powergrip Tools which glide beautifully through this vinyl.
The V shaped groove creates the perfect line in which to run a scalpel. 
You'll need to cut through the vinyl a few times before getting through to the other side. Be careful and don't press too hard.
Use the scalpel to careful cut apart the separate pieces.
Carve finer details into the different shapes. The small U gouge is perfect for this. 
The larger U can be used to clear areas. 
The pieces should easily slot together.
Now we're ready to create a rainbow roll. We're using Caligo Safe Wash Relief Inks in Process Magenta and Process Yellow. The process colours are designed to mix to create a wide spectrum
of shades.
Place a small blob of each colour of ink a little apart on an inking plate. Don't place them as far apart as your roller width as we need room for it to
spread. We want a thin suede-y layer of ink that doesn't sound squelchy.  
Gradually bring down the ink and begin to roll and spread it out. The colours will start to meet in the middle. Slightly adjust your roller's position
left and right to encourage a blend. The more you more the roller from side to side, the more of the blended colour will fill the centre. Have the
size of the lino in mind if you want to print with the full spectrum of colours in your rainbow.  
Use the rainbow roller to roll a blend across the lino. 
We mixed an orange from our Process Magenta and Process Yellow inks and used a separate roller to ink up our orange. 
The parasol was inked up with a smaller roller in Process Magenta mixed with a little Extender. 
Place the lino down onto a board. You may want to use registration marks such as these masking taped corners. 
Slot the pieces together, trying not to touch the inked surface. 
Place the paper down on top and use a baren to take a print. Press hard all over the back of the paper making sure not to miss any areas of lino. 
Lift the paper to reveal a print!
The blocks can then be taken apart, re-inked and re-printed. 
For this project you will need:
Japanese Vinyl (or a carving block of your choice)
Pencil
Anti-slip matting (optional)
Cutting Board
Scalpel
Masking tape (optional)