Meet the Maker: Alexandra Buckle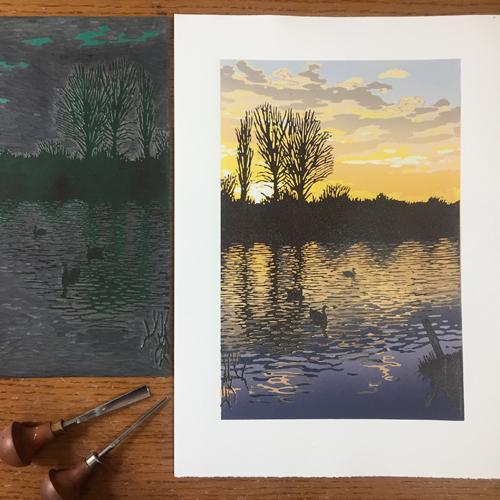 I've always been creative and I've dabbled in lots of techniques in the past. When I graduated from a Design: Crafts degree in 2004 I was making and selling silver jewellery and I also painted.
I happened across the reduction lino technique in 2010 and I've not really looked back. I've been a full-time professional printmaker now for seven years.
I work from my home studio in Bicester and live with my husband Ben, who is a game developer and also working at home, and our dog Dora. We enjoy taking
Dora for nice walks to get ourselves out of the house. I often find inspiration for my prints from places we walk regularly.
Describe your printmaking process.
I love reduction lino. This relief printing method relies on logic and methodical working. It is a multi-layered printmaking method involving cutting and
printing several layers of colour from just one block in order to build up an image. Mistakes cannot easily be rectified and the block is destroyed
in the process. Hopefully, at the end of the process, you have something lovely printed on the paper to show for your efforts!
How and where did you learn to print?
I did a workshop in the technique at an art school in Buckingham where I was doing weekly painting classes. I had done one colour lino printing before
but never saw much potential with it, the idea of printing several layers of colour fascinated me, so I had to give it a try.
I fell in love with the method straight away and practised it more at home. I have since tried other printmaking methods such as drypoint and collagraph
but I still love lino the best.
Why printmaking?
For me, reduction lino simplified the process of painting an image as it encourages you to select fewer colours and consider shape, form, line and negative
spaces. It suits my methodical brain and married together and satisfied both my painting and crafting urges.
Where do you work?
In our previous house, I was printing on the dining room table. Fortunately, in 2012 my husband and I were able to move to a larger house and I then had
enough space to create a home studio for myself to enable me to develop my work further. Initially the room was set up for painting, jewellery making
and printing, but eventually the printmaking took over the other disciplines. I have enough space to work comfortably and most importantly, to leave
everything out. I also have room to offer private lino tuition for up to two people at a time.
Describe a typical day in your studio.
I'm not sure I ever have a typical day… One week seems to vary from the next. I don't seem to have much of a routine! I do find that by the time I have
got the 'other' jobs complete I often end up printing in the evening.
Most days do start slowly with plenty of coffee…
How long have you been printmaking?
I did my initial reduction lino workshop around nine years ago. I was very fortunate in 2011 and 2012 to have my early linocuts selected for the Royal
Academy Summer Exhibition. Encouraged by this success and the favourable response my work was getting, I began to concentrate solely on the printing.
I do still paint and want to do more, but I don't really miss the jewellery making.
What inspires you?
I love changes in weather and season on the landscape. Most of my works feature scenes that are quite local to me. Woodland pieces were my first love,
but I also enjoy scenes with water and reflections. Flowers also feature occasionally.
With all subject matter, I look for interesting colour combinations and contrasting light that will create a dramatic effect.
What is your favourite printmaking product?
I love making use of simple items. I raid the kitchen a lot – I find silicon spatulas essential for mixing colours; I use glass placemats to roll my ink
onto, and wooden spoons are great for burnishing smaller works.
It would be unfair not to mention my press,
it's made by Abig and enables
me to create my larger work at home. Is that my favourite product…? I'm not sure it is – perhaps my durathene brayers are my favourite items or my
Pfiel cutters…
What have you made that you are most proud of?
I recently completed a large linocut of the Southbank in London, titled 'Southbank Puddles'. It's a scene I have tackled a few times already but not at
this scale. The printed area of this large piece measures 60x40cm.
I enjoyed cutting the straight lines of the paving mixed with the less structured areas of the puddles and reflected trees. I'm pleased I managed to capture
the look of the water on the pavement.
Where can we see your work? Where do you sell?
I sell a lot online, but also do lots of exhibitions, open studio events and have work in galleries. I'm based in Oxfordshire and Buckinghamshire mainly.
I am a founder member of the Buckinghamshire Craft Guild, which consists of around thirty craftspeople from the county who share the responsibility of
manning a permanent shop space in Stoke Mandeville.
I also sell with Claydon Gallery in Bucks and Wychwood Art in Oxfordshire.
I currently have pieces in a fabulous exhibition in Cumbria called The Great print Exhibition, this runs until February 2019. Some on my small works feature
in the Red Dot Art mini print exhibition which is touring several locations into 2019.
I will be taking part in two open studio events this year, Oxfordshire Artweeks in May and Bucks Art Weeks in June.
What will we be seeing from you next?
I am planning a few more colourful woodland scenes and also want to add to my Lake District series. I like to push the boundaries of what is possible with
lino with every print I do (which makes life a little hard for myself at times) but I never want to feel that I am not progressing, improving or challenging
myself.
Do you have any advice for other printmakers and creatives?
Don't listen to other people's advice!
I spent a lot of time when I was fresh out of university trying to take other people's business advice, later realising they didn't necessarily have that
much insight. Try things for yourself, find out if it works for you, if it doesn't try something else.
Be particularly wary of anyone telling you 'you should create more of this' or that or the other… If you enjoy creating it, carry on, if people enjoy
buying it, even better.
And please feel free to disregard my advice… what do I know? Just because it worked for me doesn't mean it will work for you.
For information about events, lino workshops, work for sale, or to sign up to my mailing list, visit www.alexandrabuckle.co.uk
I also sell on Artfinder www.artfinder.co.uk/alexandra-buckle
Follow me on
Instagram.com/alexandra.buckle
Facebook.com/AlexandraBuckleArt