Meet the Maker: Amanda Roseveare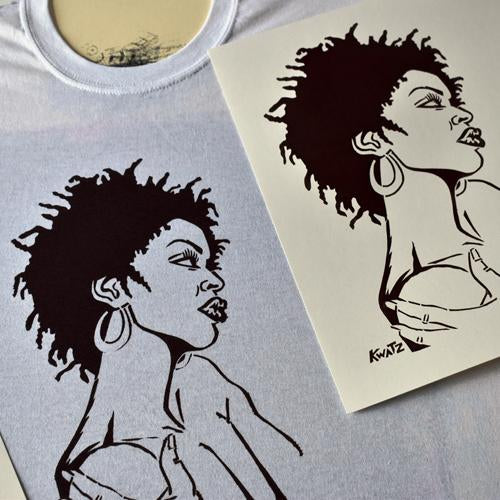 I am a painter and printmaker living in East Yorkshire. In the early 1980s as a young frustrated artist, I started to screenprint my art onto T-shirts which developed into a small business, Kwatz T-shirts. After a few years and a move abroad, the business was 'mothballed'. Forward 30 years, in 2018 I decided to re-visit and re-started Kwatz with a small collection of African inspired designs which has grown to include some pop and jazz icons.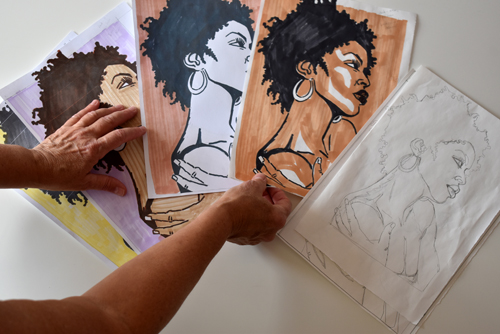 Describe your printmaking process.
I do my thinking on paper making thumbnail sketches, using the printer to reduce or enlarge designs. I use layout paper, felt pens and a lightbox to trace and try different layouts and colourways before I commit to a final design. I trace the outline and cut the first paper stencil using a sharp scalpel. The stencils are very delicate and this limits the number of prints I can do from each one. I like to break screen printing rules and print the darkest colour/outline first, which acts as the registration guide for successive colours. The screen is handheld, and registration is done by eye. It's a very lo-tech, portable and a simple but effective process. I use a water-based binder and colour system for printing on fabric. The inks are transparent and make lovely new colours when overprinted.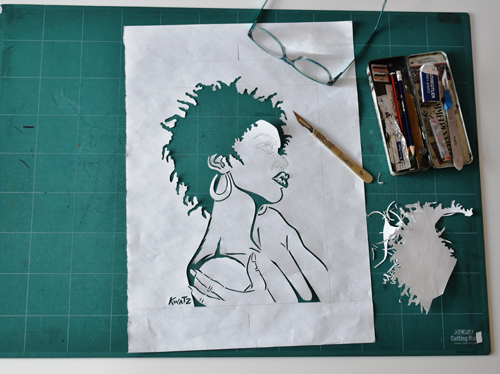 How and where did you learn to print?
I studied graphic design at what was Newcastle Polytechnic. I didn't fit the typical graphic designer mould but felt at home in the print rooms and fell in love with screen printing. To this day I am my own harshest critic and try to print the best that I can.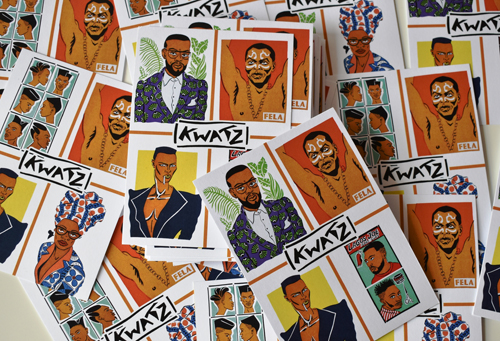 Why Printmaking?
I like the physicality of printmaking. I enjoy the tactile act of cutting lino, inking up the block and the reveal, the smell of ink and the feel of paper. I love the immediacy and flatness of a screen print, the fact that you can produce multiples – it's a very democratic form of art. Once set up, what can start out as a humble idea can be transformed into something quite powerful, prints give off certain energy and aesthetic that appeal to me and suits my own graphic style.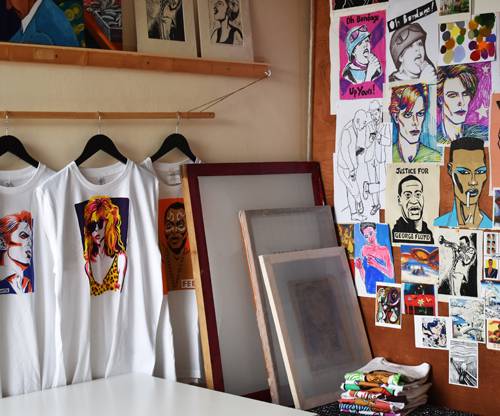 Where do you work?
I work in a large spare bedroom converted into a studio upstairs in my home. The light is great, and I can wash out my screens in the shower.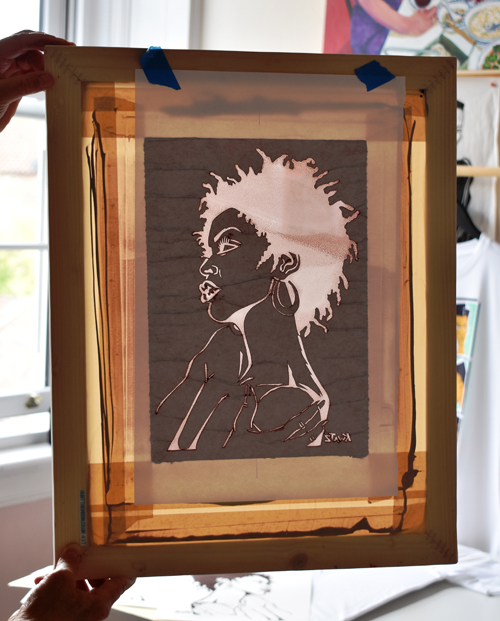 Describe a typical day in the studio.
There isn't a typical day, I could be finishing a piece of work, or having a big tidy and clean up before starting a new project. There might be admin jobs, packing and posting orders or ordering supplies. I spend a lot of time thinking, researching and planning future work. I like to be solitary.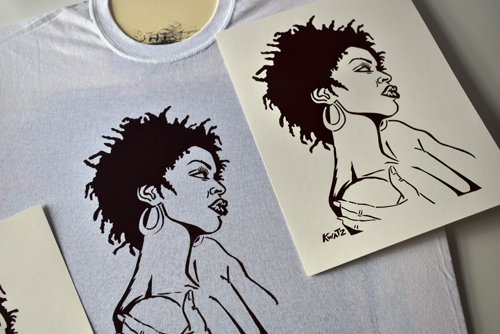 What inspires you?
Travel, people watching, street art, films, fashion, music, Japanese and Chinese prints, African art and textiles. I have a big collection of art and textile books which I couldn't live without. I try to create special, desirable work that people want to wear, based around the images and cultural references that influence and inspire me – from art, music and pop culture to politics. A great T-shirt graphic can give an instant insight into the wearer, the more unique the better.
Artists that inspire me; Matisse, Picasso, Barbara Rae, Margaret Kilgallen, Paul Peter Piech, Sister Corita Kent, the art of the Black Panther movement, Russian Revolutionary art.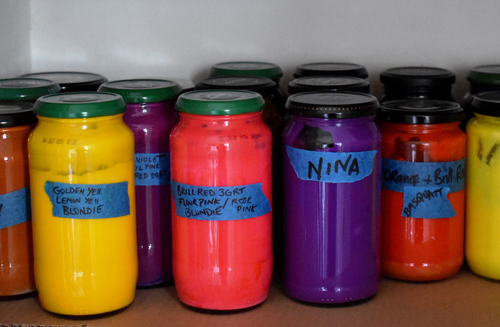 What is your favourite printmaking product?
Water-based inks for screen printing. I use Selectasine pigments and binder for fabrics, a little goes a long way. I have favourite screens and squeegees that I have had for decades. When lino printing I use Caligo safe wash relief printing inks, Pfeil cutting tools and soft paper, like Japanese HoSho.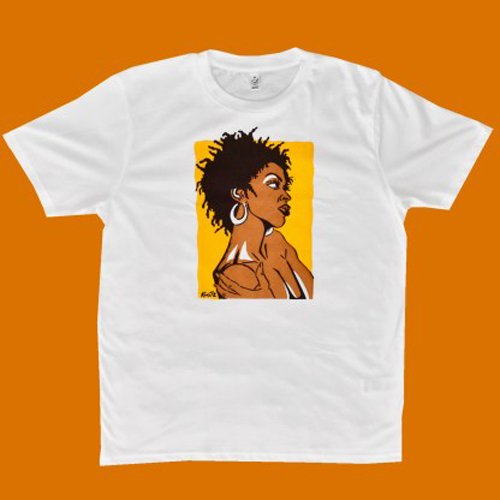 What have you made that you are most proud of?
The T-shirt designs I produced for the Anti-Apartheid Movement during the 1980s and early '90s, some of which were adapted for use as backdrops at the Nelson Mandela 70th Birthday Tribute Concert at Wembley Stadium.
Where can we see your work?
On my website, Instagram and a great indie gift shop based in Leeds. York River Art Market, local Maker's Markets, Pocklington Area Open Studios, unfortunately, all cancelled this spring/summer.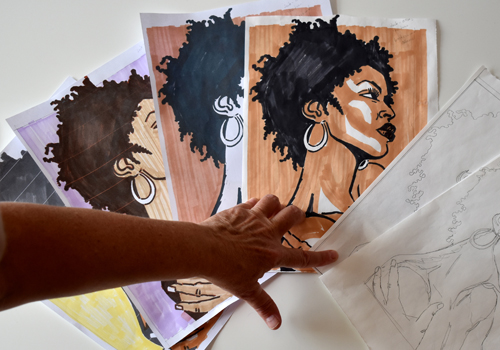 What will we be seeing from you next?
I am constantly developing new designs to join the T-shirt collection. I'm often asked if I sell screenprints on paper but the inks I use are not suitable. I recently bought some Daler Rowney System 3 screen ink to try out with different weights of paper to see what results I get. I'm going to add a small edition of my 'Grace Jones' lino print to the Kwatz shop soon.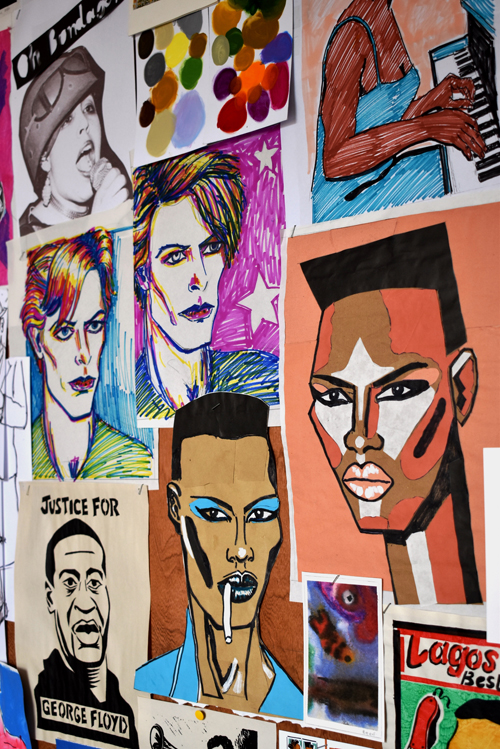 Do you have any advice for other printmakers and creatives?
Follow your own impulses. Printmaking rules can be broken. You don't need loads of equipment to be able to produce something beautiful.
To see more from Amanda follow her on Instagram!