Meet the Maker: Anita Klein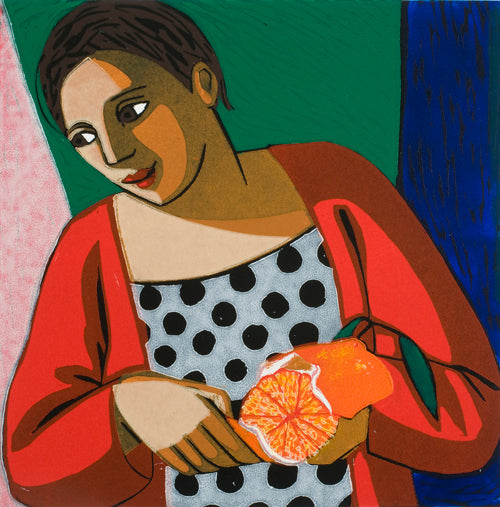 Hi, I am a painter and printmaker working in London and Italy.
Describe your printmaking process.
I use almost all printmaking processes and choose between techniques depending on the type of mark that suits the picture I want to make. At the moment I am mostly working in linocut, but I also use drypoint, screenprint, lithography and wood engraving and woodcut.
How and where did you learn to print?
I did a year's foundation course at Chelsea School of Art in London, then a four year degree in Fine Art (painting) at the Slade School of Art. While I was an undergraduate at the Slade I was introduced to the postgraduate printmaking department and learnt lithography, woodcut, etching and drypoint. I then did a 2 year postgraduate MA in Printmaking, also at the Slade.
Why printmaking?
I am essentially interested in drawing, and to start with, printmaking was a way of legitimising drawing, which I felt was only considered a preparation for painting rather than a finished work of art. However I quickly became excited by the mark-making potential of different print techniques.
Where do you work?
My print studio is in Bermondsey, central London. I paint in a small room in a flat in rural Tuscany where I can be completely alone to play and experiment with my work.
Describe a typical day in your studio.
In London I usually start by replying to e-mails and messages. Then I either draw in my sketchbook or work on cutting lino, wood or aluminium for prints. For my linocuts, I cut one piece of lino at a time, starting with a layer to be printed in black and white. Then I cut separate colours to be printed on top, using transparent inks to use the black underneath as shadows and lines. I respond to each layer, cutting the next layer to go on top, like building up a painting.
How long have you been printmaking?
More than 40 years. Last year a book about my prints was published in London by Art Books Pubs called Out of the Ordinary – 40 Years of Printmaking
What inspires you?
My everyday life. My work is like a visual diary. I am mostly concerned with celebrating the small moments of ordinary life.
What is your favourite printmaking product?
I like my Japanese cutting tools and vinyl, and also Graphic Chemical company Easywipe which helps make my oil-based inks more transparent and easy to use.
What have you made that you are most proud of?
Sometimes I feel proud of the last thing I've done, but often that is a bad sign! It's very difficult to judge your own work, so I try to just move onto the next thing without judging too much. Having said that, it was very satisfying to see that my 40 years of printing over 1500 different prints have made one big story!
Where can we see your work? Where do you sell?
Eames Fine Art sell my paintings and prints and have recently published a complete catalogue raisonne of my prints. You can also see all my work, plus videos of the studio etc on my own website.
What will we be seeing from you next?
In the past couple of weeks I've been working on a large linocut called The River, and a large screenprint which will be published by Atelier Ji called Maggie in Autumn
Do you have any advice for other printmakers and creatives?
Not really, everyone chooses this life for their own reasons. But I suppose I'd say keep experimenting, and try something new, especially if it seems unlikely to succeed.
To see more from Anita, follow her on Instagram.