Meet the Maker: Cal Russell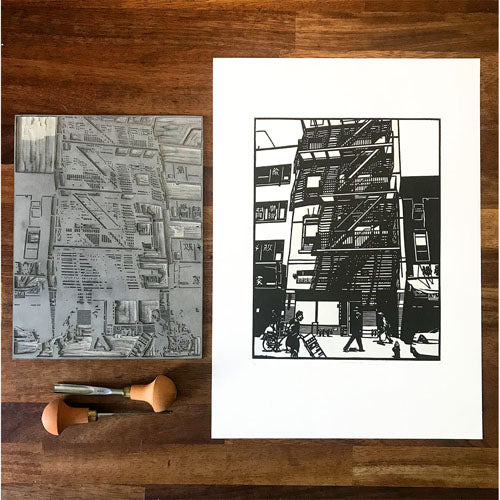 I'm an artist living in Edinburgh working mainly in papercutting and linocut printmaking. I studied Illustration at Falmouth School of Art and did a Masters in Contemporary Art at the Edinburgh College of Art. I mostly work independently and sell my prints and originals online or through exhibitions, galleries and art fairs, and I occasionally do freelance or commissioned work too. I work part time in an art gallery and fit my own art making around that in my home studio.
Describe your printmaking process.
Typically my works are based on my own photos, and are monochrome. I print my photos, overlay them onto 2 sheets of paper, and cut out all the negative space with a scalpel. Now I have 2 papercut stencil versions of the image - one to keep as the original artwork, and one to use as a stencil to transfer the negative image onto the lino block using spray paint.
Then I do the usual lino printing process - carving, inking, burnishing and revealing the image. I do my printing by hand using barens and a wooden spoon, but it can be quite laborious and I may have to invest in a press soon!
How and where did you learn to print?
I have been papercutting for 10+ years making my monochrome urban architectural images, but it wasn't until the lockdown in 2020 that I started lino printing. I had previously tried screen printing but never quite got into it, so while looking for ways to start making editions of my papercut pieces from home, and with the extra time on my hands I decided to get some lino equipment. I already admired lots of relief printmakers artworks and so I learned by a combination of studying their works, watching YouTube videos, and experimenting with the tools and techniques myself.
Why printmaking?
Initially I got into printmaking purely as a way of making copies of my papercut images, but I soon fell in love with lino cutting and printing as a process in itself. I adapted quickly from cutting paper to cutting lino, and really enjoy the fact that working with lino is so DIY and direct, and apart from some carving tools, a roller, and a wooden spoon requires no specialist machinery, or chemicals like other printmaking.
While I still love papercutting as a technique it can be quite restrictive and I'm now slowly but excitedly embracing some of the other possibilities that working with lino can provide.
 Where do you work?
I'm lucky to have a little studio space in my flat and so I work there. Sometimes I miss the shared studio environment but I think being in my own space allows me to really focus in on the work without too many distractions.
Describe a typical day in your studio.
I'll get up, have some breakfast and take coffee to my desk at around 9 or 10 to start on whatever work I'm in the middle of. If I'm papercutting or lino cutting I like to get started straight away. I try to do my cutting work in 45 minute stints, before a little break to stretch and give my eyes a rest, as it can be quite strenuous. I'll listen to podcasts or audiobooks all day as music can be too distracting when trying to focus on carving.
In my breaks I'll do general admin bits like packing and posting Etsy orders, replying to emails, social media posting etc.  At lunch I'll maybe go for a walk to get some fresh air, inevitably end up with some unnecessary junk/treasure from a local charity shop before coming back to continue working until about 7.
How long have you been printmaking?
Since May 2020.
What inspires you?
Cities, urban landscapes, architecture, other artists.
What is your favourite printmaking product?
My wooden spoon is the most useful and reliable product!
What have you made that you are most proud of?
Maybe my Brick Lane lino print, or one of my large A3 papercuts
Where can we see your work? Where do you sell?
My Instagram page and my Etsy page.
I have also made some exclusive prints and papercuts that are available through Nelly Duff Gallery in London, or on their website. 
What will we be seeing from you next?
I've just started going through a huge backlog of photos that I've been meaning to get around to for a while. I'm currently working on some Glasgow based images.
I'm slowly trying to incorporate colour into my work, and try some more multi block images so we'll see how that goes!
Do you have any advice for other printmakers and creatives?
Stay creative, try lots of different things, keep your eyes and ears open. Keep at it!
To see more from Cal follow him on Instagram.