Meet the Maker: Charlie Evaristo-Boyce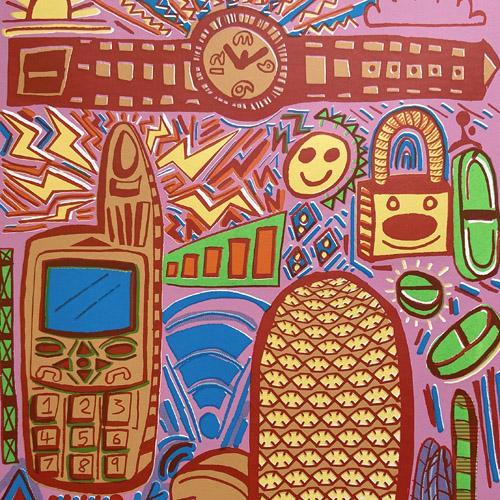 Hi, my name is Charlie Evaristo-Boyce. I'm an artist from Margate who runs an online art gallery.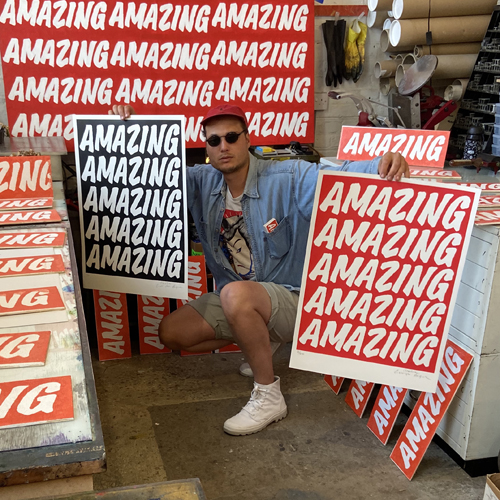 Describe your printmaking process.
My printmaking process revolves around screen printing. I use the process to make my bright and fun artworks. When I first started making prints a lot of my inspiration came from found images but as my work developed, I started to incorporate photography and more recently illustration.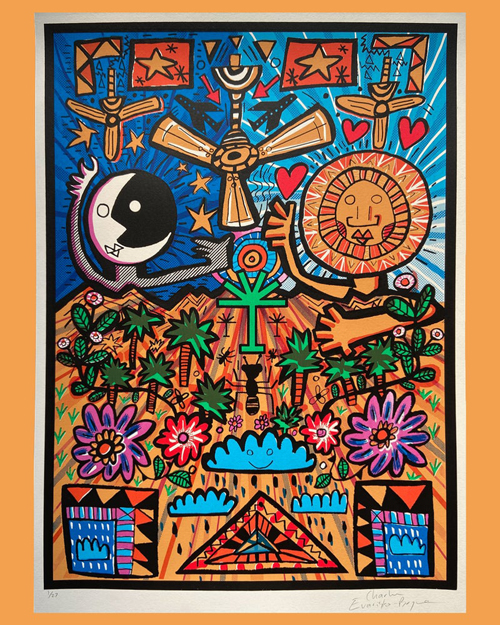 How and where did you learn to print?
The first screenprint I made was when I was at college it was very simple and made from cut out stencils, this got me hooked and halfway through my fine art degree at UCA Farnham I really started to explore and experiment with the process. My print tutor Tony Lee had a very relaxed hands-on approach to teaching. The print room, which was shared with the textiles department, was of a high standard and slightly underused. This gave me free rein and a lot of space to experiment with. I made large scale installations, printed on a range of different materials and made silkscreen paintings. At first, a lot of my prints were appropriations of commercial graphics, dissecting these images was great for learning about layers and different print techniques.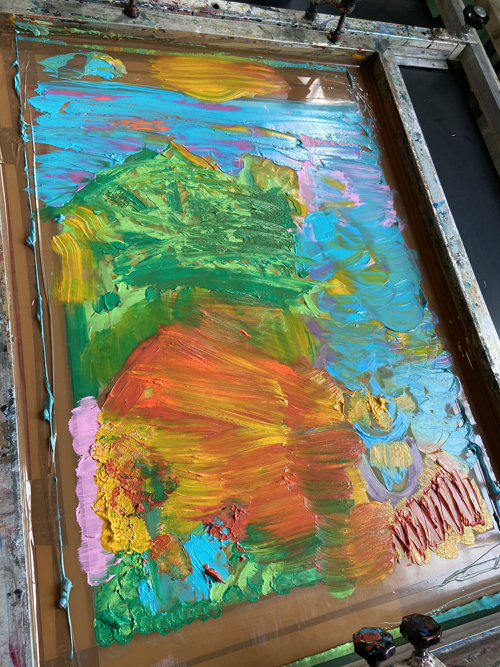 Why printmaking?
Print became my preferred means of making when I realised that the artworks I was producing with it were close, if not almost identical to, the ideas I was having. Other processes like painting and sculpture sometimes altered my ideas, clouding my original vision and becoming something else completely. That's why I always returned to the familiarity of printmaking. When I produced my pop art inspired prints, they had a zing to them and seemed to jump out of the surface they were printed on. The crisp bold lines and flat bright colours were appealing to viewers, and after selling a few prints at an exhibition it became clear that this process both satisfied myself and people who were looking for affordable high-quality handmade art.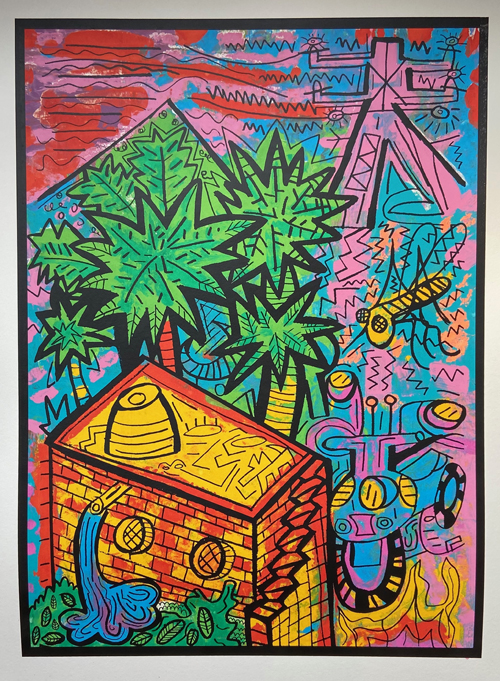 Where do you work?
I work out of Resort Studios in Margate. Within the studios is Hello Print Studio which is a fantastic print room which can facilitate multiple processes. The print studio is run by Nick Morley who is an exquisite illustrator and linocut expert (he wrote the book on it). The print studio is home to many amazing local artists, who all provide creative conversations and diverse inspiration. With 24-hour access for members, I'm often found printing into the night whilst jamming to tunes.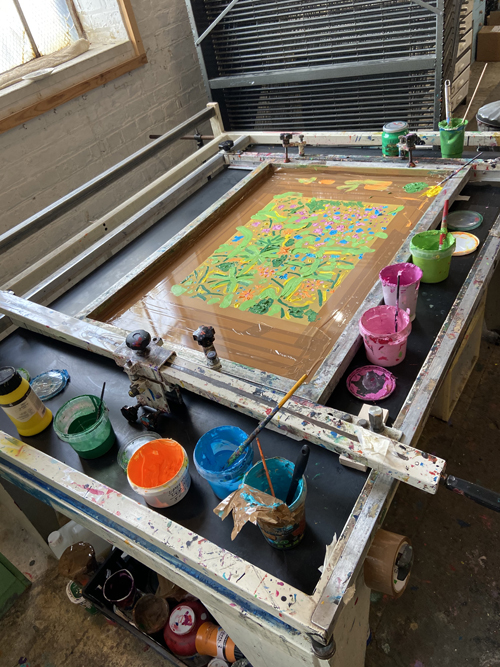 Describe a typical day in your studio.
On a typical day, I cycle down the road to my studio, it's not far but cycling is always quicker. There are usually 3 types of days. There is a lot of 'Art Admin' which can be managing and fulfilling orders, sourcing materials and generally just figuring stuff out. Other days are design days where I feed my subconscious with podcasts and images whilst drawing or digitally editing new ideas. The third kind of day is a print day where everything is in place and ready to go. Where I can listen to some beats and rhythmically make my screen prints. In the summer when it gets hot in the studio the best way to end the day is walking down the road and having a dip in the sea.
How long have you been printmaking?
I have been printmaking for about 9 years now.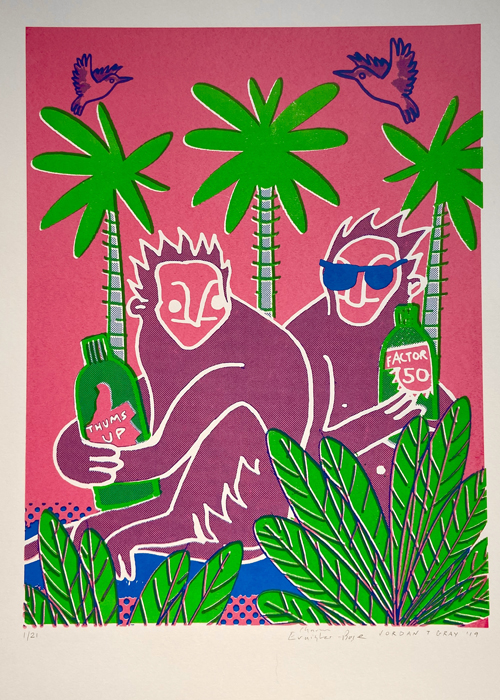 What inspires you?
I am inspired by the soup of imagery that surrounds us all, images and ideas can come from every direction of everyday life. I can be in a supermarket and graphics just jump out at me. I could be scrolling the web or looking at old books. Travel is also very important, experiencing different cultures and places that are eye-opening. You can step in someone else's shoes for a day and see what they see every day. Recently I have been drawing a lot more and I really enjoy plucking fictitious illustrations out of my head but also combining them with copied illustrations of things I have seen.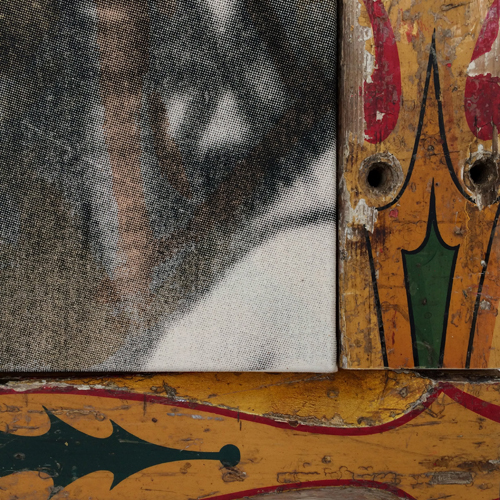 What is your favourite printmaking product?
My favourite tool is an old wooden screen printing squeegee, its well-worn wooden handle feels warm and the layers of encrusted ink look like gems poking out of the bark.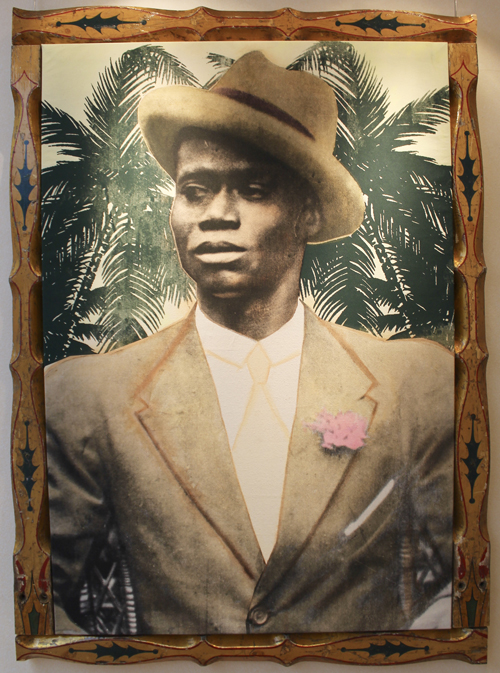 What have you made that you are most proud of?
One of my favourite artworks I have made was a portrait of my Nigerian great grandfather 'Gregorio Evaristo'. It was a photographic screenprint on canvas, and it was framed with some reclaimed fairground architecture. I enjoyed making it because of its scale and because it was influenced by both my Nigerian heritage and my decision to base myself in the seaside town of Margate.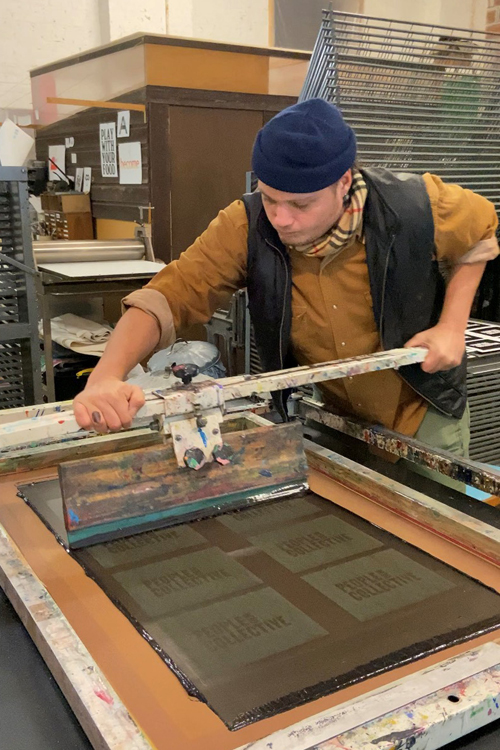 Where can we see your work? Where do you sell?
The best place to see my work is via my virtual gallery. As well as my own artworks I also showcase a curated selection of prints that I have collaborated on with other artists. There are a lot of prints that are exclusive to my website so be sure to check it out! I also sell work in the Turner Contemporary shop; I am currently working on a new range of products with them for spring 2021.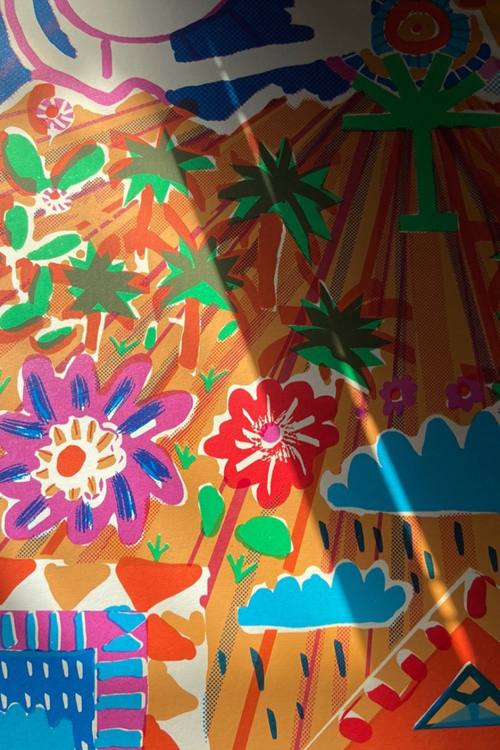 What will we be seeing from you next?
I am really enjoying my current pace of life; I am always making new things and promoting them on Instagram. 2020 was a year of 0 physical exhibitions, but in a way, that was quite good and reflective. It has been a change to work at a slower pace and spend time making more complicated and intricate prints. The past year has been good for getting my virtual gallery where I want it to be. What I am really looking forward to doing is having an exhibition of all the things I have made this year. To keep up to date with my work check out my Instagram and hopefully I will have a show on soon.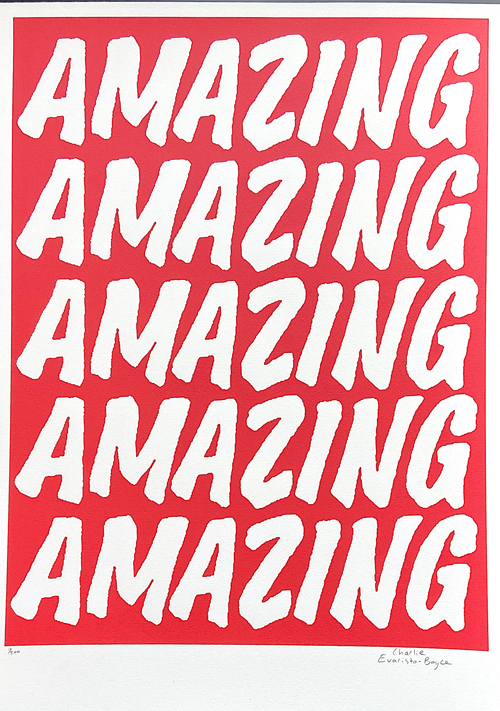 Do you have any advice for other printmakers and creatives?
The advice I would give to other artists, but especially emerging artists is to get into a creative space around other artists. Make connections, network, collaborate and have exhibitions or pop-ups. I used to run a gallery in the Old Town of Margate and this was such a useful springboard for my art and it allowed me to meet so many different people and what came with that was lots of opportunities.
To see more from Charlie follow him on Instagram.