Meet the Maker: Chris Pig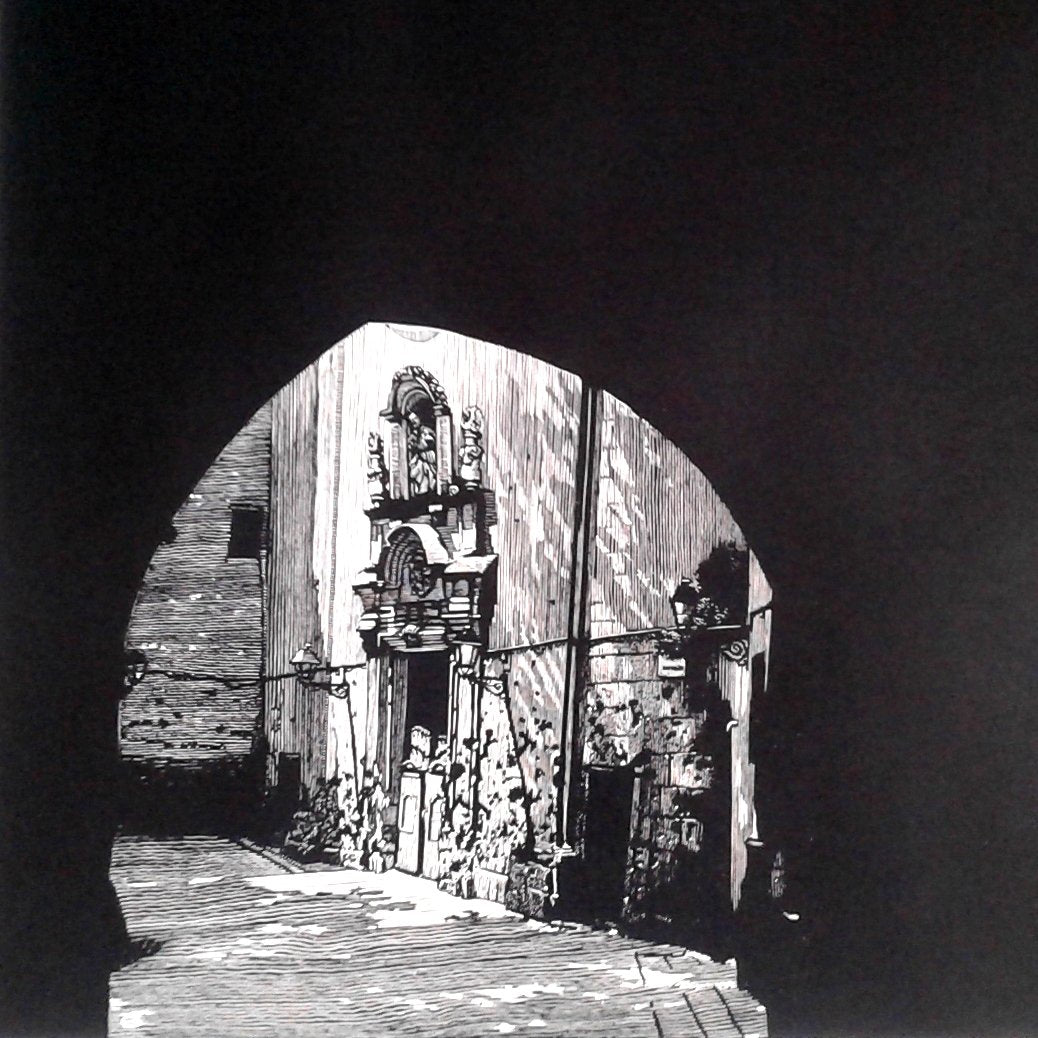 I'm Chris Pig, an artist printmaker living in Frome with my family. I am director of a small teaching/professional studio Black Pig Printmaking Studio. I designed it myself and managed the project and am very proud of what it has become.
Recently I've been collaborating a lot with academics, historians who study prints and drawings mostly. They have come to learn the processes in making the prints that they study. Dr Alixe Bovey, director of studies at the Courtauld Institute, Dr Bethan Stevens who heads the Dalziel project at Sussex University and Dr Esther Chadwick, also of the Courtauld have all recently been involved.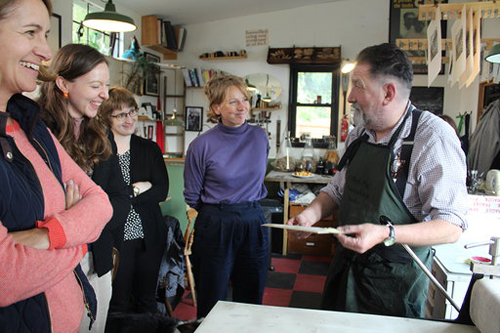 Most of my work at the moment is to do with childhood. My partner works away for four days a week and I'm the primary carer. One day, as the kids filed out to bury a goldfish, Frank crossed his arms in front of him and said, "I'd just like to say a few words." It was a damascene moment for me as I realised I had a rich seam of pathos right under my nose. Adults tend to patronise and belittle childhood emotions when they are the richest and most intense. Why should a child's grief for a lost pet carry any less gravitas than an adult's bereavement?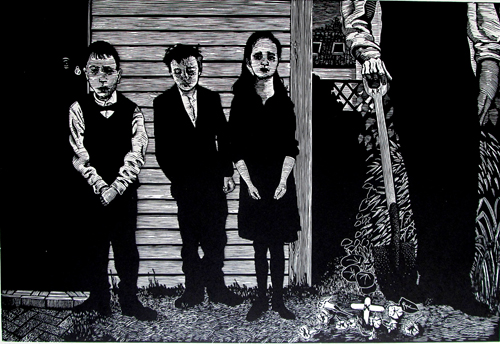 In the studio, learners work alongside professionals and all their work is together in the ball racks. This suggests to learners that their work is of value no matter what skill level they are. I have been making prints for a very long time and no other profession has really interested me. I am not passionate about printmaking, that suggests something more intense and short-lived, like an affair. I'm married to printmaking, a much more complicated and nuanced relationship.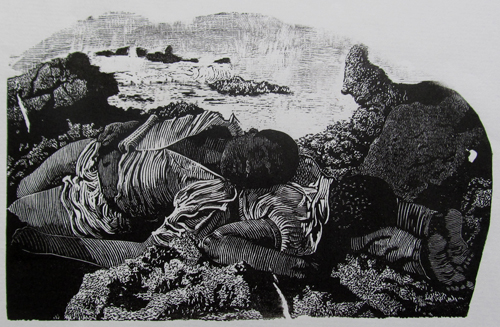 Describe your printmaking process
I have two printmaking processes, wood engraving and linocut. They inform each other, I cut boxwood like a linocutter and lino like a wood engraver. Often I'll do two versions of the same composition, one in box and then scale it up for lino.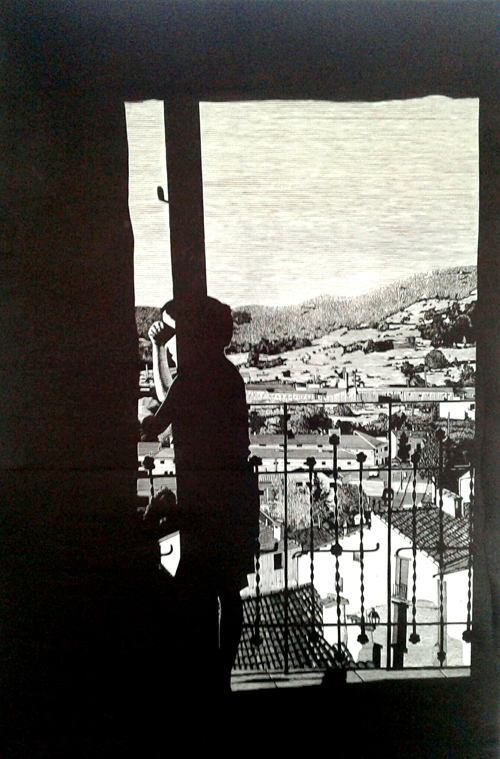 How and where did you learn to print?
I was a sickly child with a reduced curriculum. I managed to exagerate my sicknes to the extent that I spent my whole time in the library and the art room. Mike Kitchener the art teacher, formed me and taught me enough drawing skills to last me the rest of my life. He taught me how to etch by about 14. We had acid baths open on the benches with no extraction. Because of my open sores from eczema, he used to immerse the plates for me. No gloves or protection at all, no extractor fans. The sixth formers used to flaunt the brown burnt ends of their fingers from the nitric acid which looked like heavy nicotine stains. We only had money for steel couldn't afford copper 'til I went to art college.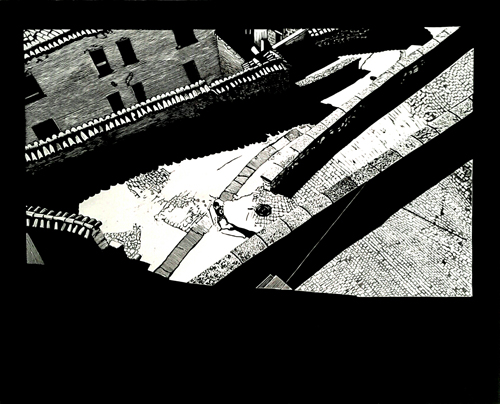 Why Printmaking?
I came across printmaking by circumstance but it is very addictive and I decided it was the one for me. Plus it's egalitarian. It's possible to own and appreciate an exquisite, hand made work of art for an affordable price.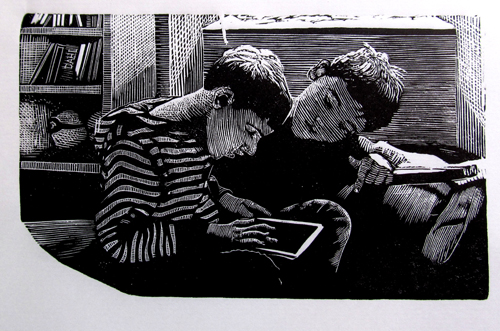 Where do you work?
In my studio, black pig. It's easiest to cut alone and print with company. I have that luxury and am very aware of how lucky I am.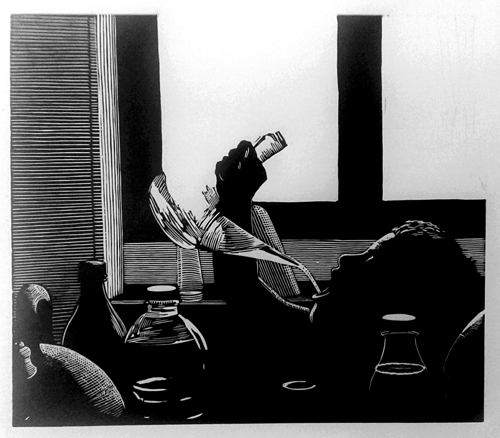 Describe a typical day.
On a good day I get to the drawing board by nine, work 'til twelve, lunch 'til one, teaching from one to three then it's all over when I pick up the kids.
How long have you been printmaking?
Forty years this year, man and boy.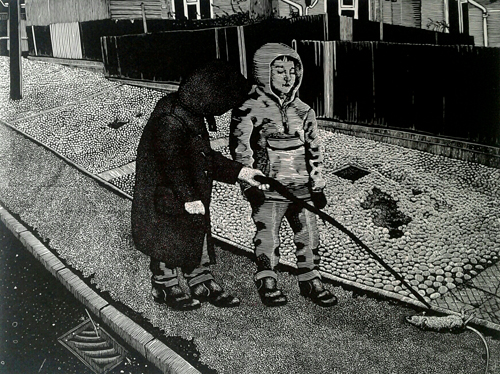 What inspires you?
Everyday life inspires me, I get my best work ideas when I'm open to possibilities in story-telling and a good image from that which surrounds me. There are lots of artists of course, Masereel and Valloton I've had since I was a kid. I've worked a lot with victorian engravers, particularly Doré and the Dalziel brothers and during a recent spell in hospital Hans Holbein the younger and Sandow Birk.
What is your favourite printmaking product?
EVERYTHING involved in the process of relief printmaking is intensely satisfying, sensuous and beautiful. My tools are Pfeils for lino, J.Buck for engraving, victorian originals, and EC Lyons of course. I print only with VanSon rubber based inks and lots of different papers, Sunome Senaka being my favourite for large work.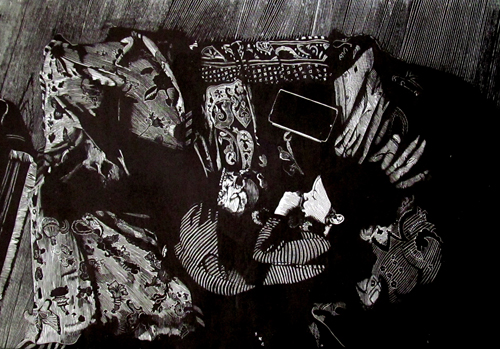 What are you most proud of?
I like my big linos the most.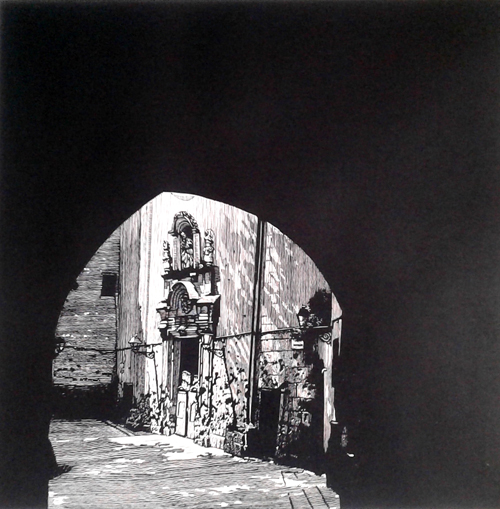 Where do you sell?
Different Trains Gallery, Decatur, Georgia USA Wharepuke Gallery, New Zealand. Why Gallery UK,  Society of Wood Engravers, UK
What will we be seeing from you next?
Large work, either to do with the homeless or kids living in food poverty, depending on my mental health. I find depressing subjects take a toll on me, partly because with relief work you are so up close and personal with your subject. Something has to be done though to counterbalance these cartoon bigots, these fascist pigs who have been allowed to take over our political system. Dark work for dark times.
Do you have any advice for other printmakers or creatives?
Yes. Don't lose focus on your work and don't anticipate it making you any money.
More more from Chris Pig, visit his website.