Meet the Maker: Claire Whitworth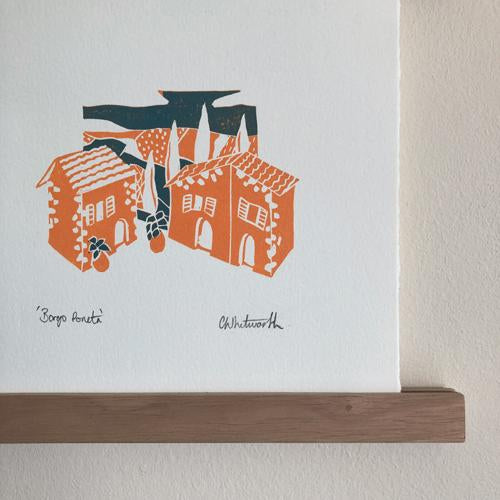 Hello! I'm Claire Whitworth and I am a Graphic Designer and Printmaker living and working in Oxford.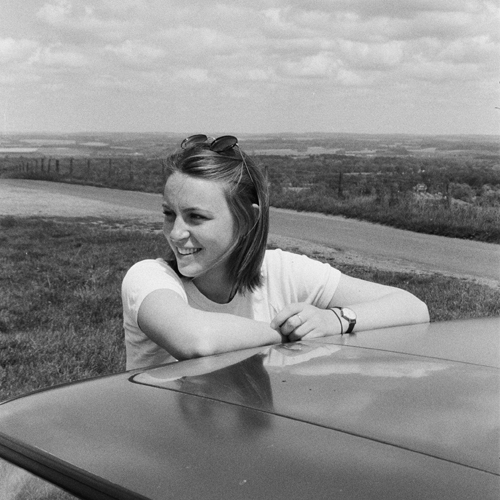 How and where did you learn to print?
I fell in love with printmaking during my degree course at Bath Spa. We had open access to the print room which was fully equipped with beautiful printing machinery. I would find any excuse to go in and try out different printing techniques, but it wasn't until my 3rd year that I really fell in love with lino.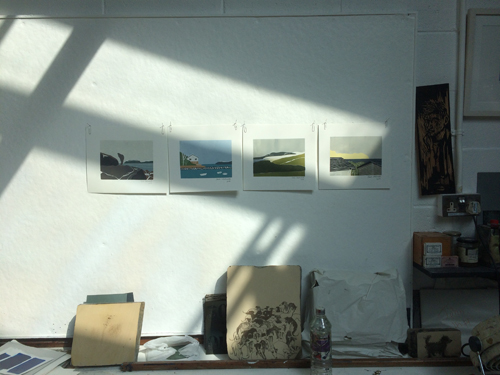 Why printmaking?
There is a certain calmness to working with lino. The methodic process of carving away material to reveal an image, and then never appreciating the full impact of the piece until all the layers have been printed means that every piece is a journey but also a surprise. Each one is different and I
think that's what I love the most. You have to let the ink do the talking and allow it to fall where it wants.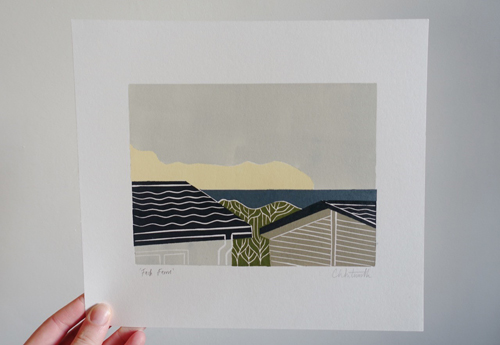 Where do you work?
I mostly work from my spare room in our little terrace house. Sketches and books do find themselves sprawled around the house (I sometimes need encouragement to keep things tidy) but I have hopes of converting our attic into my studio in the spring which would give me the creative
space I crave!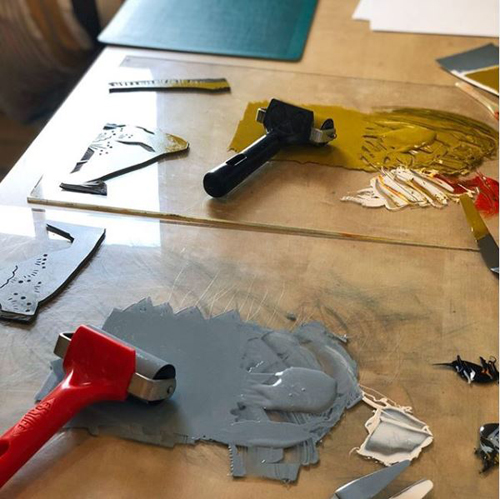 Describe a typical day in your studio.
As I only work on my prints two afternoons a week, a typical afternoon would consist of me either sketching up some compositions for my next print on my i-pad pro or continuing another layer on an ongoing print. I use an app called Procreate to do a lot of digital sketching. I was a bit apprehensive at first of using a digital tool to help what is a very analogue process, but it has completely changed the way I work for the better. It allows me to play around with colour so easily and quickly without committing to the ink and then rethinking my colour palette. I also love illustration and graphic design, and have recently illustrated a children's book in collaboration with a friend. Some afternoons I will be working on some freelance work, so will spend time at my laptop producing branding or marketing material.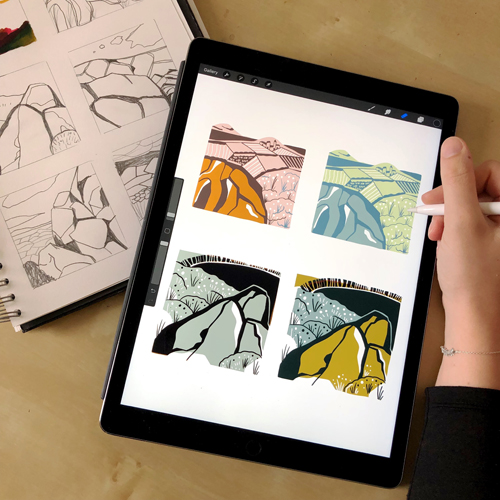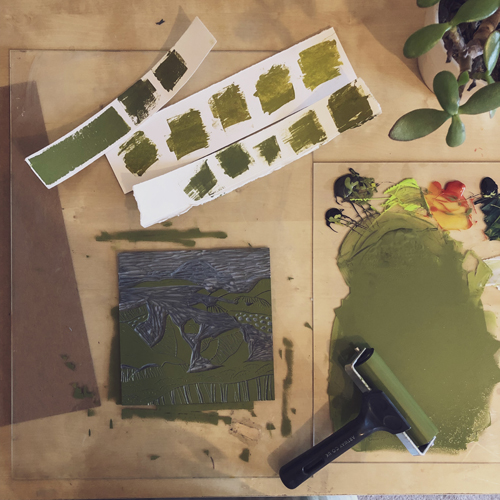 How long have you been printmaking?
I have been printmaking for about 3 years now.
What inspires you?
My biggest inspirations are landscapes, particularly welsh seascapes. I love the feeling of being on a blowy welsh walk breathing in the sea air, taking quick sketches and photos of stones, gorse and heather, the sea and beaches. I visit the Llyn Peninsular every year, it has a special place in my heart and it's somewhere I always return to for inspiration. I also can't ignore the inspiration I feel walking around my home city of Oxford and the River Thames which is just near my house. I'm always thinking about the next print and where it might come from…Wales, Oxford or a holiday to
Italy!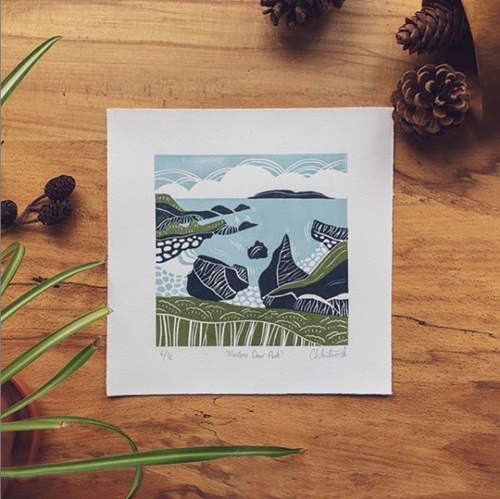 What is your favourite printmaking product?
This isn't really a product as such, but the best item I ever bought for my little studio was a nappy changing table. I needed a really sturdy structure for my Hawthorn press (which I also couldn't recommend more – it is just so wonderful!), and I saw this changing table in a second-hand furniture shop. It's a bit quirky and not the most conventional printing table but it's perfect for storing all of my inks and rollers, and robust enough to hold my press. I love it!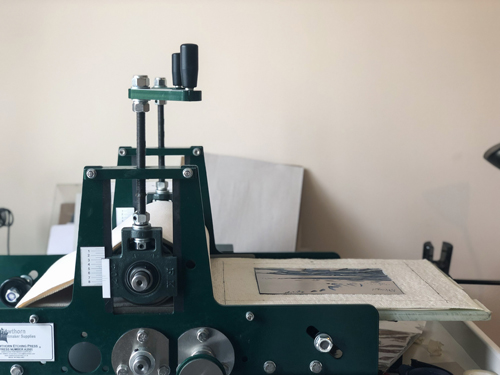 What have you made that you are most proud of?
I don't think I am proud of one specific piece, but I always feel excited when I create a welsh print. It gives me a rush of satisfaction seeing the landscape appear, and its my favourite place in the whole world so depicting it with ink and paper is just the best feeling.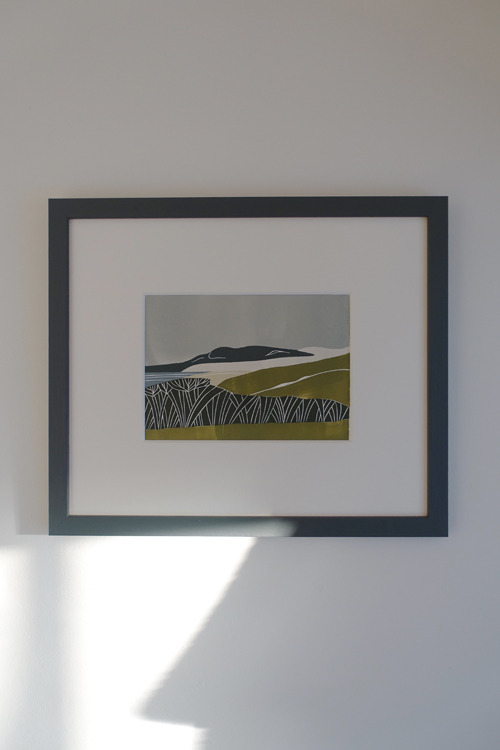 Where can we see your work? Where do you sell?
You can follow me on Instagram at @cwhitworthdesign where I love to show both my finished work and in-progress shots of what I'm working on. You can also buy my work on my Etsy shop under the name cwhitworthdesign!
I will be at the Maker's Market taking place at Relics of Witney (Corn St, Witney, Oxfordshire) on Saturday 30th November. I will have prints, greetings cards and Christmas bits and bobs so I hope to see you there!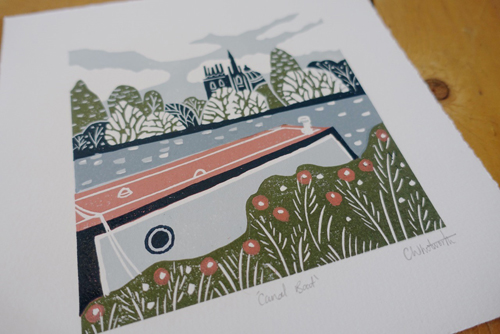 What will we be seeing from you next?
I did a ceramics course last year and have wanted to incorporate my work into ceramics ever since so that is definitely in the pipeline. I will also be making some cards and prints for the christmas period, and I will continue to make prints in-between that so I will be busy! I also take on commissions so don't hesitate to ask if you have something specific in mind!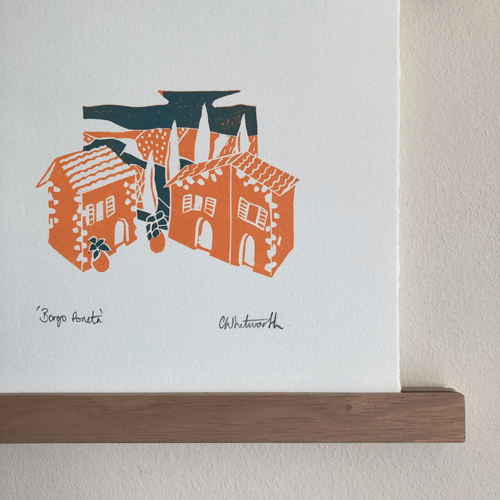 Do you have any advice for other printmakers and creatives?
Don't try to copy someone else's style just because you can see its working for them. Be your own person and trust your instincts for how you want to create, I know it sounds cliche but it's so true!
Also never be afraid to try something new, even if its completely different to your normal practice. New things can help you grow and develop your style, but it's also a lot of fun to experiment with a new technique or process and see how you can introduce it into your own work.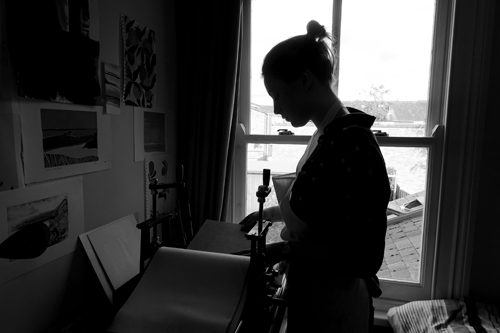 Find me at:
Etsy shop: cwhitworthdesign
Instagram: @cwhitworthdesign