Meet the Maker: Elizabeth Harbour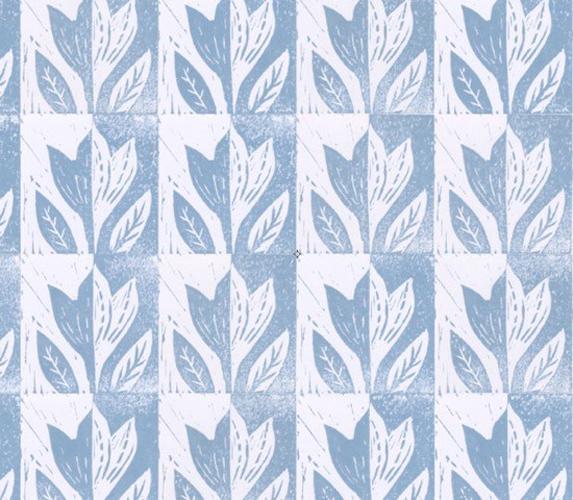 My name is Elizabeth Harbour.
I studied illustration at Maidstone College of Art and went on to study an MA at the Royal College of art. I am a Printmaker, illustrator, designer and
crafter and run art classes and print workshops in Kent and Sussex.
Describe your process
I always make several drawings for ideas, often exploring mark-making and colour-combinations. Then I decide what print process my design is best suited
to, as each print process produces a very different result and feel. Once this is decided, I refine the image using trace and work out the colour.
Sometimes I like to make colour separation decisions halfway through the print process.
How and I where did you learn to print?
Maidstone College of Art's print room where I gained my first print experience, this was with large cast iron presses. In the last 20 years I have developed
my own printmaking methods: mono-printing, screen-printing and relief-printing all of which can be done from home. I always paint directly onto my
screens, this method reminds me a little of the lithographic process.
Why printing?
I love that fact that sometimes print making can be unpredictable, this has been very freeing for me as an artist. I also love the fact that you can print
in multiples with some print processes – printing on paper, fabric and even printing books, I have always found this exciting. In the last few years
I have been making limited edition prints as well as hand-printed cards, printed papers and textiles.
Where do you work?
From my studio on warm days in my greenhouse and even from the kitchen table!
Describe a typical day in your studio.
I love my studio days, which are three days a week, as I also run my own Art for Enjoyment art classes in Kent and Sussex, which I really enjoy.
Once my children have left for school, I work in my studio from about 8.00a.m. I always listen to music when I work (I love an eclectic mix of music).
For laborious processes such as cutting 80 tiles for a paper design I listen to Radio 4 drama from the BBC website. I always have ideas and projects
that I am working on, whether it's limited edition prints, new card designs or printed papers. I also love creating new seasonal crafts for Country
Living Magazine, which I have been asked to do again this year. Some of the crafts use simple printmaking techniques.
How long have you been printmaking?
30 years
What inspires you?
 Exploring Processes, Folk Art, Kent, Nature and 20th Century British Art and Design.
What product/tool could you not be without?
I am afraid that there are several: a Japanese hole-punch (it's great for cutting holes in designs), a wooden-handled lino-cutting set and my homemade
silk screens.
What have you made that you are most proud of?
I still love an etching with aquatint that I created in my Maidstone days – 'Ice Skating' and more recently my block printed-paper designs and Lavender
Tabbies.
Where can we see your work? Where do you sell?
Leadbetter and Good, Emma Mason Gallery, Edwards and Todd Hastings, Barnstar Rye and on my website and web shop.
My Twitter and Facebook pages (where I often show work produced in my print workshops) can be accessed via my website.
What will we be seeing from you next?
More Designs for textile animals, hand-printed papers and large monoprints.
Do you have any advice for other printmakers and creatives?
Good prints can be created from home and the process doesn't have to be expensive.
See more of Elizabeth Harbour's work at elizabethharbour.co.uk