Meet the Maker: Emma Swift Kirkman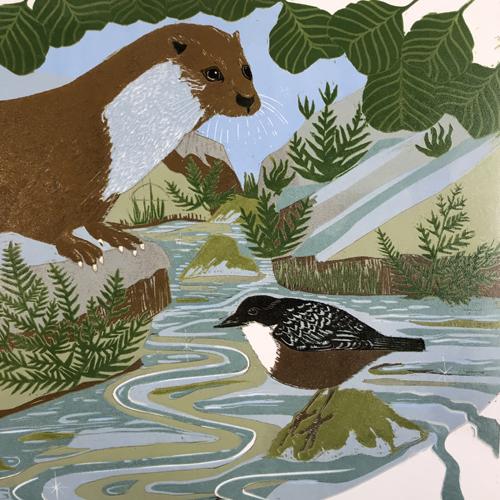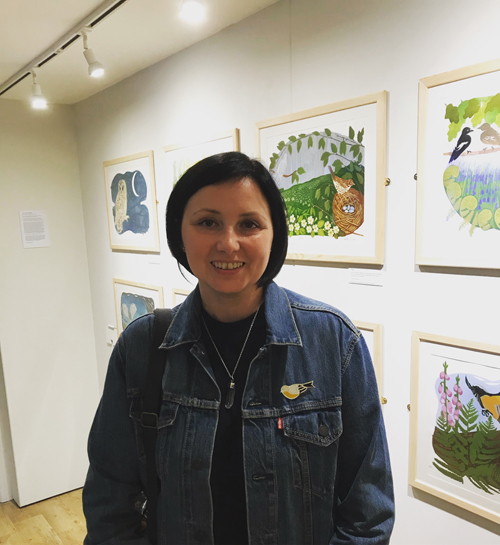 Describe your printmaking process.
I begin with a few sketches and then I draw directly on to the block to work out the final details, I like the work to evolve and I enjoy the serendipity of this process. I use pins and tabs to ensure a safe registration so that the prints are consistent quality. I don't decide how many layers there will be, this evolves with the print.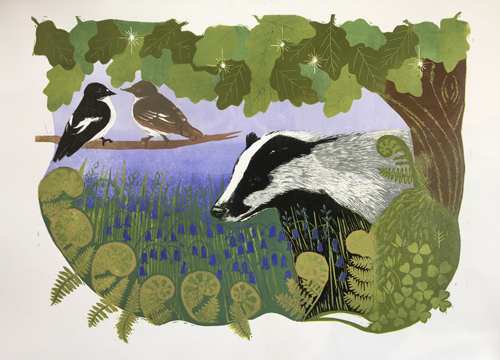 How and where did you learn to print?
I first dabbled with printmaking at Art school, my first degree was in fashion design in the days pre internet, which is hard to imagine these days and work was hard to come by. So I retrained as a nurse and have proudly worked for the NHS for the last 15 years, however a series of challenging and sad life events made reevaluate my life, I was working very long hours in a highly stressful role as a Matron. Although I feel honoured to work as a nurse,  I felt that something was missing and I wanted to discover what that was. So I quit my job and demoted myself to enable me more time to explore, I enrolled at University of Cumbria on to the MA Creative Practice and found my way in to the print room and I never looked back.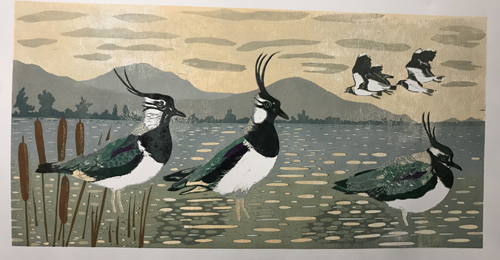 Why printmaking?
 I love drawing and painting but there is something in the process of printmaking that captivates me. It involves planning and implementing but also learning to think critically as things do not always go to plan, I love problem solving.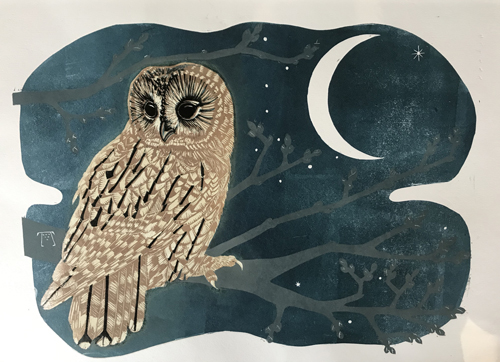 Where do you work?
 Full-time as a nurse and weekends and evenings as a printmaker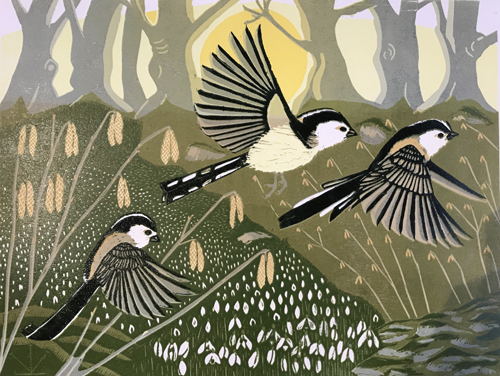 Describe a typical day in your studio.
 I do most of my printmaking on the weekends as I still work full time in the NHS, so I relish making an early start and go to the studio which I am lucky enough to have in my garden. It is a converted garage and is basic but my haven, almost everything in there had been re-purposed I have a huge old farmhouse table with a really big piece of glass salvaged from my greenhouse that fell during a winter storm, it's excellent for rolling ink out on and cleans really well. I have an old double drying rack which I was lucky enough to buy from the university, but I did invest in a printing press which massively increased productivity. My cocker spaniel always comes with me and sits on her bed watching me work, I listen to radio 4 and drink gallons of herbal tea as the day progresses.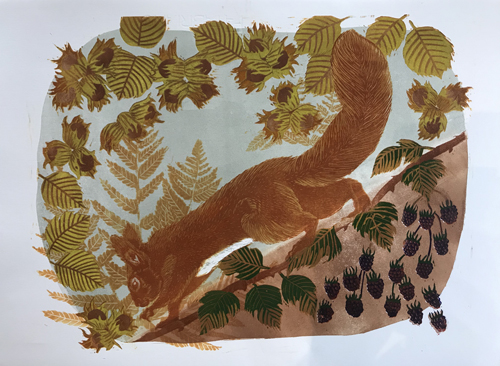 How long have you been printmaking?
 I have only been seriously printmaking for around 3 years or so, I am still very much a learner, but this is also one of the attractions of printmaking.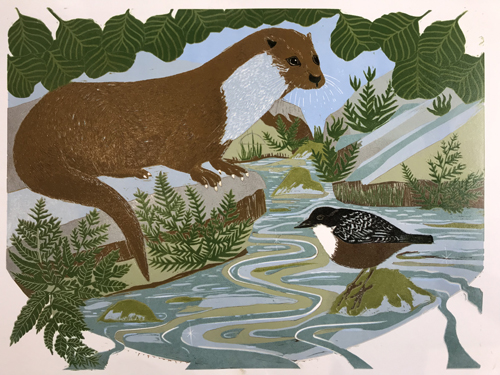 What inspires you?
It sounds corny but nature is the most inspiring thing ever, I love wildlife, hedgerows, woods, big Cumbrian skies, but I especially love birds. I will sit for hours in the garden and will always take my binoculars with me when walking in the Lake District which is on my doorstep. Other printmakers who inspire me are Robert Gilmor, Robert Greenhalf, Babs Pease and many others. I love the subject, execution and colour palettes.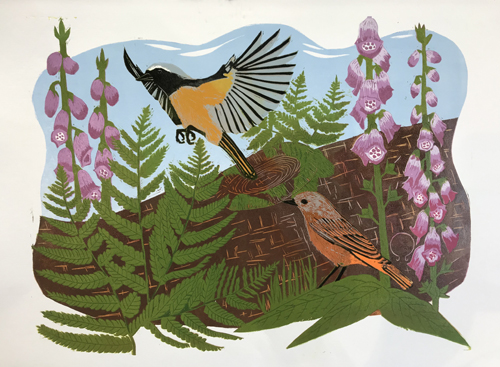 What is your favourite printmaking product?
Pfeil tools are amazing and really brought joy to my carving, they are comfortable to hold and precise in their cutting, so long as you look after them that is.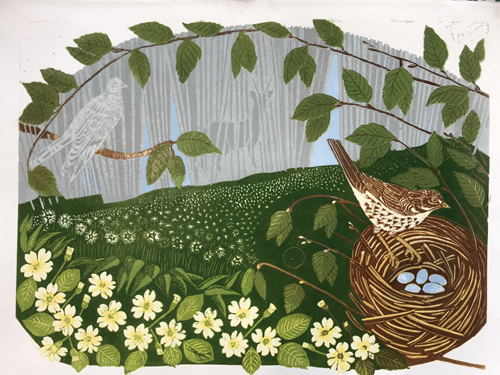 What have you made that you are most proud of?
 I am always most proud of the thing that I have just finished, but I am enormously proud of the work I produced for my final exhibition. It is a series of 8 linocut reductions which represent the 8 seasons as portrayed through the pagan wheel of the year. The work was my inquiry in to humanity's disconnection from nature, I wondered when we became so disconnected. Our ancestors knew what time of year it was based upon what they saw growing, wildlife behaviours, they knew to forage for food and medicine. I placed this disconnection at the time that the Gregorian calendar was created and this is why I used the 'Wheel of the Year' as a protest to this modern interference.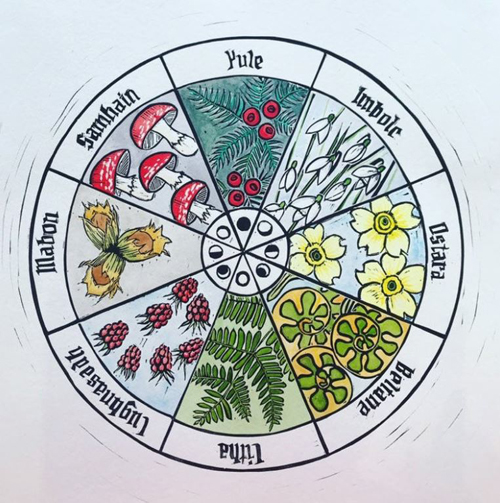 Where can we see your work? Where do you sell?
 I was lucky enough to exhibit at Printfest 2019 and I am a member of Cumbria Printmakers. You can currently find my work at The Robinson Gaye Gallery Hexham, The Cookhouse Crafts and Cookhouse Gallery in Windermere, Arteria with 23 Lancaster, The Bumble Bee Gallery Kirby Stephen and the Makers Mill Keswick. I also supply limited edition prints and greetings card at the National Trust shop in Grasmere.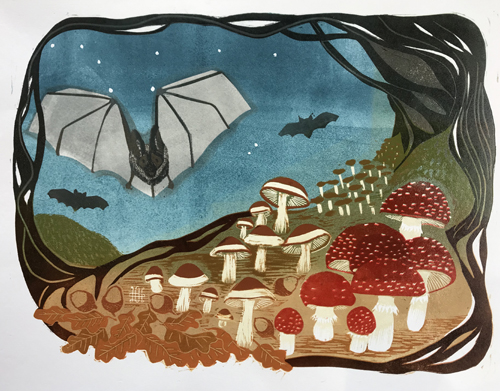 What will we be seeing from you next?
I have just purchased equipment that will enable me to produce etchings from my studio, so hopefully you will see these. I'm also going to expand on my final exhibition work and continue to explore the pagan theme. 
Do you have any advice for other printmakers and creatives?
I would say don't take yourself too seriously, enjoy the process and continue to learn. Instagram has a great and supportive community of printmakers and I have learned a lot from asking questions from printmakers that I follow.
To see more from Emma, visit her Instagram page and Etsy Shop.