Meet the Maker: Frankie Brown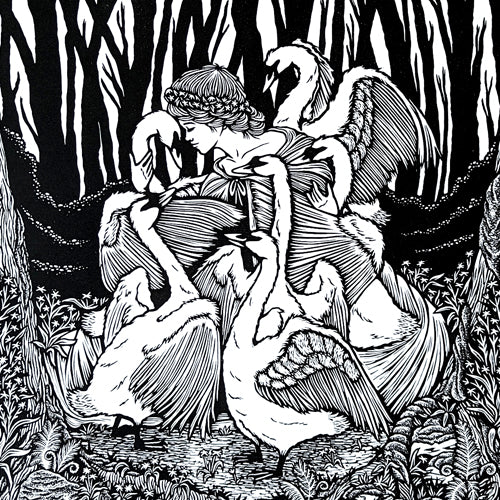 I'm an illustrator and printmaker based in Portsmouth, Hampshire. I'm inspired by nostalgic storybooks and I love to create whimsical hand-printed illustrations.
I also work part-time at Handprinted; looking after the studio, liaising with tutors, teaching some Fab Fridays, exposing screens and packing orders.
My real name is Rachel, and 'Frankie Brown' is a name I chose for my creative practice. Mostly because my surname name is not very memorable or spellable! Frances (Frankie) is my middle name, and Brown is my favourite colour!
Describe your printmaking process.
I mostly work with linocut, and currently I'm favouring multiblock over reduction. I start out with a drawing which I will draft a few times before putting the final sketch onto the block. I cut my blocks quite slowly with a lot of control, but I'll leave some things to chance - such as fur textures. I find my final prints are always very different from my sketches, and there's a depth in there that I can't achieve with just pencil or pen.
How and where did you learn to print?
I studied illustration at the University of Portsmouth, where I had an induction to learn printmaking techniques. I dabbled in linocut and screen-printing during my degree - but I'm ashamed to say I didn't make good use of the facilities back then!
I picked up linocut again a few years after I graduated. Since then, I've been on various courses to develop my linocut skills. I've also taken courses in wood engraving, etching, screenprinting and collagraph. Working at Handprinted has also provided valuable insight into other printmaking techniques I never learnt at university!
Why printmaking?
Printmaking is a tried and tested form of storytelling. As an illustrator obsessed with nostalgic imagery found in storybooks and fairy tales, it makes perfect sense for me to use printmaking for my illustrations.
I also find linocut very therapeutic and meditative. I can get lost in the process and I think it's my way of being mindful and finding some inner peace. Although I find the printing part stressful at times!
Where do you work?
Currently I work from home in the spare room that I've claimed as my studio. But a big exciting change is about to happen!
I've been offered a beautiful studio space at Hotwalls Studios in Portsmouth. The studio is part of a Grade I listed historical site - and it feels like my own fairy tale castle! I've picked up the keys this week, and I'm opening my doors for the first time on Saturday 15th July. If you're ever in Portsmouth, you'll be able to pop in and see me at work!
When I'm not in my studio and I'm working at Handprinted, I'll often stay behind after working hours to use the larger presses and screenprinting facilities.
Describe a typical day in your studio.
I start slowly and take the time to prioritise my tasks for the day. There's often a bit of admin to do or social media. By my second coffee, I'm usually ready to start carving a block, or do some printing. I try to put in a full 8 or 10 hour day if I can, sometimes even longer! If I've been at my part-time job during the day, I'll often put in a few hours in the evening, usually making content for social media or a few admin tasks.
How long have you been printmaking?
After I graduated in 2011, I got a job working in graphic design and marketing. By 2016 I was starting to get tired of using computers all the time, and I wanted to do something creative with my hands. I thought back to my university days and linocut stood out to me as something I enjoyed and could easily do at home. I decided to invest in some linocut tools - and the rest is history? In the beginning I mostly printed for fun, but in 2021 I started to take it more seriously and decided to launch my business.
What inspires you?
I source my ideas from fairy tales, delving into their obscure and sometimes darker origins. These books are often full of beautiful illustrations, which are usually created using printmaking techniques such as etchings or woodcuts.
I also find the Golden Age of Illustration very inspiring - a period of illustration dating between 1850 and 1925 which was heavily influenced by Art Nouveau, Pre-Raphaelite, and the Arts & Crafts movements - all of which I adore too. I also take a lot of inspiration from mediaeval artworks and architecture.
What is your favourite printmaking product?
I love my Karol Pomykala Dot Tool! I'm often asked how I make the tonal marks in my work, and it's all down to this tool. It's hard work when you have a large area to do, but I can't achieve this tonal effect with my other blades and tools.
I'm also a big fan of Hawthorn Stay Open inks - I love how these don't skin and still seem fresh two years later!
What have you made that you are most proud of?
It's hard to choose a single piece, I always think my latest piece is what I'm most proud of! Every time I finish something, I feel like I've levelled up in some small way, and I carry that forward into the next linocut.
I guess what I'm most proud of is the progress I've made over the years, in my skills and as a business. When I look back, I can see the times I felt anxious about putting myself forward for things, but also how those moments turned into big leaps and progressed me forward.
Where can we see your work? Where do you sell?
You can come visit me at my new studio in Portsmouth! I'm in Studio 4 at Hotwalls Studios, Old Portsmouth.
I also sell on my website, or you can find me on Instagram.
I regularly attend events and exhibitions around the UK. Look for updates on my social media, or you can sign up to my newsletter to be notified when I'm out and about.
My work is also stocked at Forest & Cove in Romsey – a beautiful gallery with the loveliest pieces of artwork and craft.
What will we be seeing from you next?
My main focus over the next few months will be to settle into my new studio. I hope to start some new work, and begin working on a larger scale. I'm also about to start hosting my own workshops, which I plan to launch from September.
Do you have any advice for other printmakers and creatives?
Show up every day and do something that progresses your creative practice forward. Even if it's just one task, or only 20 minutes that you can spare. Do it every day, build a habit, and those small steps you take will start to feel like a sprint!
Also, if you have access to printmaking facilities, either at your school, university or local area - please use them! It's the best way to meet other creatives, bounce ideas around, get some feedback and find the support you need as a creative.
To see more from Rachel, follow her on Instagram!
Rachel will be opening the doors to her new studio on Saturday 15th July, with a coffee morning to celebrate! From 10am, there will be coffee, tea and cake for anyone who would like to pop by!