Meet the Maker: Hannah Madden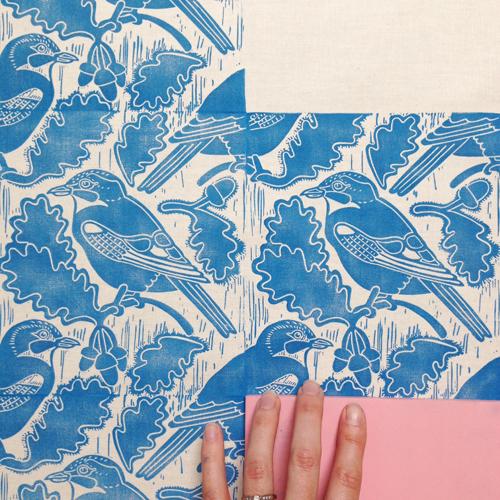 Meet printmaker Hannah Madden!
Describe your process. 
I have a love of designing and block-printing repeat patterns by hand. One of my favourite medium is natural cotton fabric which I then use to create bespoke
works such as lampshades. I start with sketching ideas, mainly onto sheets of plain paper. Once I'm happy with my drawing I use the old fashioned way of turning it into a repeat pattern by cutting the design into quarters, sticking the opposing sides together,
filling in the gap/white space on the paper and then simply tracing the design onto the block. I tend to use the soft pink rubber material for a lot of my prints; it's so soft and easy to carve into and a delight when printing directly onto
fabric. I use colourful water-based inks where I also offer a colour match service to create unique made to order drums; something totally unique.
How and where did you learn to print?
I studied art at college in the South East of England many moons ago, where among other things I dabbled in printmaking. It wasn't until years later that
I picked up a sheet of lino and made a batch of Christmas cards for family and friends. My husband and I had just relocated to the Welsh/English border
and I found it a relaxing way to take my mind off feeling homesick. I started a blog and bought a couple of books on printmaking by the very inspiring
and talented Lotta Jansdotter. I instantly caught the bug for block-printing and started making floral notelets which I got a great response from and
eventually found enough courage to open an Etsy shop.
Why printing?
It's such a therapeutic way of working. I totally switch off and immerse myself in it. You don't need a great amount of space to get going. Even now with
a young family I can work around my children. Often working from the dining table I get to squeeze in a bit of printing while they play and sometimes
get some eager helping hands! If it has to be left, it's relatively easy to be picked up again later. I enjoy the technique, the repetitiveness and
knowing that the items I make are all completely unique is incredibly rewarding.
Where do you work?
I'm very fortunate to have a garden room which I hope to be working from in the not so distant future. There's lots of work to be done on it so for now
I use our living space and work from the dining table with boxes in the spare room which house my inks, tools & many a printing block!
Describe a typical day in your studio.
I have a few online shops which I sell through and as my work is largely made to order this gives me chance to plan my week around my two small children.
I tend to work on an order during nap time or preschool days, evenings and if they let me, when they are happy playing around me. One day I might focus
on the printing and then next I might be making the lampshade drums. Fueled by tea. Lots of tea!
How long have you been printmaking?
A little under ten years now. I don't think I'll ever tire of block-printing. Printing by hand has grabbed me and being able to adapt my designs into other
areas and not just cards has spurred on other ideas.
What inspires you?
I live in a beautiful part of the country which is very rural and green. My environment, I'm sure has a lot to do with my ideas, where a potential print
can start from, birds and plants often catch my eye when I'm out and about with my family. We often visit National Trust gardens; we have a few favourites
on our doorstep which is great for the kids to explore and enjoy. I always carry my camera where I take oodles of photos. Evenings are when I usually
start brainstorming what I've seen that day and get sketching patterns.
What products do you use? What product/tool could you not be without?
I love the soft block but I also love my small ink rollers which I've always used
and have never changed.
They are light weight and easy to handle for the size of block I use – perfect for me.
What have you made that you are most proud of?
My first repeat pattern called 'Sea Holly'. It turned out better than I thought it would and is my best seller. I've had lovely customers contact me asking
me to make them lampshades and ceiling drums in their specific colour ways for their homes. I love printing all of my designs and the feeling of knowing
that others enjoy them, especially when they have had specific input is a real buzz for me.
Where can we see your work? Where do you sell?
Folksy, Etsy, Not on The High Street (NOTHS).
What will we be seeing from you next?
More textiles for the home. Many more lampshades!
Do you have any advice for other printmakers and creatives?

If you enjoy what you do, keep doing it. The more you work at it the more ideas come flooding in – get confident with your tools and materials, don't be
afraid to challenge yourself. Other wonderful things can come from starting a hobby like printmaking.
See more of Hannah's work on Folksy, Etsy and Not on the High Street or on Instagram, Twitter and Facebook!