Meet the Maker: Harriet Popham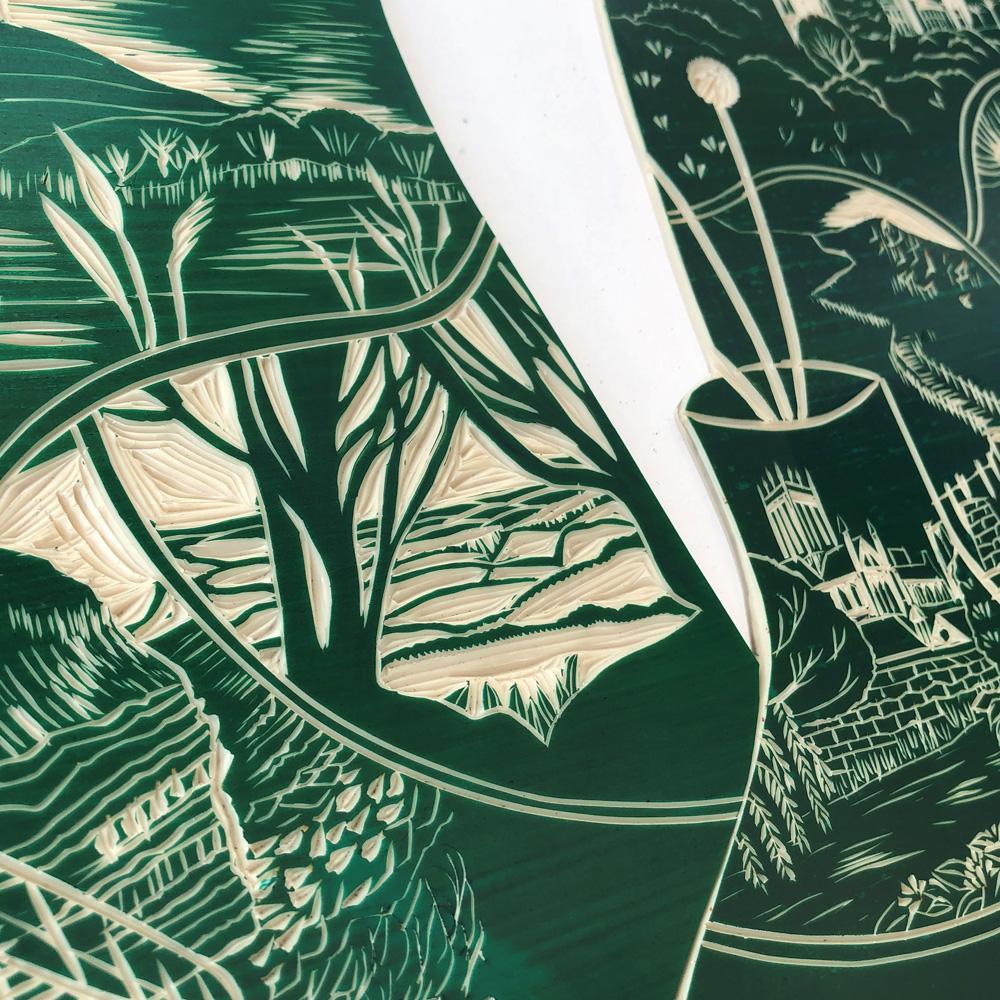 Describe your printmaking process.
I create cheerful illustrative lino prints that often celebrate places or moments in time. In the last year, I've been exploring vessel silhouettes and placing all of the detail inside those shapes. I contrast this using a pop of colour in the form of a bold botanical element.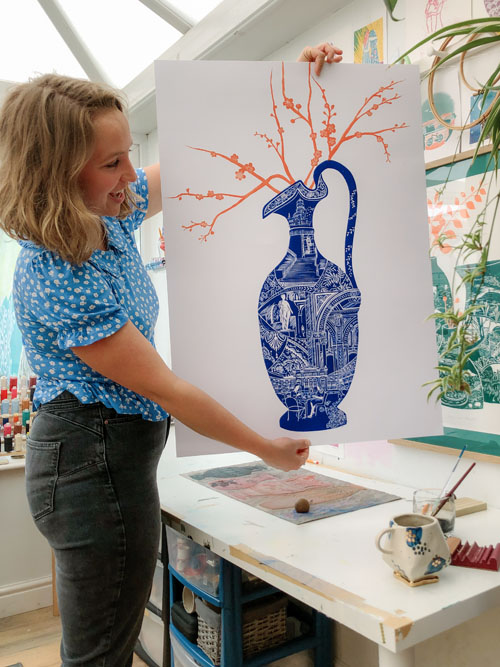 How and where did you learn to print?
I trained in printed textiles at Swansea College of Art, creating busy hand-drawn prints for interiors. At the time I was working with silkscreen, digital textile printing and embroidery. I started lino printing several years after I graduated and am now completely hooked on the process.
Why printmaking?
Despite the obvious labour intensity of printmaking, the hours of carving, inking, the trial and (plenty of) error – I find printmaking and the finality of the decisions involved a real positive. I find the planning exciting, the carving calming. For the first inking up I'm all adrenaline and that first peel back is (hopefully) super satisfying. I think any form of making with our hands is so beneficial, especially today.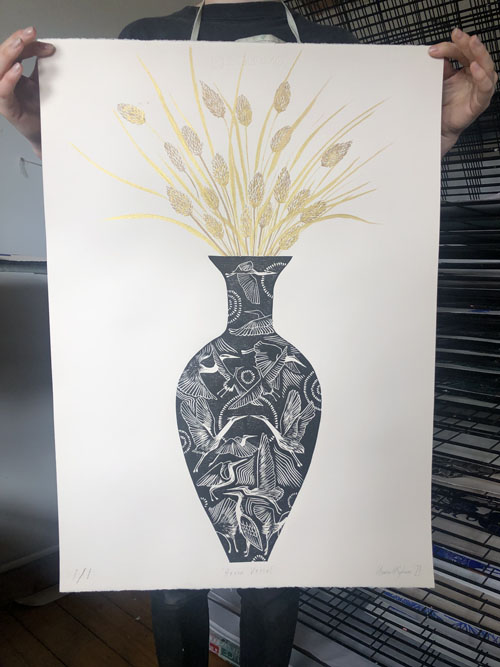 Where do you work?
I work in a shed at the bottom of my Dad's garden in Glastonbury. It was actually my bedroom when I first graduated but now my printmaking has fully outgrown my little house, I've reclaimed the "hut" solely for printmaking and it's an ideal studio. I also have a studio in the conservatory at home where I do most of my carving and drawing.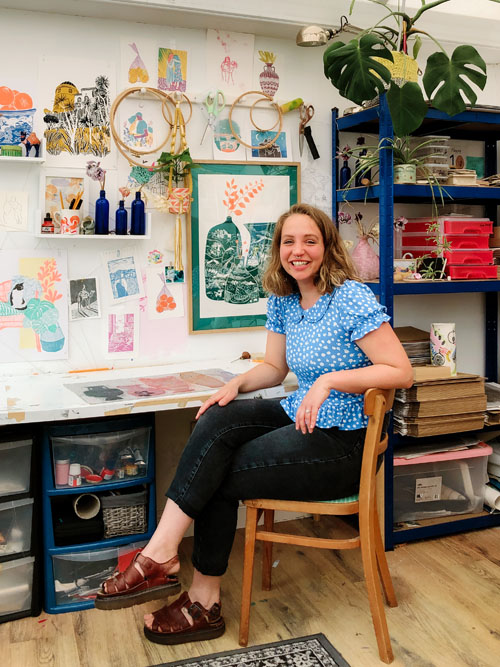 How long have you been printmaking?
I had my first go with some lino in 2018. At the time I was doing illustrations for books and didn't get a chance to take it any further. When I decided I wanted some variety in my work life and started running creative workshops, I realised it would be a great one to teach. It's so accessible to people with different creative confidence levels.
I started working with lino regularly for demos and creating examples but it wasn't until 2020 that I started properly dedicating time to making lino prints just for me, and challenging myself to work bigger.
What inspires you?
So many things! but here are some top ones… Places and moments in time, wonderful things my friends say, close embraces, vessels, shadows, stories. Everything is potential inspiration for a print and I find that adds to the experience of a walk, holiday, and golden hour shadows.
What is your favourite printmaking product?
Cranfield Oil Based Safewash ink tubes.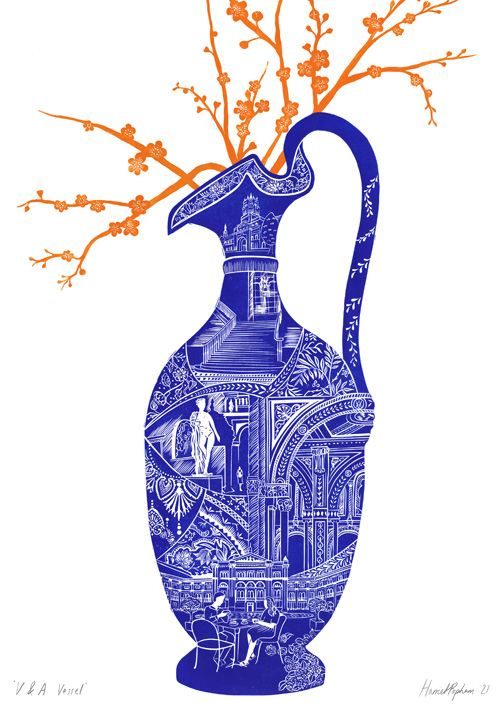 What have you made that you are most proud of?
Earlier this year I was commissioned to design a print for the V&A Museum shop. This was a dream project for me. The print aims to capture the experience of a visit to the museum, from cake and coffee in the iconic John Madejski Gardens, to the unfolding layers of ornate architecture, the vast sculptures, delicate jewellery and decorative textiles. 
Where can we see your work? Where do you sell? 
I have a website and online shop. The V&A print is for sale on their website and in-store.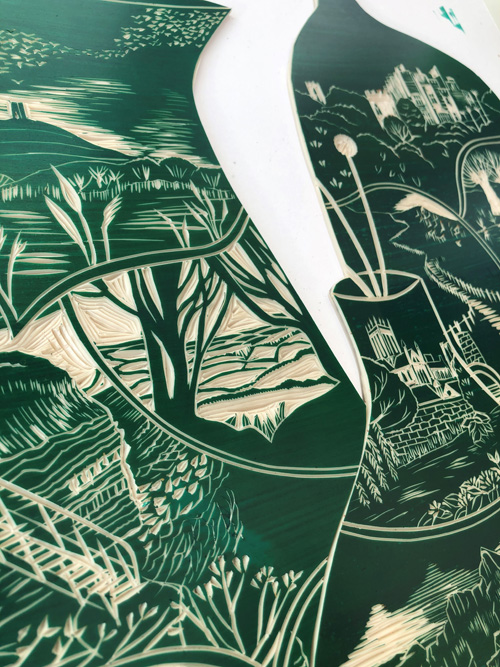 What will we be seeing from you next?
I've got lots of print ideas I'm really looking forward to carving and I've got a very exciting collaboration that will launch in 2022. I've teamed up with a beautiful brand on a textile design pieced together from individual lino printed scenes and I look forward to being able to share the details! 
Do you have any advice for other printmakers and creatives?
Play, experiment, make time for drawing and development. I still feel I've barely touched the surface of all I want to learn about lino printing. I didn't start selling my lino prints properly until I stopped worrying about selling them and started just really enjoying making them regularly.
Another important piece of advice for navigating Instagram as a creative – The only comparison worth making is the one between yourself then and now. That could be the way your printing has developed since last month or how much more time you are spending creatively than you did last year. All things to celebrate! "Comparison is the thief of joy." – Theodore Roosevelt.
To see more from Harriet, follow her on Instagram.