Meet the Maker: Hazel McNab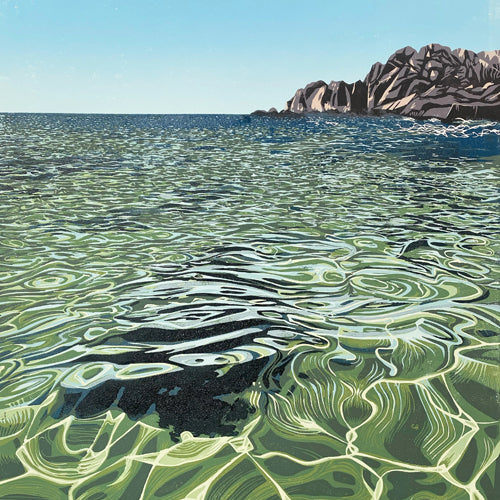 Hi I'm Hazel, I live in Cornwall. I moved down just before Covid, very lucky me! And spent lockdown cutting Cornish Landscapes and really getting into my printing. My background is Fashion and Textiles, St Martins School of Art and I think my love of pattern shows in my work.
 Describe your printmaking process.
I mostly work in reduction linocut which means cutting away each colour from the same block of lino. I start with a simple outline sketch with a sharpie. Then Iooking at my photograph I cut out the colour I want to keep on the paper starting with white and making my way through the colours I want to use. I don't have a plan I just keep going until I think it's finished. I don't have a press, I mostly use a big metal serving spoon to rub the back of the paper. For me the most important thing is the composition, I want the viewer to be led into the picture, and want to look around and notice the little details, and the 2nd is getting the colours right. I often show my whole process as a News post on my website.
How and where did you learn to print?
I got into printmaking about 10 years ago, a friend who had a gallery, which only sold prints thought I should try so he could sell my work. I'm mostly making it up as I go along but I did do a 3 day Ian Philips course early on which was a great help. It also changed me from soft lino to the grey hessian backed and introduced me to reduction cutting and the Ternes Burton registration YEY!
Why printmaking? 
I love making mistakes and experimenting because they usually lead to a good discovery.
Where do you work?
I work from a studio in my house, which is lovely and light. I like to mix my colours and print during the day and cut at night. I have 3 little dogs and I get out onto the coastal paths most days so I'm always being inspired by the landscapes around me. I take photos and share them on a separate Instagram account for anyone to use.
What inspires you?
Water inspires me and I love the challenge of trying to capture it in all of it's moods. I was vey happy when I overheard people at Printfest saying how much they liked my water.
What is your favourite printmaking product?
 My favourite printmaking products are probably the Speedball inks because they dry so quickly and I can get onto the next layer. Sometimes I mix them with the Graphic Chemicals and although they're oil based they're water washable so mixing them works for me. The Ternes Burton registration pins and tabs are essential and I love the palette knives because I just love the feeling of mixing the ink.
 What have you made that you are most proud of?
 My proud moment is that I've just got my 'Winter Sun' print through to the finals of the David Shepheard Wildlife Artist of the Year. It's in the category 'Earth's Wild Beauty" and it took me a couple of months and lots of walks until I got my photo to work from. It will be in The Mall Galleries in London in September.
 Where can we see your work? Where do you sell?
 You can see my work on my website and I've joined Art Space, a lovely gallery on the harbour in St Ives. There are seven artists showing work there and I'm in the gallery every Tuesday. I'm also a member of The Cornish Craft Association and their gorgeous Gallery is at Trelissick Garden, National Trust near Truro.
I have two exhibitions coming up, I will be in The Terrace Gallery, Penryn until the 9th September and my work will be in The Bolthole, Ironbridge, Shropshire throughout September. You'll also find me at the Saltaire Makers Fair on September 16th and 17th. If you're down my way you're always welcome to get in touch to plan a visit to my studio.
Do you have any advice for other printmakers and creatives?
 My advice for anybody who would like to have a go at Printmaking is to just go for it, you'll surprise yourself.
To see more from Hazel follow her on Instagram and Facebook.