Meet the Maker: Ieuan Edwards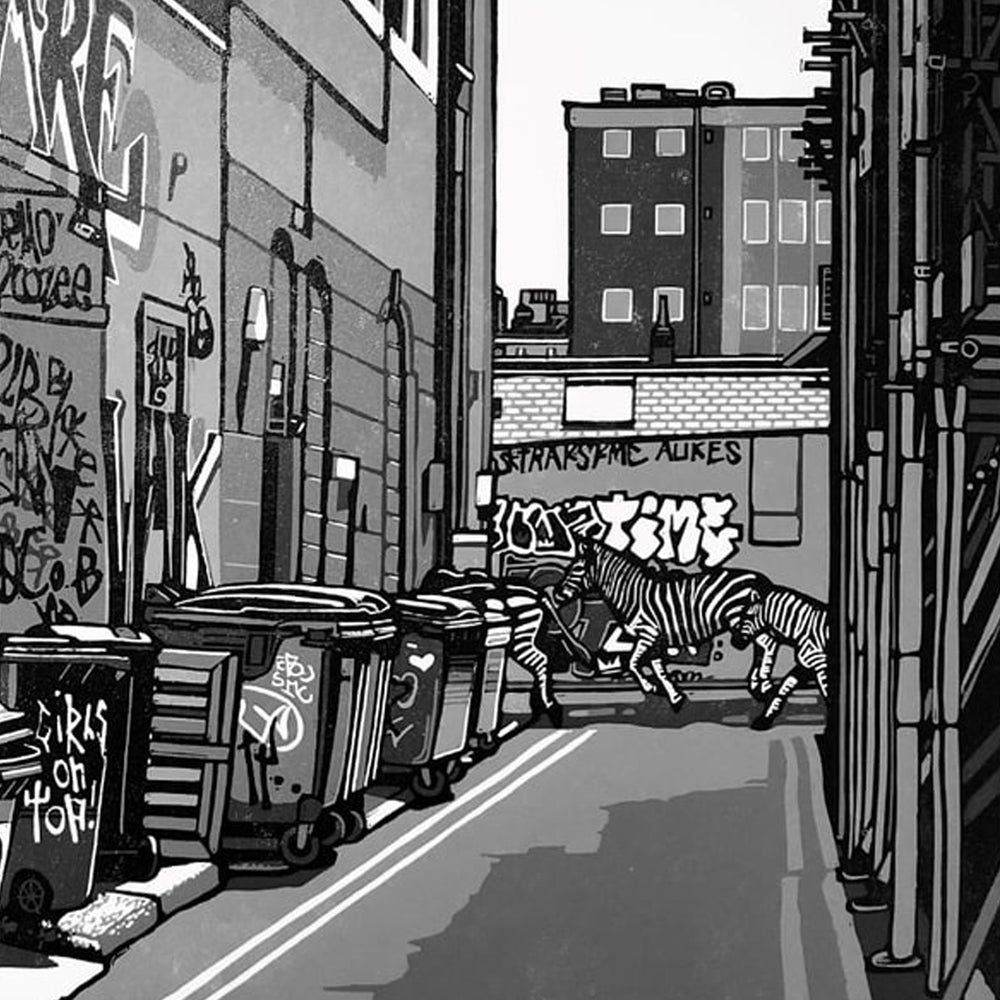 I'm a linocut printmaker and illustrator based in Broadstairs on the Isle of Thanet in Kent, which is home to a good few other lino folks and a thriving and supportive art scene in general.
Describe your printmaking process.
I tend to print fairly small runs of reduction linocut prints; multi colour prints made from one block, with a portion of the lino carved away between successive colour layers. My work varies from loose, organic and messy (where I like to "busk" the colour layers as I go along, rather than planning) to ultra-precise architectural stuff where even a tiny bit of mis-registration can make me very grumpy and add extra work for the local paper recycling crew. I occasionally make simpler one colour character based work, tending to sketch with my tools rather than planning each mark beforehand.
How and where did you learn to print?
I'm pretty sure I won't be the only contributor, or reader, who did a bit of printmaking under duress at school and then picked up a linocut kit a good few years down the line, having dabbled in other media in the interim.  So no formal printmaking training, although my technical drawing lessons at school have come in handy recently with my more techy work, so big up Mr Wilkinson!
Why printmaking?
To be honest I think I originally really liked the tools. Is that shallow? I'm not a natural completer/finisher and tend to dive headfirst into new ventures, especially where there are new bits of kit involved (anybody want to buy a twice used cider press?) but thankfully I found my true love in the drawing/carving/inking/printing cycle – possibly because there is a natural gap between each of the processes and I can have a bunch of different projects on the go at once. I'm having fun pushing the boundaries of a pretty stubborn and limiting material.
Where do you work?
I'm currently "between studios" so I'm working on the dining room table. I have a day job which is based at home, so having my setup close at hand and not having to travel to a studio means I can make the most of moments of snatched time. Needless to say, my wife is incredibly patient and supportive, but if any readers know of any space in/near Broadstairs please get in touch!
Describe a typical day in your studio.
I don't tend to get complete days very often, and my lengthier bouts of printmaking time are generally wrapped up with specific tasks such as commissions, but a general session will start with coffee, procrastination and choosing some music. I'll then work until I have to stop. Hours can fly by while carving. It's my meditation. Punctuated only by remembering to make process videos to feed the algorithms. Thanks a bunch Elon.
How long have you been printmaking?
Other than the aforementioned typical school experience, I picked up my starter kit in 2012 and was showing work in group shows within 12 months. My first solo show was in 2014.
What inspires you?
My chief inspiration for making prints initially was my family story. My maternal grandfather was a coal miner in the Rhondda in South Wales. He retired from mining on ill health and moved with his family to the Kent seaside, where they'd previously holidayed. My Dad soon followed, with his guitar on his back, and I came along a few years later. As a result, much of my work compares and contrasts the architecture of our industrial heritage with that of the fairground.
Other areas of interest include palaeontology, geology and exploration,  with a smattering of folklore and the bizarre.  During lockdown I made some prints of wildlife (both contemporary and prehistoric) making the most of deserted urban spaces, inspired by news clips of mountain goats munching their way along rows of front gardens in Llandudno.
Other current printmakers who inspire me through their technique and enthusiasm include Dave Lefner, Eric Gaskell and Bryan Angus. I'm a sucker for the industrial photography of the Bechers and Viktor Macha.
My printing soundtrack is generally supplied by Boards of Canada, Godspeed! You Black Emperor, Low, Galaxie 500, Slowdive, Mogwai, Spacemen 3 and the latest electronic gem from the always ace Castles in Space label.
What is your favourite printmaking product?
Sorry, I can't narrow it down to one. Registration is everything, due to the techy nature of lots of my work, so I'd struggle (ie lose more prints) without Ternes Burton registration pins and tabs. I'm a bit of an evangelist for the Print Frog baren from Matt and Sharon at Iron Frog Press, which is great for workshops as I like to demonstrate that decent quality prints can be made on the kitchen table. In terms of ink I tend to use linseed relief ink (the metallics are amazing). My trusted paper for editioned prints is Somerset Satin 250gsm and for classes I'm very fond of Kent pads from the nice folks at Handprinted. You might have heard of them?
What have you made that you are most proud of?
I made a pretty hefty print of one of the sets of winding gear at Lewis Merthyr Colliery in South Wales, now the Rhondda Heritage Centre. I printed the first two layers at home and then completed the print as part of a residency at The Workers Gallery in Ynyshir, a stone's throw from where the machine is situated.  It was wonderful to engage with visitors during my time there and the print ended up being my first successful submission to the Royal Academy Summer Exhibition (cheers Grayson!) in 2022.  I'll be continuing the series and recently made a companion print of a water tower bedecked with very intricate scaffolding.
Where can we see your work? Where do you sell?
I'm pleased to be represented by Don't Walk Walk Gallery in Deal (alongside ace relief printmakers John Pedder, Georgia Foxglove and Hannah Forward) and you can also find my work at The Lido Stores in Margate and McGillan & Woodell in Ramsgate. I'm currently looking for a Welsh gallery. I'm often up and down the country at print fairs, including the events run by Ink, Paper and Print and I have an online store. As well as the RA show last year I was in the Turner Contemporary Open in Margate. I've also been in each of the three editions of "Linoprint" - curated by Ben Dickson and featuring other inky friends from Kent including Mat Pringle, Nick Morley, Hugh Ribbans and a bunch of print luminaries from the UK and beyond.
What will we be seeing from you next?
I'm currently (slowly) working on a series of prints based on sketches and photos of route markers on the way up to the summit of Ben Nevis and I'm carrying on with my series of large prints of iconic industrial and fairground structures. I'm a huge music fan and have been privileged to collaborate with some ace musicians over the last few years, including the brilliant Funke and the Two Tone Baby from here in Kent. Next up will be some vinyl covers for a superb electronic artist called Lone Bison on the Castles in Space label. I make videos for him too and we're working on an idea for a joint audio/visual show later this year. I'm also developing an idea for a series of immersive printmaking workshops in some pretty iconic locations around the UK. Sign up to my mailing list for early info if you're a fan of girders and rust!
Do you have any advice for other printmakers and creatives?
Have fun. Don't worry too much in the early days about developing a style, just put in the hard yards and your style will make itself known and will evolve. Learn from others but don't worry too much about "the rules" as there really aren't any.
Keep up to date with Ieuan by following him on Instagram, Facebook and Twitter and make sure to check out his website!