Meet the Maker: James Bristow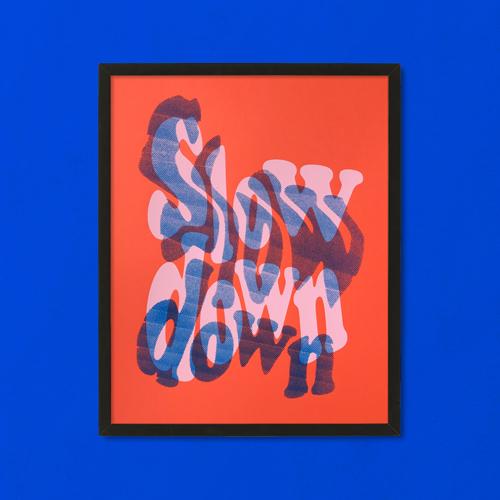 I'm James Bristow, a graphic designer and, following a career that included marketing fish to restaurants (yes, really!), I set up Beanwave, a small studio working on brand identity, printed literature and online communications, based in Silverstone, Northamptonshire.
I love quirky typography, wordplay, colour and imagery. Working with commercial clients – including the National Trust, Jaguar, The Royal Signals, The Open University – often comes with constraints (and rightly so), so having an outlet to experiment and play creates a healthy balance between design and art. That outlet is Beanwave Editions – quirky, colourful, hand-pulled screenprints.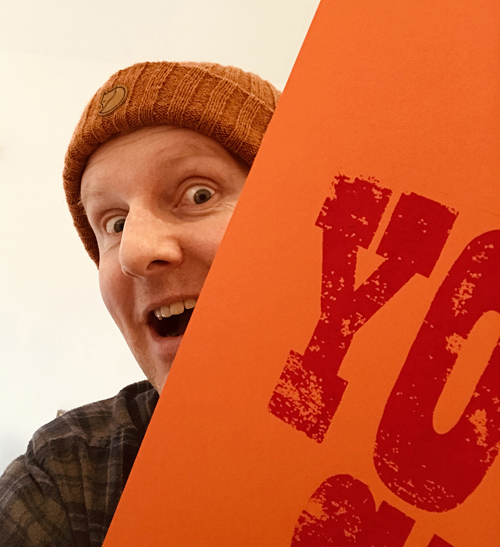 Describe your printmaking process.
I pick up phrases, bits of lyrics, random images, and twist them on-screen into something that amuses or delights me while thinking about how to utilise type, layers of overprinted colours and paper. I try to imagine each print in a frame on a wall in someone's home. I then expose the screens and get inky. What I end up with rarely looks like what I had in my head, but that's all part of the joy/frustration.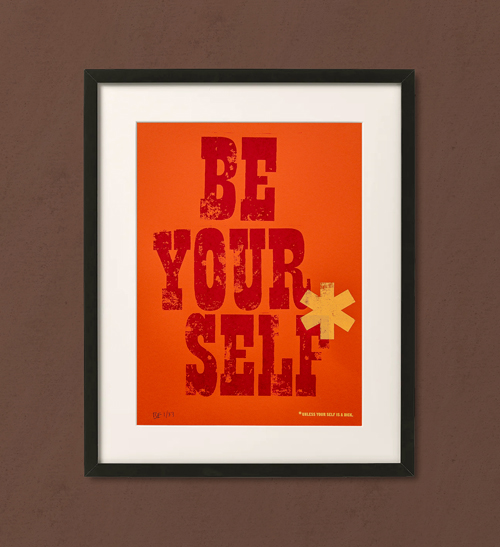 How and where did you learn to print?
I dipped a small toe in the world of screen printing back at art college some 25 years ago, but only in the last year did I get around to dipping in the rest of the foot, learning by doing. Also, a couple of books were helpful – Print Liberation and Screenprinting by Jane Sampson – as well as online blogs and videos.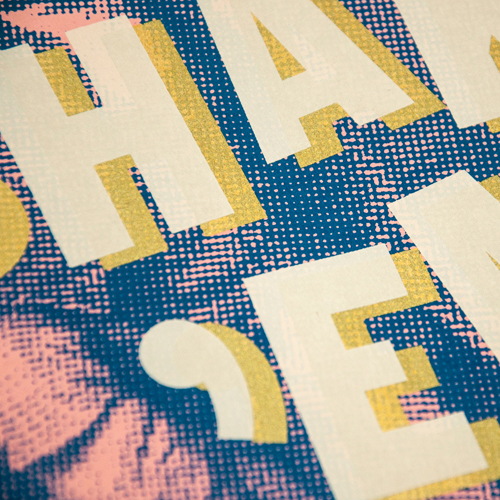 Why printmaking?
Most graphic designers get excited about print (well, certainly the ones with a few grey hairs) and I'm no exception. It's great to take a design and make it 'real', experiment and have control over the whole process.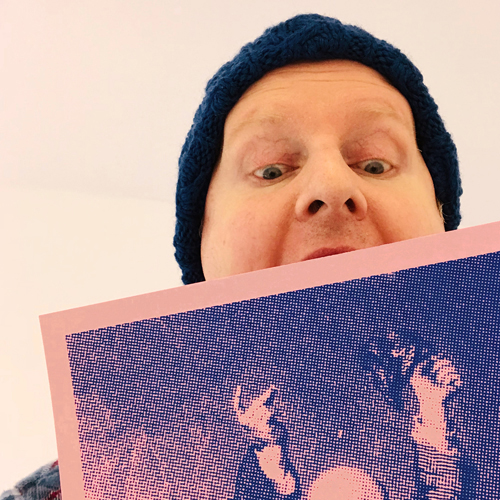 Where do you work?
I've set up a print workshop in a small room behind the design studio. I can do the whole process in there, from the coating and exposing screens to printing. Very basic, but it does the job.
Describe a typical day in your studio.
Screen printing fits in between and around the day job of commercial graphic design work. So there's no regular routine. I think this works for me, it keeps printing as more of a treat and not just another job to do.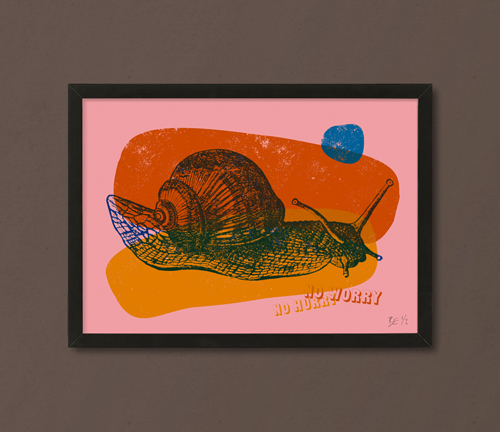 How long have you been printmaking?
Only 1 year. So still got a lot to learn (and accidentally stumble into).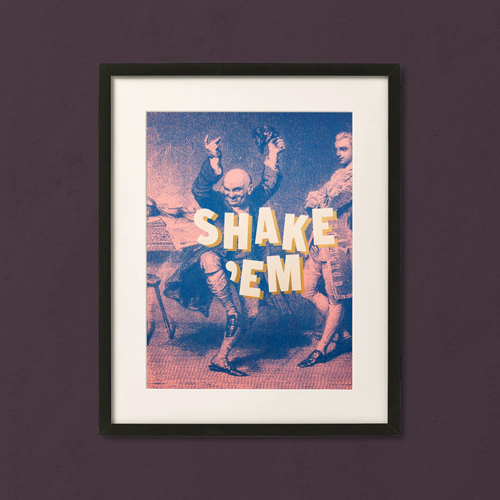 What inspires you?
Corita Kent, bold colour, Beastie Boys, psychedelia, Anthony Burrill, the punk do-it-yourself ethic, retro typography, patterns from the 60s & 70s, 3D/Robert Del Naja, wordplay, vintage ephemera.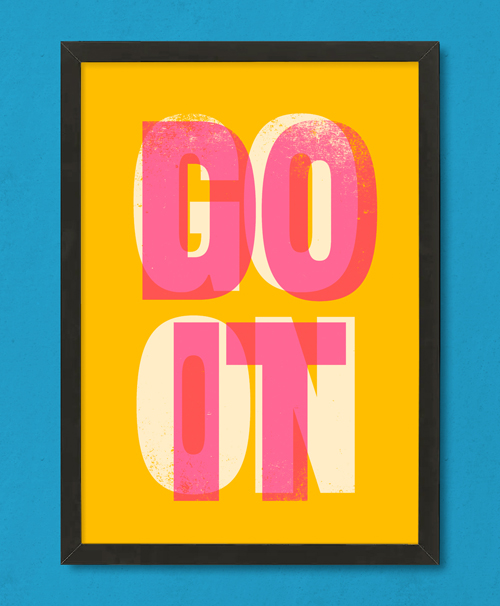 What is your favourite printmaking product?
Speedball white ink. Having had millions of pages of commercial work printed over the years using CMYK litho, it's liberating to be able to print in white and other opaque colours onto coloured papers.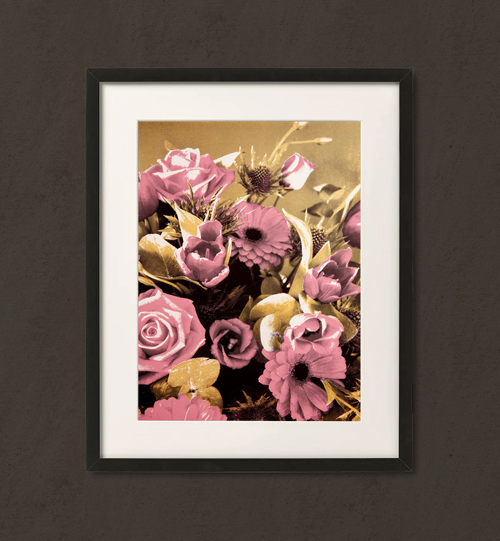 What have you made that you are most proud of?
The next piece is always the most exciting. Oh, and the DIY vacuum table that I built this summer.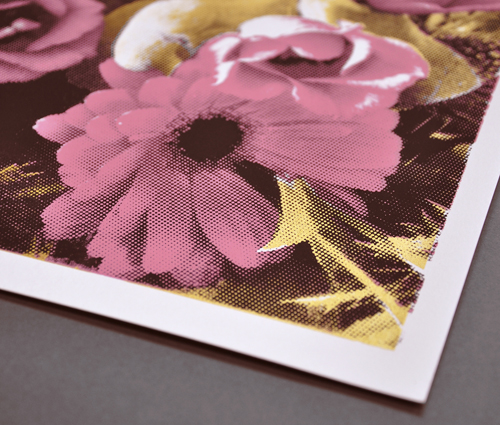 Where can we see your work? Where do you sell?
I share work in progress images on Instagram, and final editions go in my shop. I've also recently had a couple of approaches from homeware shops and a gallery, which I'm exploring.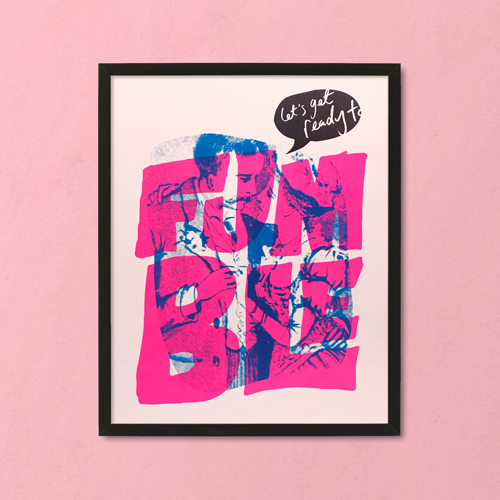 What will we be seeing from you next?
I've just launched three quirky Christmas card designs. After that, I'll delve into my notebook of ideas and find something to get stuck into.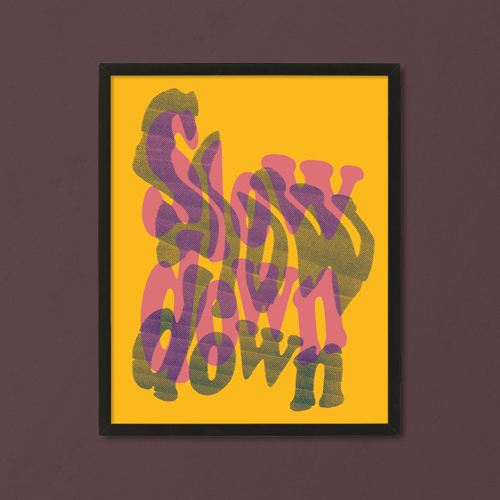 Do you have any advice for other printmakers and creatives?
Learn by doing. Find your own path. Think of it as play, not work.
To see more from James check out his website and Instagram.
---