Meet the Maker: Jamie Barnes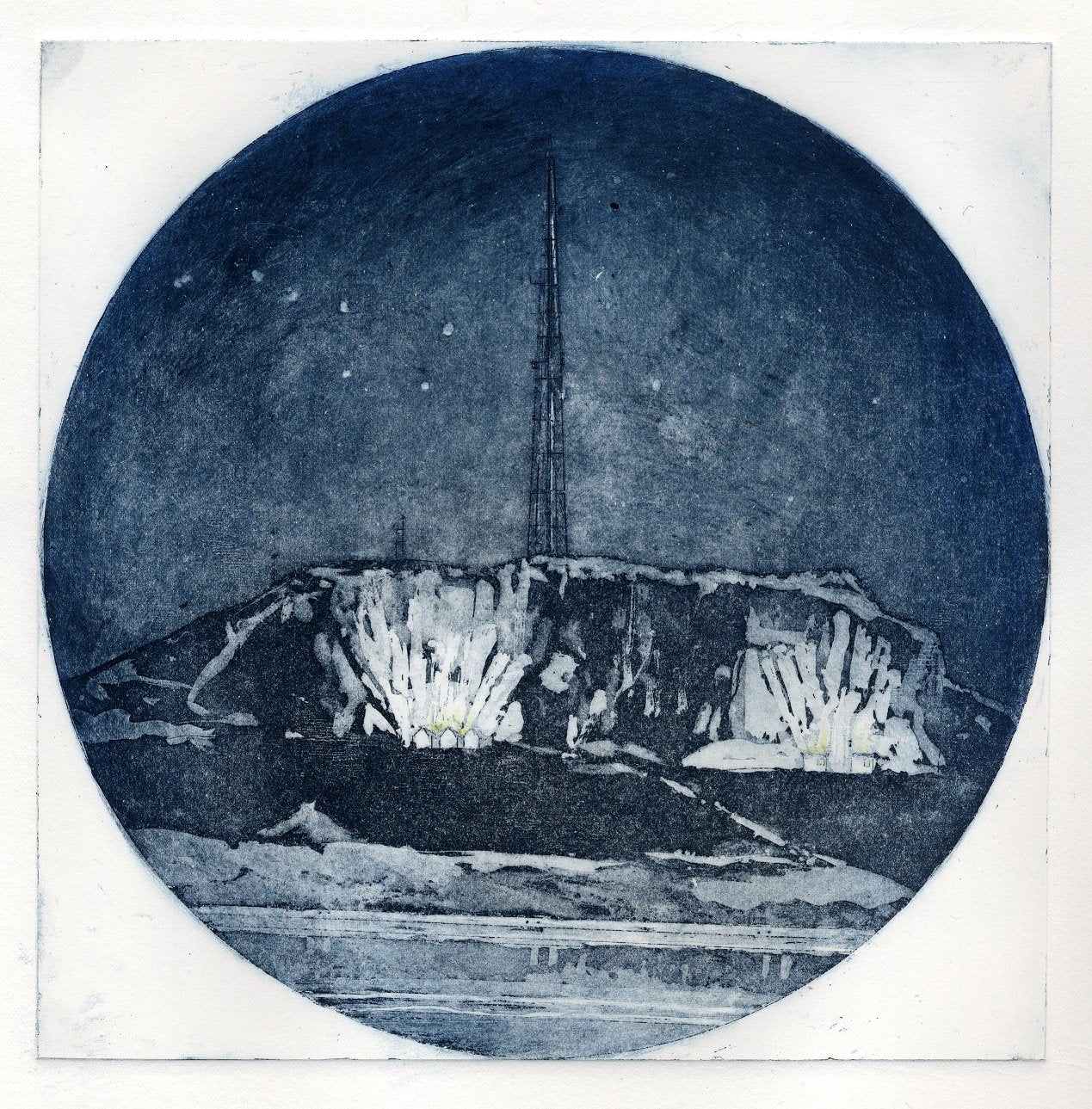 We are very lucky to have Jamie Barnes in the studio teaching Aquatint Etching in April 2020! Join us for the weekend or weekday workshop and read on for more information about Jamie and his beautiful work.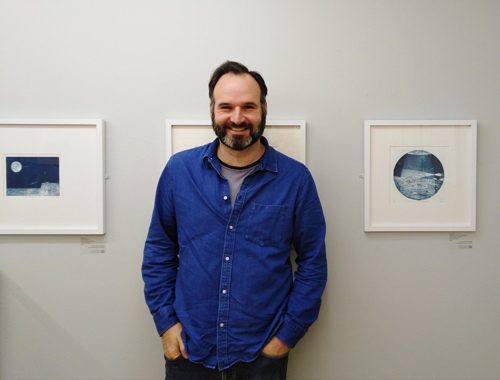 Describe your printmaking process.
I make etchings about structures in the landscape and on the coast, so everything begins with a real or imagined place. I then develop that into a drawing on tracing paper then reverse the drawing to use as reference to make an etching. I etch the lines into the zinc plate using copper sulphate solution. Next I add all the tones to the plate, this is called the aquatint. I then add ink to the plate and take a print using an etching press.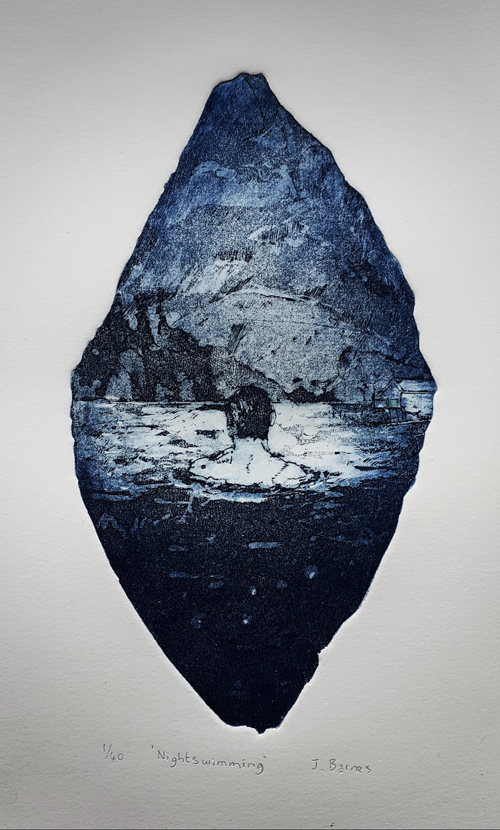 How and where did you learn to print?
While I was working as a museum curator about 10 years ago I took a printmaking night class in the local art college. As soon as I learnt the etching technique I was hooked and my fascination with it has never waned.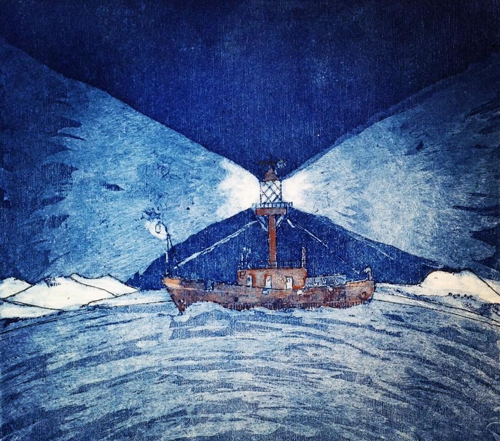 Why printmaking?
Two reasons 1. I absolutely love drawing and etching is an excellent way of processing line drawing, and 2. I'm colour blind, and a limited palette suits etching really well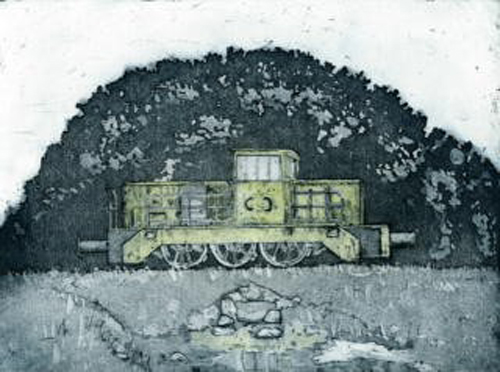 Where do you work?
I work in my studio right in the middle of my hometown, which I share with two other printmakers, a painter, a photographer and a sculptor.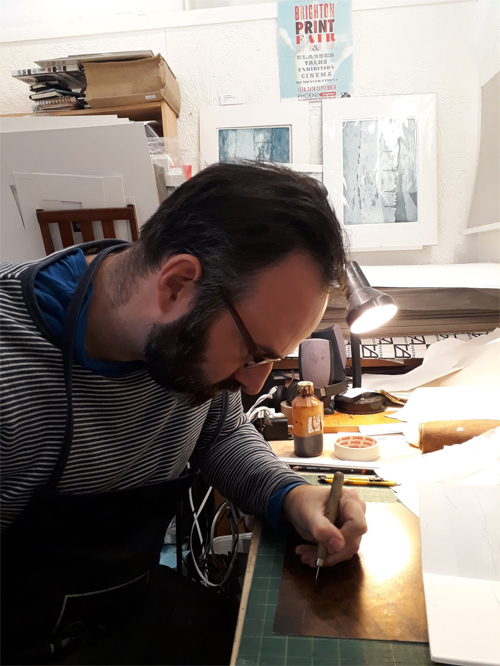 Describe a typical day in your studio.
I live in Kendal in a terraced cottage in an area of town called Fellside, where the houses are stacked up like an Italian hill village – but with a lots more rain! My studio is a 3-minute walk down this hill into the market place. I usually start with a bit of editioning of etchings while listening to lots of art podcasts or music. After lunch I'll either make my etched jewellery or do a bit of framing or drawing. If I've been on my own in the studio, I may go to the local coffee shop mid afternoon and have a natter with the staff and other customers, and perhaps do some research for future projects.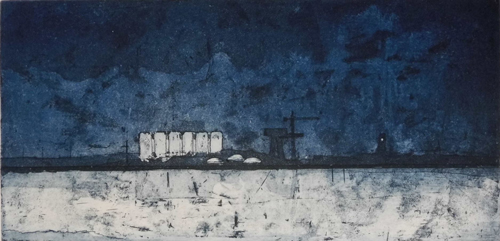 How long have you been printmaking?
10 years now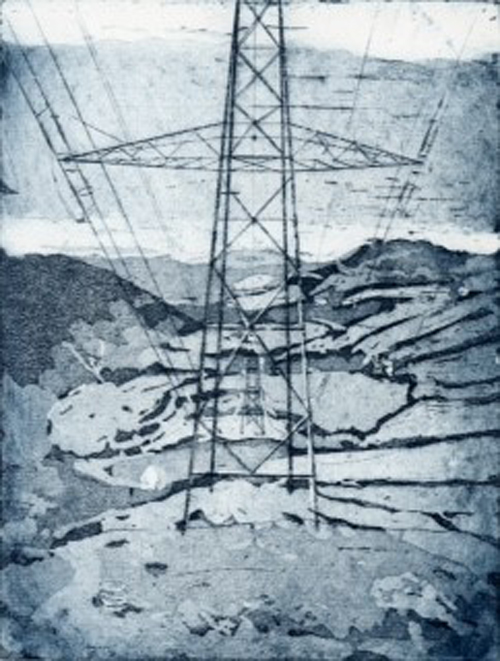 What inspires you?
The tracks and traces left by humans in the landscape; be it buildings, power lines, infrastructure or just curious structures.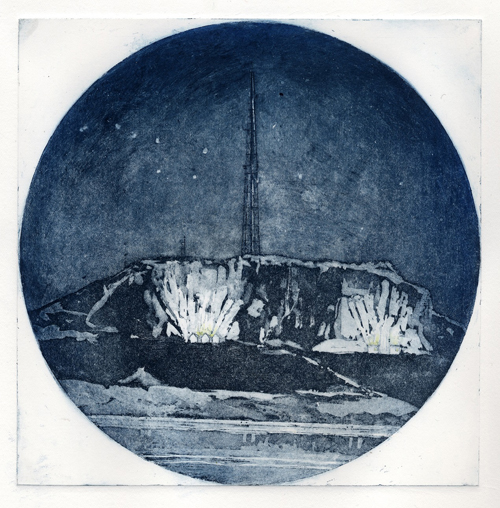 What is your favourite printmaking product?
Probably the intriguingly-titled 'straw hat varnish' which I use to 'stop out' areas when making my etching plates.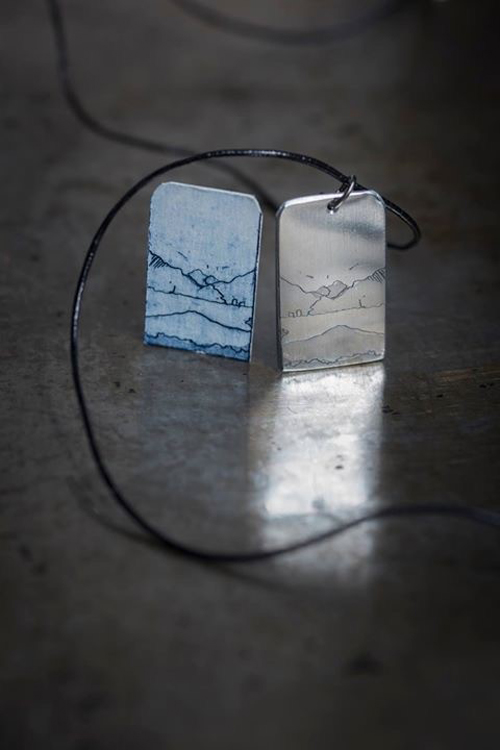 What have you made that you are most proud of?
I think the etching 'Stone Semi-Circle and Shap Cathedral' (below) from my recent group show 'Shap Shape' ticked all the boxes for what I was trying to achieve.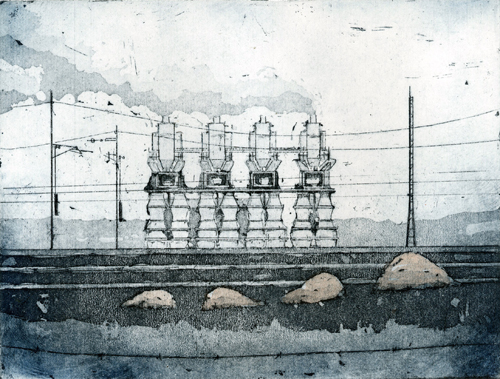 Where can we see your work? Where do you sell?
If you visit my website www.jamiebarnes.co.uk you can see and buy my work, as well as see a listing of the many art selling events I attend throughout the year.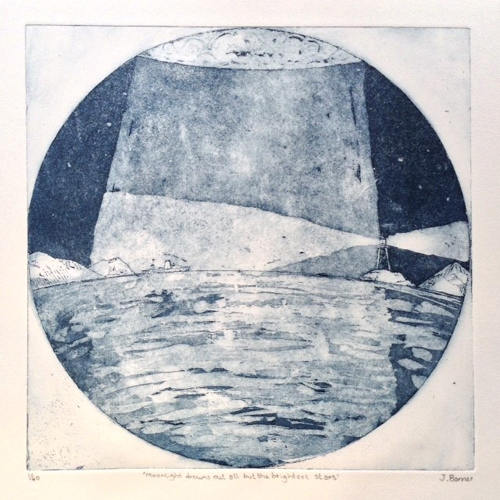 What will we be seeing from you next?
I will be attending Printfest Ulverston the first weekend in May; the best printmaking festival in the UK, and luckily for me just on my doorstep! I am also trying to develop some new work about space architecture.
Do you have any advice for other printmakers and creatives?
Don't try and do too many different things. Concentrate your efforts on a couple of strong ideas or techniques follow them right through. This helps give your work consistency which is often what galleries and buyers want to see.  
Join Jamie Barnes in the studio for his Aquatint Etching Workshop in April 2020! Join us for the weekend or weekday workshop.
See more from Jamie:
Instagram: PrintmakerJim
Facebook