Meet the Maker: Jo Muriel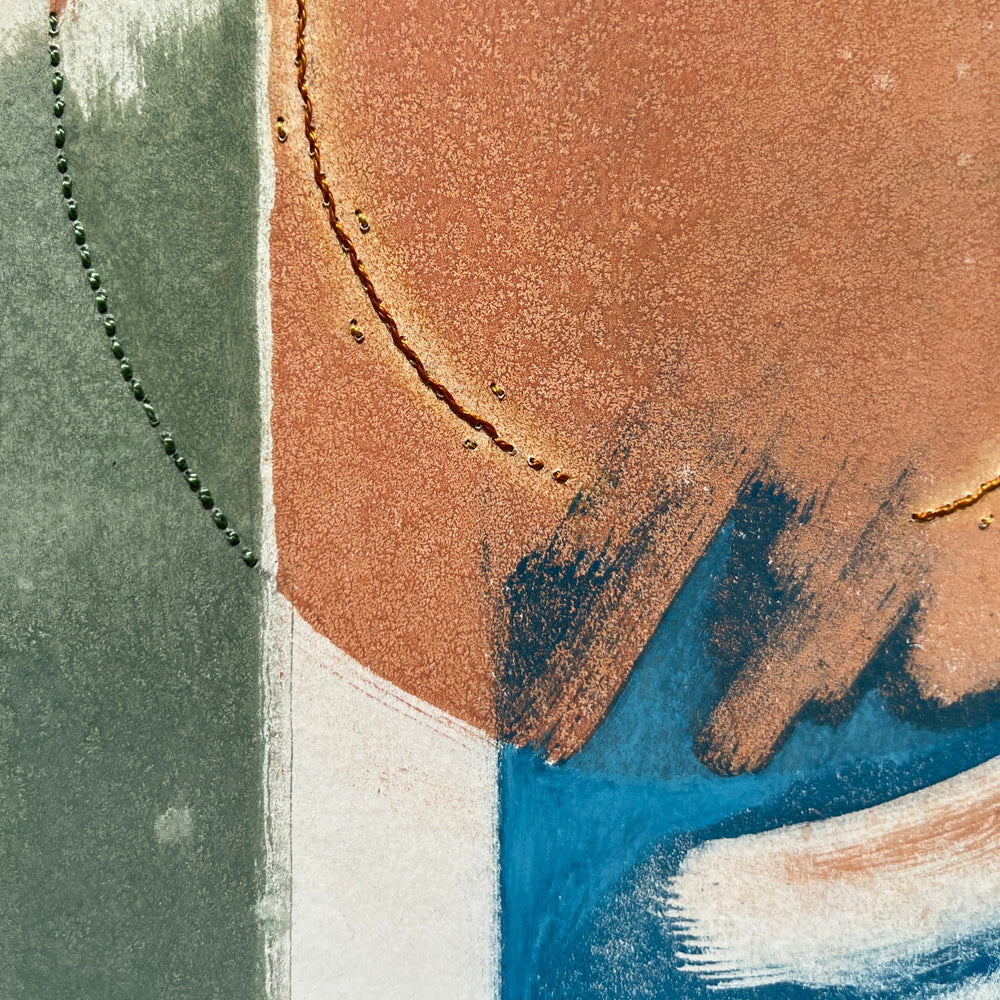 Describe your printmaking process.
My prints are all one of a kind, mixed-media studies which combine gestural marks and mainly abstract shape formations. Sometimes, I include figurative elements, sometimes not. I'm mainly concerned with conveying instinctive reactions to natural references with freedom and movement, through colour & texture. Capturing spontaneous marks isn't easy in printmaking - the mainly organic approach I have to it, and the precision needed to produce a technically 'good print' often conflict.
I think I monotype in quite an unusual way - many of my prints are seven, nine, eleven layers and sometimes I have to wait weeks or a month for a layer to dry to avoid textural marks being removed by subsequent layers. I often paint or hand finish areas too - anything I feel the piece 'needs', I'll just do.
When the print has dried, I'll apply areas of varnish and detailed hand-embroidery. These can be embellished areas, emphasising organic forms or compositional features- elements, which I hope, encourage the viewer to explore further.
How and where did you learn to print?
I've done art my whole life - right through school, college and into uni, so I've always been exposed to printmaking, but it wasn't until about nine years ago when I started a printmaking course as part of a social enterprise in Shadwell, that I was taught how to monotype and it kind of went from there!
Where do you work?
I live, work and print mainly in East London but I'm from West Sussex and spend a lot of time down in sunny Bognor Regis too. I'm thrilled to have found Handprinted's amazing studio, and look forward to producing more work there.
Describe a typical day in your studio.
Well, I'm an art teacher in a secondary school, so I try to fit in my own work as much as possible around that. I tend to get into the print studio about twice a week in Shadwell. I've been going there since I started printing years ago. The tutors are supportive and just allow me to crack on with my own thing. I guess my home's also my studio in a sense - once the prints have dried or partly dried, after a month or so, the hand embroidery begins!
What inspires you?
Everything and anything. Other contemporary printmakers. Nature. Female Abstract Expressionists - Helen Frankenthaler wood blocks. How she was able to produce loose & painterly results using such complex technical processes, is so impressive to me. I really enjoy work which captures an artist's emotional response to their source material, rather than trying to replicate it entirely.
What is your favourite printmaking product?
True grain - a textured polyester which holds ink brilliantly and prevents any slippage through the press. I was only introduced to it recently and it's a game changer!
What have you made that you are most proud of?
I have been incredibly supported by Woolwich Contemporary Print Fair. In 2019, one of the pieces I exhibited there was highlighted on GQ online. In 2020, another was selected as part of Woolwich directors, Lizzie Glendinning's 'Top Picks', and I also featured in their 'Women in Print' series. The following year, a piece was shortlisted for the Boodle Hatfield printmaking prize, all of which, blew my mind! To me, exhibiting my work is always exciting and selling it is a massive bonus.
Where can we see your work? Where do you sell?
I've exhibited work, as part of group shows at the Woolwich Contemporary Print Fair, Bankside Gallery, Fen Ditton Gallery and Arundel Gallery Trail, which I'm excited to be doing again this year - the last ten days in August. I also sell my work through my website and Instagram. I'll be applying to Woolwich again this year - fingers crossed!
Do you have any advice for other printmakers and creatives?
Apply for everything. I know it's expensive, but entering competitions & open calls is such a good way to get exhibited and to make connections and be inspired. Don't be afraid to get yourself out there and lastly, support and promote one another's work!
To see more of Jo's work follow her on Instagram!