Meet the Maker: Kate Maxwell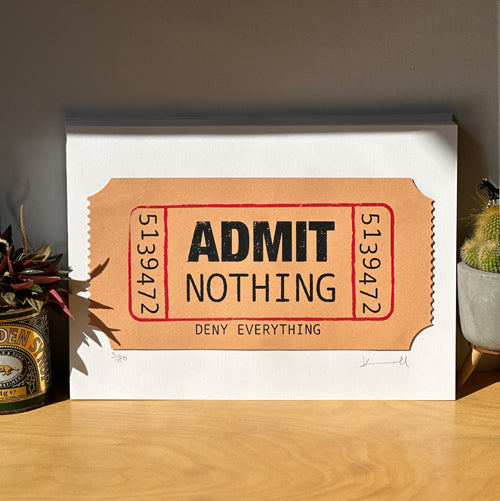 Hello! I'm Kate Maxwell from Design and Draw. I'm a printmaker and freelance Illustrator. I make colourful screen prints, risographs and other handprinted goods. You can also find my freelance illustrations on wooden toys and in children's publishing.
Describe your printmaking process.
I start a print idea with a mood board and a hand-drawn sketch, then I create either a vector drawing to expose onto a screen, or a paper stencil from a hand-drawn paper cut to use directly on the screen.
How and where did you learn to print?
I started screen printing during my illustration degree at Bath School of Art, where I created huge screen prints of pet food labels. I have since completed various print workshops at London Print Studio and Ochre Print Studio.
Why printmaking?
My style is simple and graphic, inspired by my collection of vintage toys and kitsch ephemera. Originally, these items often would have been screen printed, so using this print technique to create my art gives it a similar feel. Screen printing allows me to use a variety of coloured inks (such as neons) that can't easily be recreated in digital printing. I also love printing with hand-cut paper stencils, as this technique is so instant!
Where do you work?
After lockdown, I had the opportunity to move into a shared studio space at Fusion Arts in Kingston-upon-Thames. Having the space to create, away from the distractions of home, has been a game changer! I have a workbench for printing and to store my screens under, two homemade screen printing beds and lots of inks. I also have a big inspiration wall covered with work by artists that I love, as well as ideas and test prints. It's very colourful!
Describe a typical day in your studio.
I cycle to my studio, as I live in a town nearby, and have a tidy up - the small space means I have to be tidy! If I'm working on a screenprint, I'll start by making test prints to try out colours. I stick these on my inspiration wall to have a think about. While I'm mulling them over, I might reprint previous designs that are out of stock, although I rarely print the same colour-way as I get bored easily!
How long have you been printmaking?
I've been printmaking since the final year of my illustration degree in 2000.
What inspires you?
My collection of kitsch, vintage toys are a constant source of inspiration and, now that I have children of my own, I think my style has become even more playful.
What is your favourite printmaking product?
I could not do any of it without my trusty squeegee!
What have you made that you are most proud of?
My most recent screen print, which was inspired by my collection of vintage bottles. I love how the bright, transparent ink works on the paper in the same way that the coloured glass works with sunlight. Plus my new Ticket screenprint; Admit Nothing / Deny Everything!
Where can we see your work? Where do you sell?
I sell directly from my shop and at two gallery shops Maltings Stores and Not My Beautiful House.
What will we be seeing from you next?
I'm currently creating more screenprints based on vintage bottles in different colours and designs.
I'd also love to make larger screen prints again, which would mean venturing back into an open-access studio to use vacuum printing beds.
Do you have any advice for other printmakers and creatives?
An inspiration wall is a great place to start, and taking part in printmaking courses at an open-access print studio is great for gaining ideas and experience. Taking part in Instagram-based print challenges and fundraisers, such as the Pressing Matters insert, Handprinted Collective and One of Many Postcard from John Pedder, is a good way to meet other printmakers too.
Too see more from Kate, follow her on Instagram!