Meet the Maker: Kaylene Alder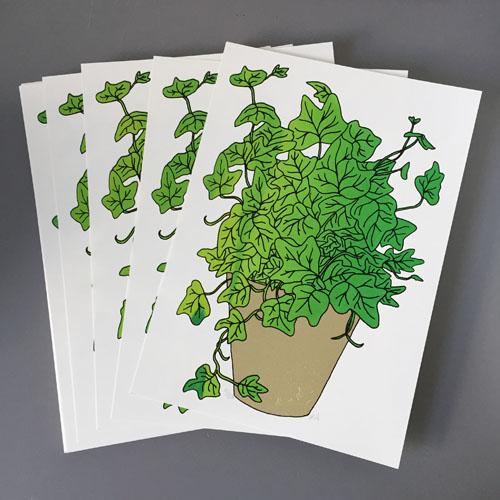 Hello! I'm Kaylene. I'm an illustrator, printmaker and teacher.I'm originally from Canada but I now live and work in South East London with my Mr, two kids and two cats. I make quirky screenprints and linocuts – usually with a planty theme of some sort. I began Plant Prints for Peace after the birth of my first daughter in 2016. I felt like there was a lot of not-so-great stuff going on that year and wanted to try and make a difference doing something I love. 10% of sales from PPFP goes towards a wonderful charity called Peace Direct (https://www.peacedirect.org/) who work in conflict areas around the world to build lasting peace. I've always loved plants, though I'm not amazing at looking after them, and was really drawn to greenery as subject matter.
Describe your printmaking process.
I make screen prints at the wonderful Sonsoles Print Studio in Peckham.I'll draw a design by hand and then digitise the drawings and have them made into film positives.I'll then expose screens and print each colour layer – finishing with my love / nemesis – the thin black line – I never leave myself much of a margin for error when screen printing so I have to drink lots of coffee before I get started. I make my linocuts at home in my little studio / spare room.I'll usually draw straight onto a block before I cut using my trusty Pfeil tools. Sometimes I'll hand burnish prints but usually I use my Woodzilla press. Most of the lino prints I'm making now are reduction prints – I like the danger of no going back and the loosening of my drawing style when printing with lino.
How and where did you learn to print?
I learned to screen print and linocut at school and then university many moons ago. I came back to screen printing after a one day course with Peckham Print Studio (now Make-Ready https://make-ready.co/) and got properly obsessed. I got stuck back into linocut when my second daughter was born last year and I was finding it tricky to get to the screen printing studio. There's been a lot of trial and error and a lot of checking out the work of other printmakers in books and on Instagram etc. for tips and tricks.
Why printmaking?
There's something magic about printmaking. I know because when I teach workshops with adults or the children I work with at school, there is always an audible 'woooowwwww' when the print is revealed. Prints are so visceral and tactile. I feel like every one is an original in its own way – different pressure, different gradients, little marks – in mine anyway – I'm pretty relaxed about perfection! The process of printmaking is satisfying too – there's a lot of problem-solving which I love.
Where do you work?
I do most of my drawing and prep work and all of my linocuts in my studio at home in Penge. It also serves as a spare bed but is mostly a land of things and images I love. And mess. Definitely mess.
Describe a typical day in your studio.
It's pretty rare that I get a whole day in the studio. Printing has to fit between my teaching work, running around after two little ones and various other bits of adulting. I make pretty good use of the hours between 7-11 most nights, carving blocks, printing layers or drawing new designs. Most of my post office runs to send prints out happen on a Monday when I'm home with the littles so I make sure I am well stocked with snacks to see out the queue. I also spend time prepping for markets and workshops, which I do fairly frequently.
How long have you been printmaking?
I made my return to screen printing about 5 years ago and have been properly back to linocuts for about a year and a half.
What inspires you?
Probably fairly obviously, I am inspired by anything green and leafy. I love the life that plants bring to a space. I do freelance illustration as well and am often inspired by the work I do for clients. I recently completed a commission for a yoga teacher and have turned some of the figures into plant-headed characters – a theme I've been playing with.
What is your favourite printmaking product?
My Pfeil cutters are dreamy. I also love printing on HoSho paper because there's a bit of embossing when I use the press. Really, I love all the bits and pieces though. I cannot be trusted in a printmaking shop…
What have you made that you are most proud of?
I'm inspired by the work of Peace Direct and have started a series of terrariums filled with landscapes from some of the countries they work in. Even in some of the places really struggling with conflict, there are still areas of astounding natural beauty. I'm really proud of the first couple of these as they are 7 layer reduction prints and I love the way they've come out with a sort of painterly feel.
Where can we see your work? Where do you sell?
I post work in progress fairly frequently on Instagram @kaylenealder. I also have my own website with a webshop kaylenealder.com/plantprintsforpeace and an Etsy shop https://www.etsy.com/uk/shop/PlantPrintsforPeaceI do a fair few markets around London – the next one is https://www.greenroomsmarket.com/ where I'll also be running a linocut workshop. I'm a member of the lovely local SE20 Art Group in Penge and will be taking part in the Penge Art Trail – exhibiting at the glorious Alexandra Nurseries for the whole of June.
What will we be seeing from you next?
Oooh, good question. Definitely more plant-headed people and the rest of the Peace Direct series. I've also been having a bit of a play with monoprinted screen prints but I need a lot more practise with those! I also volunteer for the Just A Card campaign https://www.justacard.org/ which aims to ensure people know the value and importance of supporting artists and small businesses. I know they have some big news coming up so I'm looking forward to supporting that too.
Do you have any advice for other printmakers and creatives?
I find I have to remind myself that everyone has their struggles – none of us are alone in that and I know that I have a creative crisis of confidence at least once a month! That's really common for creatives – self-doubt – but I guess the challenge is to try and focus on the positives and learn from the negatives. So I guess my advice is to be kind to yourself and don't be afraid to ask questions – there are lots of great peeps out there who are happy to help you through a print problem or just to give a few words of encouragement. Print nerds love a print problem!
Instagram:  @kaylenealder
Website: kaylenealder.com/plantprintsforpeace
Etsy shop: https://www.etsy.com/uk/shop/PlantPrintsforPeace
Just A Card campaign: https://www.justacard.org/