Meet the Maker – Lucie Summers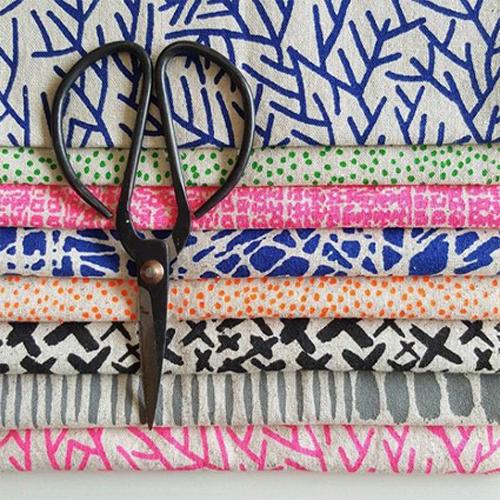 Hello there! My name is Lucie Summers, I'm a printmaker and I live on a farm with my husband and two boys near Newmarket in Suffolk. I mainly design and
print small panels of fabric for other crafters and makers to use in their work. I also create paper collages and make quilts for exhibitions.
Describe your printmaking process.
I have a few different ways of working, but generally I like to experiment with making marks with black ink – either using drawing pens or paintbrushes.
I scan the design into my computer and use Photoshop to move and clean things up, then I can print out the design in the correct size for making into
a screen. I currently make screens using a Thermofax machine, it's quick and easy, but it's expensive and now the screen mesh is being discontinued which is a bit of a disaster! I'm slightly burying my
head about the situation, but I really need to experiment with new ways of producing screens. At the moment, I'm thinking of using the screen fluid
and screen filler method.
How and where did you learn to print?
I learnt to screen print during my A level textile course. The class had to design and produce the costumes for the school production which that year was
'Bugsy Malone'. My job was to design a motif for Dandy Dan's gang, who was played by my then boyfriend Sam (now husband! Yes, we've really been together
that long!) I produced the yardage for waistcoats for the gang in different colours with a dollar sign motif, heavily influenced by the Pop Art movement.
I loved every minute of that project and once I was at art school in Norwich, I spent my days down in the basement happily printing lengths of cloth,
listening to Mark and Lard on Radio One (which has just aged me….!)
Why printmaking?
I love printmaking, and I also like making collages and quilts and I think all three practices help inform each other. It took me ages to realise this;
I thought I was flitting around not able to settle on one thing until recently I've realised that once I've made prints by whatever means onto paper
or fabric (either screen printing or monoprinting) I then use those papers to create collages…which in turn are useful exercises to help me design
interesting quilts…which then helps me create interesting textures for fabric design. And so it goes full circle.
Where do you work?
I work from a lovely large space in our farmhouse which was the old kitchen of my husband's childhood home. It's got light from 3 aspects so it's a really
nice space to work in. I'm terrible at keeping it tidy though, there's stuff everywhere! 
Describe a typical day in your studio.
My working day is typically quite short once I factor in the school run which is an hour round trip. I answer emails while eating my breakfast and then
I usually sneak in a bit of baking (I'm obsessed) I usually spend mid morning printing orders for my Etsy shop so they can be sent out in the afternoon.
Sometimes I work with other companies, so after lunch I work on the computer polishing up designs for them. The most recent collaboration has been
with a local company who make covers for mobile phones and I'm really excited to see the results. I like to go for a decent walk with the dog mid afternoon
to clear the cobwebs, and I take the post with me to pop into the village postbox. I walk across the fields which I find really inspiring so I like
to think of it as 'design planning' time. As soon as I'm home I'm out of the door to get the boys from school. I like to design in the evenings, so
I can sit and chat to my husband at the same time. I think when you work at home, you tend to fit jobs around your daily life. I don't have a routine
as such, but I've found what works for me and fits in around my family.
How long have you been printmaking?
Apart from the work I did at school and art collage, I've been 'properly' designing and printing fabric panels for my Etsy shop since 2008 so next year is my 10 year printmaking anniversary!
What inspires you?
I'm inspired by everything I see. A crack in a pavement, the way the top of a tree meets the sky, an unintentional splatter of paint on a fence. I walk
everyday with the dog and am really conscious of the changing seasons, of the leaves and buds in hedgerows and the marks made in the soil by the farmer.
What is your favourite printmaking product?
My newest toy is always my favourite, and so at the moment, it's my Gelli Plate.
I'm so in love with it! When I've got a few spare minutes I play with it some more, and it's super easy to clean up. I made all of my Christmas
cards with it this year and they look really good. I'm hoping for the really big one for Christmas, I've dropped enough hints!
What have you made that you are most proud of?
Many years ago, I made a quilt which I called 'Portholes' using lots of my screen printed fabrics. It was created using a reverse appliqué technique
that hadn't really been used in quiltmaking before and it got a huge amount of attention. It's really funny, because the technique itself is now
called portholes, and I see lots of quilts on Instagram where it's described as being made 'using the porthole technique'. Portholes won first
prize at The Festival of Quilts in Birmingham and it sort of 'launched' me into that world. I'm pretty certain that quilt helped me secure the
design gig with Moda Fabrics (I designed two collections for them) and also helped bring me to the attention of the folks at F&W Media who
asked me to write a book, which is called 'Quilt Improv'. When I look at the quilt now, I can't believe I actually made it, so it's definitely
my proudest creation.
Where can we see your work? Where do you sell?
I sell online, in my Etsy shop, which is called Summersville. (summersville.etsy.com)
As well as fabric panels that are sold to other creatives, I've a selection of ready made items such as fabric covered sketchbooks, notebooks,
purses, pouches and phone covers!
What will we be seeing from you next?
I'm hoping to have the mobile phone covers in my hot little hands as soon as possible, and I've also designed a wallpaper for an Italian company that's
going to be launched in January in Paris at Maison et Objet which is super exciting!
Do you have any advice for other printmakers and creatives?
Experiment, play, make stuff. Do it again, and again and again. Show it on social media, gain feedback and make some more. Keep your eyes open and
be inspired by everything you see.
I am @lusummers on both Instagram and Twitter and my Etsy shop is summersville.etsy.com