Meet the Maker: Lucy Gell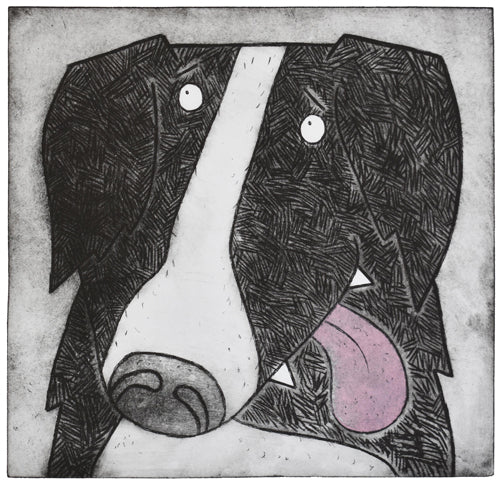 Hi, I'm Lucy. I studied graphic design and illustration at Staffordshire University and later began a career in animation. During this fun and exciting time I was responsible for fabricating the Martians in the Tim Burton film 'Mars Attacks'. I made many foam latex and silicone parts of puppets for productions at Cosgrove Hall Films in Manchester. I was given the wonderful role of puppet maintenance on many children's TV productions. My ultimate goal, however, was to become a puppet animator. I achieved this and went on to animate on programmes including Noddy, Postman Pat, Bob the Builder and Andy Pandy. It was a really fun time working at Cosgrove Hall in Manchester, they are years that I cherish! I took a break from animation to start a family and found that I was able to devote more of my time to printmaking. This provided a good work - life balance while my three children were young.
Describe your printmaking process.
My hand printed original prints and illustrations blend simple design, line and textures with an emphasis on character and personality.
I spent many years focusing on acid plate etching, however more recently I am completely obsessed with screen printing. I am a member of the West Yorkshire Print Workshop in Mirfield where I create all my artwork for screen printing by hand using tracing paper, black ink and pencils. The hands on approach to this kind of printmaking is what I love so much. I don't want things to be perfect, I love the surprises you get with printmaking. I illustrate the wonderful creatures that walk and fly around our crazy world. Animals have played a very important role in my life and each one has its own individual character and personality that make them all so special and unique. This is why I love them so much.
How and where did you learn to print?
It all started for me after attending an evening course in printmaking in Manchester. I had my first introduction to acid plate etching using soft ground where I created a small print of a seagull which lives on my studio wall. Once a month when the children were very young I would take myself off to a print studio in Rawtenstall run by printmaker Alan Birch. This is where I learnt how to create my acid plate etchings. When the children were young I spent lots of summers in St Ives, Cornwall where my mum was living. There were a few summers where I attended the print summer school at Falmouth University where I learnt to screen print. I spent each day for as long as I could screen printing.
Why printmaking?
There are many reasons why I love printmaking, the processes, the textures that can be created and mostly the ability to repeat. I definitely have an emotional attachment to my work and suppose that's tied up with my love for animals. I don't think I could ever create just one of something. The two things keep me calm and grounded. I'm a very sensitive individual and printmaking has really helped me through tricky periods in my life. The process of printmaking is good for you. It can be relaxing, meditative and thoroughly enjoyable.
Where do you work?
Everything I create starts at my home in New Mills, Derbyshire. It's either at the kitchen table as I am now or in my studio at the end of garden. When I met Paul back in 2014 we needed to create a workspace so each of our combined children had their own room. In those days the house was full! My screen prints are all made at my favourite print studio in Mirfield, the West Yorkshire Print Workshop. I am a studio member and I travel there most weeks to print. It's a fabulous print studio offering membership and workshops. I create all the artwork in my garden studio in preparation for a day of screen printing at the WYPW.
Describe a typical day?
My days as a printmaker are so varied. I really try to print every week however, there are so many different aspects to my small business. I usually book myself into the print studio at least once a week. That really helps me because it's so easy not to go and get distracted by other stuff. I divide my time up between designing new work, printing, promoting and organising and marketing my printmaking workshops and the holidays I have been running in Portugal. I have been teaching the many wonderful methods of print for about 10 years now and sharing my love and knowledge with others that are keen to learn is another passion of mine.
How long have you been printmaking?
My first introduction to printmaking was in my first year at Staffordshire University, I remember creating prints of numbers and being fascinated by the textures and colours. After a 10 year career in puppet animation and becoming a mum I started printmaking full time. This is rather a long time ago now seeing as my twins will become 20 this year!
What inspires you?
Oh gosh, where do I start? As a child I loved Richard Scary books, so I suppose that's where my love of drawing animals started. Then watching the countless animated children programmes like Magic Roundabout, Paddington Bear and of course the puppet show Sesame Street. It's the humour I love. I find humour in everything, ask my nearest and dearest…they will confirm that! As a maker I am surrounded by inspiration constantly. I believe I can draw comparisons between printmaking and animation with the art of repartition, the often quiet isolation and ultimate joy of completion. Those are the ingredients I love so much about printmaking and animating. There is always the opportunity to quietly create alongside the wonderful inclusive community of both. I had some of the best days as an animator and likewise as a printmaker. I have met some amazing people through both of my passions.
What is your favourite printmaking product?
As a printmaker that uses many methods I will have to name a few here, there just isn't just one. I love using Fabriano Rosaspina paper for my screen prints with System3 paints and when I run my linocut printmaking workshops I always use Softcut and the fabulous Swiss made Pfeil lino cutting tools.
What have you made that you are most proud of?
I suppose my proudest creation are my children. I have devoted my life while they have been growing up to be there everyday for them. I gave up my career as a puppet animator to be a stay at home mum. My first born are now both studying at Salford University and both following in my footsteps. Noah is studying Graphic Design and Tabatha Animation. My youngest daughter Willow is keen to work in television. I would say that when it comes to my own creative endeavours I am quite tenacious. I set myself a goal to learn a process myself and I don't give up until I am satisfied. I decided three years ago that I had to start printing with colour and taught myself to screen print with confidence and wipe away the self doubt! The screen room at the WYPW is perfect for finding that space to feel creative and confident.
Where can we see your work? Where do you sell?
I sell my creations on my website and Etsy shop. My partner Paul of Simple Art Marketing has been supporting and helping to implement my online presence which has been truly amazing. He's very clever and I am so fortunate to have his support. I am also a member of Gallery in the Garden in Buxton and New Mills Gallery. Each venue has a wonderful group of members from our local area creating and selling beautiful hand made items. In the early years I attended many craft events across the UK, however I now focus on more local shows while putting my energy into online selling.
What will we be seeing from you next?
I am planning to create lots more screen prints and to print on a larger scale as well as enjoying the smaller more immediate hand printed greeting cards. This year I have filled it up with numerous printmaking workshops that I will be running at The Craft Barn in Hadfield and Kin.der in Glossop, Derbyshire and of course my two 'Printmaking Holiday's in Portugal'. The two holiday's take place at the home of Frank and Daniela McClintock, Paradise in Portugal. I have been running the printmaking holiday's since 2018. It's a truly wonderful location and it's perfect for a creative week away from it all! I will be taking part in Derbyshire Open Arts in May and exhibiting at the RHS Spring and Autumn shows in Malvern, Worcestershire.
So, it will be another busy year packed full with all things print!
Do you have any advice for other printmakers and creatives?
That's a great question. I would definitely invest in a website and research where to sell online. It's really important to have an online presence. I focused too much on shows in the early days and that has really changed now. It's so different now compared to how it was when I started. I was juggling making, selling and being a mum for the first time. Social media has obviously made things better for so many, but the most important thing any maker needs is a mailing list! I started small and I have really worked hard to build up my small business and in return my confidence. 20 years ago I didn't have the confidence to put a price to my work, it's really does get easier. However it's important to have the right kind of support. Get feedback on your products from friends and family and even people you don't know, but ultimately do what you love. Stay true to yourself. Printmaking will take you on the most amazing journey.
To see more from Lucy, follow her on Instagram or visit her website lucygell.com!