Meet the Maker: Michelle Hughes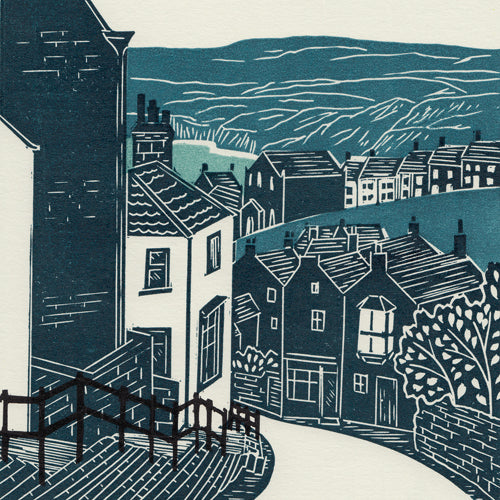 I'm a printmaker and illustrator, living in York, North Yorkshire. I create limited edition linocut prints inspired by the British countryside and British wildlife.
Describe your printmaking process.
When I started making lino prints I used SoftCut lino and a wooden spoon to hand burnish them. I then experimented with multi-coloured prints using the jigsaw technique. After a year or so, I upgraded to Pfeil tools and bought a Hawthorn Etching Press. I found that traditional artist lino was more stable when using the press.
As my confidence grew I wanted to make more detailed lino prints. I progressed to multi-block printing, which gave me flexibility with the style of designs I could create.
First I start a design with a sketch based on the photographs I take. I transfer the design to the first lino block. Carve that. Then transfer that design and the required design elements from the sketch onto subsequent blocks. Usually, I carve a separate block for each colour in a print. Each colour is hand printed, leaving each colour to dry before printing the next. I use Hawthorn Stay Open Inks.
Why do I use the multi-block method rather than the reduction method to make multi-coloured linocut prints?
There are several advantages of multi-block lino printing. Multi-block is a less risky method that gives me more flexibility. With the reduction method, if you make a mistake or don't like how something looks, you can't go back and print more or change it.
Multi-block allows me to create test prints. This gives me the opportunity to try different colour combinations before printing the final prints onto my printmaking paper. I can also adjust any parts of the lino blocks.
Another benefit is that I can initially print as many as I want to and go back and print more at a later date. I can also print some in one colourway and then change the colour combinations in the future.
How and where did you learn to print?
I'm pretty much self-taught. I first tried lino print at a craft fair in York in 2013. I've always liked the style of linocut and thought I'd have a go. I bought a couple of books on stamping and block printing, some Essdee lino tools and SoftCut lino and made it up from there.
Why printmaking?
I'm a maker at heart and I'm at my happiest when I'm making something. I studied fashion design because I liked sewing and went into a career in fashion and homeware design. This included a lot of surface pattern design and colour work. I've always loved the style of linocut, mid-century designs and vintage railway posters, so once I'd left the corporate world behind it was time to get back to my roots.
Where do you work?
I work from my home studio which overlooks my garden. I love working to the sound of bird songs. It's an inspiring light-filled space.
Describe a typical day in your studio.
It varies. I tend to block my time. First, I like to get on top of my emails and any support needed for my online courses. If I'm carving lino, I put aside a couple of hours with a good audiobook. For printing, I block out the whole day. Once it's going well and all my inky mess is out I don't want to stop! On other days I can be teaching a workshop all day.
How long have you been printmaking?
I've been printmaking for about 7 years. I spent 25 years working as a commercial designer but I didn't have the creative headspace to develop my own creative work and style until I set up my own graphic design business in 2016. I joined York Printmakers, feeling a bit of a fraud as I'd only made a few prints. The group were having their first exhibition at a gallery in York. Having nothing to lose, I joined in. Some of my prints sold and things snowballed from there. Now I make my living solely as a printmaker.
What inspires you?
My inspiration comes from landscapes and nature. I love walking and cycling, as well as photography. I like to really get to know a place and learn about the geology and cultural history of it. Walking enables me to see things close up and at a slower pace. Cycling joins the dots of places I've walked and often means I can get away from busy places.
York's a great jumping-off point for the Yorkshire Dales, North York Moors, Yorkshire Coast and Yorkshire Wolds. The Lake District is only two hours away too.
What is your favourite printmaking product?
Just one? I couldn't make multi-coloured prints without Ternes Burton pins and tabs. They enable me to accurately register each colour I print within one design. I love Hawthorn Stay Open Inks too. They're semi-transparent, so the colours look more organic when printed. In some prints, I layer them to create extra tones.
What have you made that you are most proud of?
I created a series of linocut prints for the National Trust to use on marketing materials for Sutton Hoo.
Where can we see your work? Where do you sell?
I sell my linocut prints in my online shop, galleries and events such as York Open Studios. I teach in-person workshops in my studio and lino print courses online.
What will we be seeing from you next?
I'm planning a new series of linocut prints of the Yorkshire Dales, Yorkshire Coast and Lake District. I have a couple of other projects that I have to keep under wraps for now.
Do you have any advice for other printmakers and creatives?
Enjoy the process of making and creating, rather than putting all your focus on the end result. To start with, keep it simple. Linocut is a very forgiving medium. It sounds odd but I don't think you have to be very good at drawing. Often the people that come to my lino print workshops that say they can't draw, create the most successful prints.
To see more from Michelle follow her on Instagram, Facebook and YouTube.