Meet the Maker: Olu Oke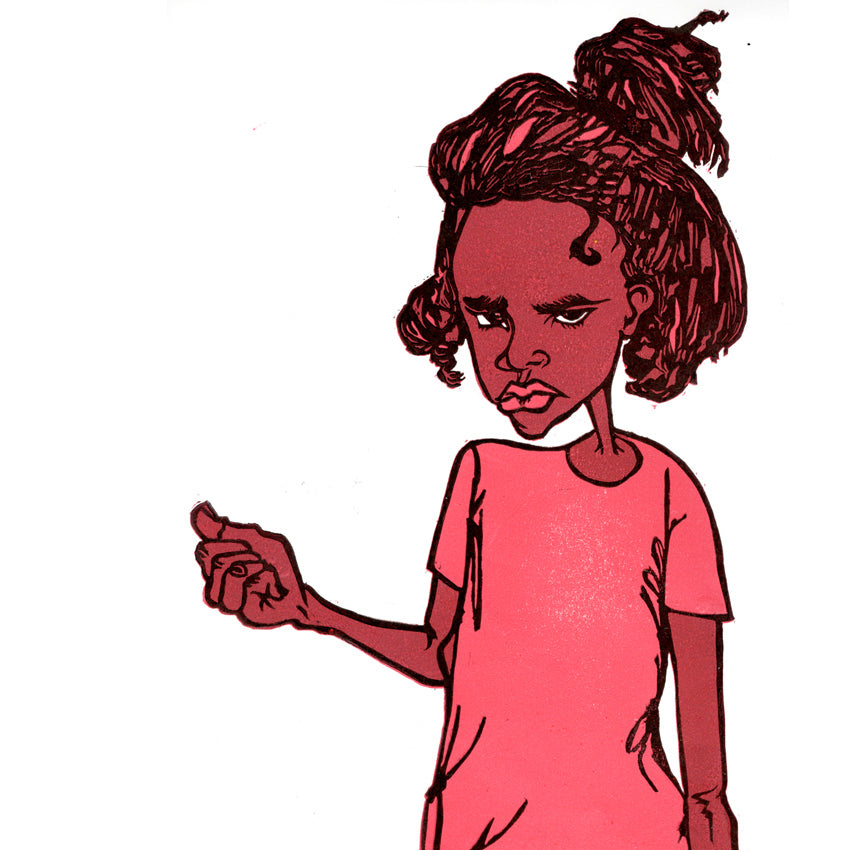 Hello! My name is Olu. I'm an illustrator, printmaker and skills-based tutor. I use a variety of printmaking techniques including Screen-Printing, Photopolymer Etching, and Gocco.  My favourite processes are lino cutting and letterpress.  I own far too many printing presses, machines and books… although can you ever really have too many of those things?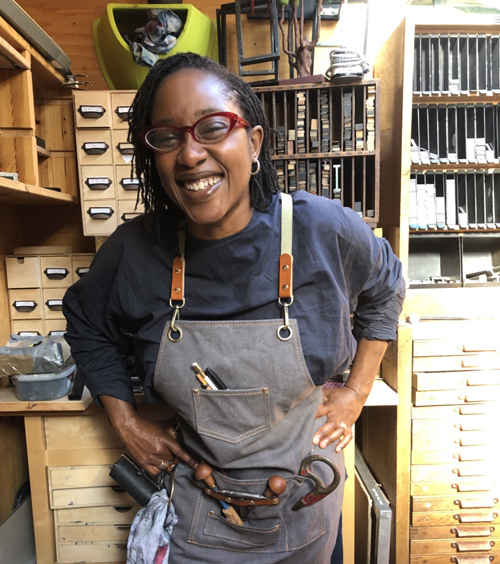 Describe your printmaking process.
Loads of procrastination and a dash of hoping for the best! No, not really; my main processes are lino cutting and letterpress. With both, I start with detailed sketches. With letterpress, this means the process of setting type with different fonts is easier, although trying to make everything fit is the fun bit.
With my lino blocks, I transfer my images using a laser printer printout, nail polish remover, iron and loads of open windows. Then I carve.  If it's a reduction print then I've planned out the cuts using watercolours to make sure I understand how the layers will work and what secondary colours will be created.  I've recently started using mono screen printing to colour in with my lino line work.  I often combine letterpress text with my linocut illustrations.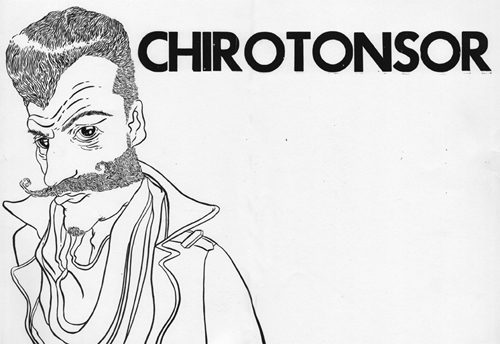 How and where did you learn to print?
Secondary School and University. I had two fantastic art teachers at school, Miss Owens and Mrs Holmes.  They taught me screen printing and linocut.  Unusually, they taught us the whole process from coating and cleaning screens to designing and cutting tessellated patterns and printing. The technicians at university, Ronnie and Brian, were the next big teachers.  They taught me about photopolymer etching and started my endless love of letterpress.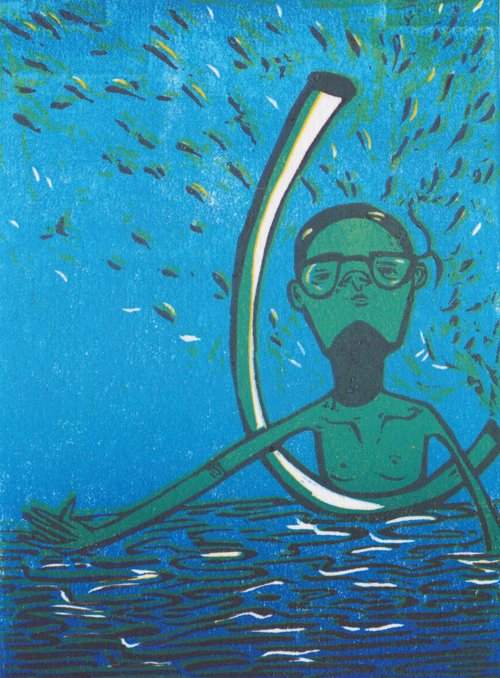 Why printmaking?
The smell of a print room. The machines. The communities.  The problem-solving. The unpredictable journey from the first sketch to the final print.  The list is endless.  I can get bogged down with rendering a 'perfect image,' printmaking relieves that anxiety.  At some point, it is about what the ink, the paper and the printing press, are going to do. When I print I let the left side of my brain make the decisions that are creatively technical.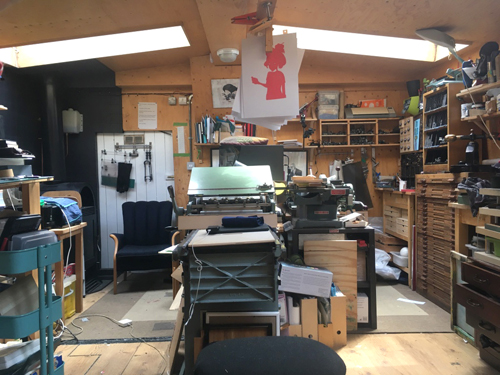 Where do you work?
I'm lucky enough to live on a boat (a big one!) and have a studio on that.  It's a great space, with loads of natural light from the skylights, but no side-facing windows to stare out.  I'm easily distracted.  Over the years it's got pretty packed with machines and books.  I've been telling myself for the past year that I need a cull, but I'm not sure that I know a printmaker or artist that actually manages to get rid of anything.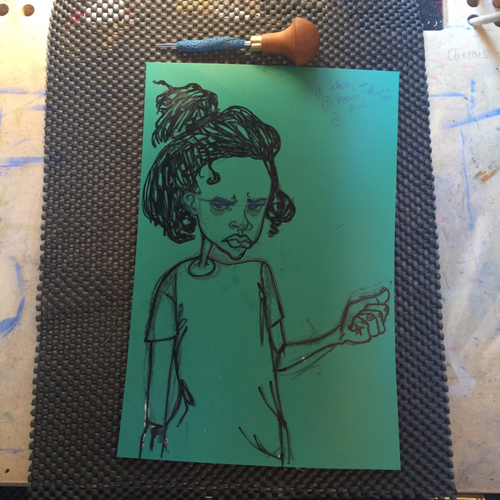 Describe a typical day in your studio.
My days start early, about 5am.  I plan the day, go for a walk and get breakfast and school stuff ready. After the school drop off, I get into the studio at about 9:30am.  I tidy up my space, putting everything in order so that I can mess it up again. I've usually organised my day into 3 to 4 tasks.  If I'm carving or printing a block this takes up the whole day.  If I'm illustrating then I tend to bounce between that and admin like lesson planning and answering emails.  I've found that I can only listen to drama radio plays, or podcasts when I'm carving. Every other task, including printing, is done in silence. On a good day, I can get about 6 hours of work done.
How long have you been printmaking?
I remember doing my first linocut in Year 9 at secondary school… Man, don't make me tell you my age!  Hummm, so I've been printmaking for about 34 years.  Oh, it was hard answering that!
What inspires you?
LIFE!  I know, I know it sounds corny but it's true.  I draw a lot from observation.  So, I sit around watching people (sounds creepy but I promise you it's not). I get to listen to conversations and finishing them off in my head or turning them into stories that become illustrations. Also, the nonsensical ramblings of my kids are constant sources of inspiration.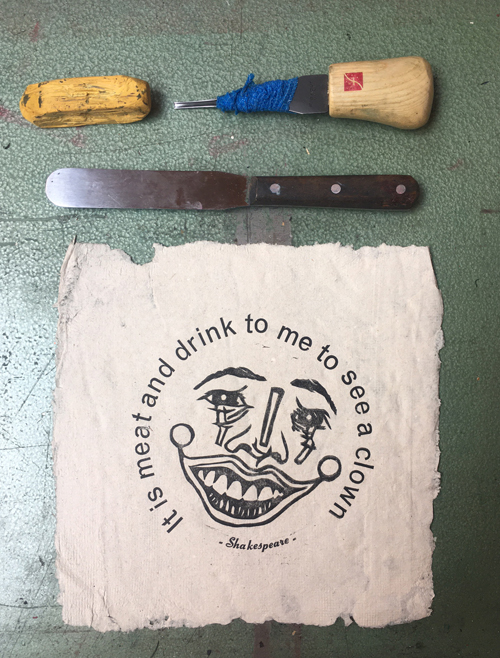 What is your favourite printmaking product?
Caligo inks. Because I live on a boat, all of my waste goes directly into the river.  These are the most eco-friendly inks I've found.  3 years ago I had to overhaul all of my art products. So, no acrylics down the sink. That stuff has to be flushed down the loo into a tank, so I limit their use.  Caligo has freed me from all of the chemicals when I relief print.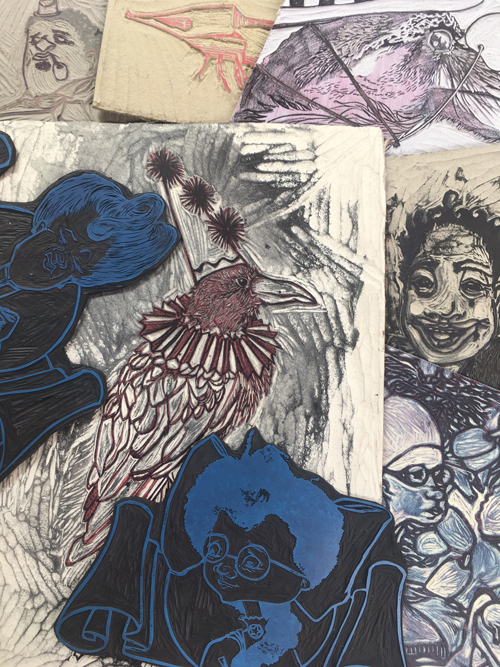 What have you made that you are most proud of?
I had to really think about this question.  Even after all of these years, I'm surprised that my large hands can create the work that I do and there is always room for improvement. I won't pick one piece of work, but rather the last 3 years.  Where I fell off the edge of the world to complete my MA in Children's Book Illustration.  With the support from my partner, family and friends, I'm most proud of completing this massive undertaking.  It has totally changed my work and practice.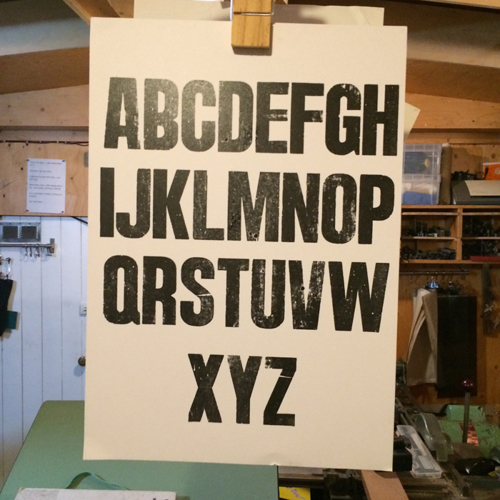 Where can we see your work? Where do you sell?
You can see my work on Instagram, and my website. This will be where you will (eventually) be able to buy my work.  When I get the shop up! Which should happen soon… promise I'm not procrastinating!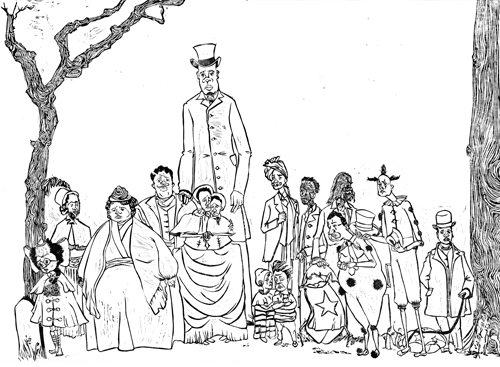 What will we be seeing from you next?
I'm working on three children's book projects of my own at the moment: A Victorian Flea Circus mystery, a modern fantasy of fable invading reality and 'The urbanites Guide to City Fairies,' which could turn into anything at this stage. There are loads of things in the pot bubbling away and different doors may be opening for me.  I've got the aforementioned website to finish, the shop to put up and the MA exhibition to sort out too.  The MA Graduate's exhibition is happening, if Covid-19 allows, from 4 – 9th September at Candid Arts Trust, London.
Do you have any advice for other printmakers and creatives?
KISS – Keep It Simple Stupid!  I recently was told this and think that it's a solid piece of advice for everything from buying equipment to planning an image. I'm one for throwing everything into the mix in a single print! To try and give an image more 'depth' and 'meaning'!  But I've found that the images that work the best are the ones that I've kept simple.  Plus it's a good piece of advice for life in general.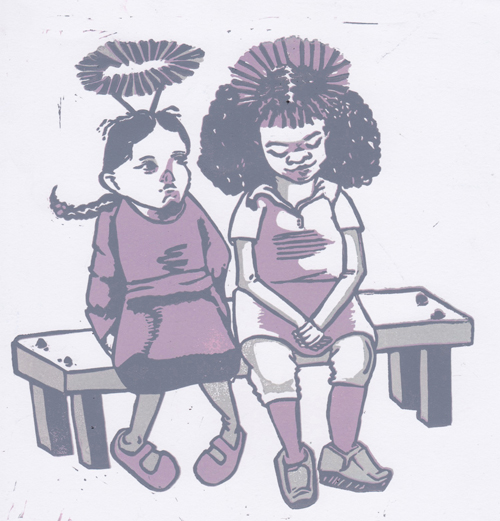 To see more from Olu follow her on Instagram.