Meet the Maker: Rob Barnes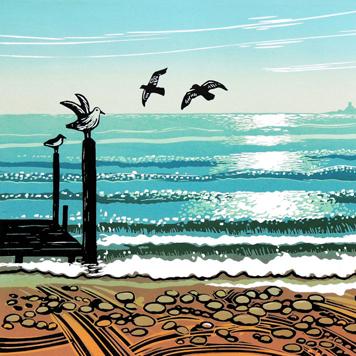 I studied painting and printmaking at Hull College of Art and London University in the early 1960s. I taught etching, screen-printing, linocut and related
surface printmaking at Keswick Hall College in Norfolk. Later I moved to the University of East Anglia where I continued teaching in the School of
Education until 2006.
I am based in South Norfolk. I have exhibited regularly in London and many of my etchings and linocuts are in private collections, here and abroad. More
recently I have returned to linocuts, enjoying the strong physical nature of this medium. My linocuts are inspired mainly by the landscape of East
Anglia. Effects of light and colour, weather and atmosphere contribute to the final linocut. Recent work has been inspired by observing the changing
fields and wildlife through the seasons. Coastal prints are inspired by Norfolk and Suffolk waterways.
All prints are in limited editions. I enjoy the challenge of cutting lino with a certain freedom in the cutting strokes. I also find printmaking fascinating
when I blend and graduate colours. This gives me an opportunity to play with light and shade, much as I first saw it in the subject that inspired the
idea.
The Albion press pictured above is a copy of one made in 1854. It was cast and constructed by Harry Rochat Ltd in 2013.
Describe your printmaking process.
I create a KEY block and usually two other lino blocks are used. These are REDUCTION blocks so there can be up to six printings. I blend colours and finish
with the black key block. My starting point is always a drawing or sketch on paper. I then draw this in reverse directly onto the lino using a blue
spirit marker pen. Nothing is ever traced as I like to make changes from the first drawing to the final reverse image. I print using oil-based inks
on my Albion press which is a copy of an 1854 press but cast in 2013 by Harry Rochat based in Barnet, London. As I use a reduction block method, this
means the whole edition of 45 or 50 must be printed at the same time.
How and where did you learn to print?
I learned at art school where I had a very good teacher, Simon Goldberg. If he were still alive he would be aged 102 so I cannot thank him as much as I
would have liked. He taught me etching, screen print, wood block, lithography and lino printing.
Why printmaking?
I do paint, but a painting is never really finished so I am tempted to tweak and make changes. Printmaking has a process which suits me well and I love
the challenge of colour blends I can achieve. I also like the developed skill of cutting details.
Where do you work?
I have my own studio in South Norfolk. This is a room in the house, so I come downstairs and everything is available to work.
Describe a typical day in your studio.
My days are not typical, but I have to set aside a very long day to print enough for a full edition. When prints are drying, I turn to my silver jewellery
workbench and make pendants, rings, earrings and bangles.
How long have you been printmaking?
I have been printmaking since I was aged 17 and never stopped.
What inspires you?
I live in the country, so see hares, march harriers, farmland and of course trees. I can watch the changes in the seasons and the nearest farm is only
a few yards away. I am also inspired by old boats and the coast in Norfolk and Suffolk.
What is your favourite printmaking product?
My favourite printmaking tool is probably my Rochat press. Leon Rochat has looked after my printing presses for well over thirty years, and recently we
had lunch together for old times sakes, along with his wife and daughter. A more skilful print engineer I have yet to meet.
What have you made that you are most proud of?
I am quite proud of having made eight violins, but if you mean prints, it is often the most recent work that I like.
Where can we see your work? Where do you sell?
I exhibit at Snape Maltings, Suffolk each year and in Southwold. I also have some work in Blakeney, Norfolk. I can Parcelforce unframed but flat mounted
work. 
What will we be seeing from you next?
Well, I'm working on a piece at the moment which has swans and reflections in the water. My more typical images are rural landscapes often including starlings,
rooks and hares.
Do you have any advice for other printmakers and creatives?
The best advice is never to stop working. If you want colours to be registered perfectly, talk to, or email a printmaker who really knows how to do this.
There is nothing worse than poorly registered lino blocks. Learn to sharpen your lino cutters yourself as they must be razor sharp to produce professional
work.
Find more of Rob's work on his Facebook page.