Meet the Maker: Rosanna Reade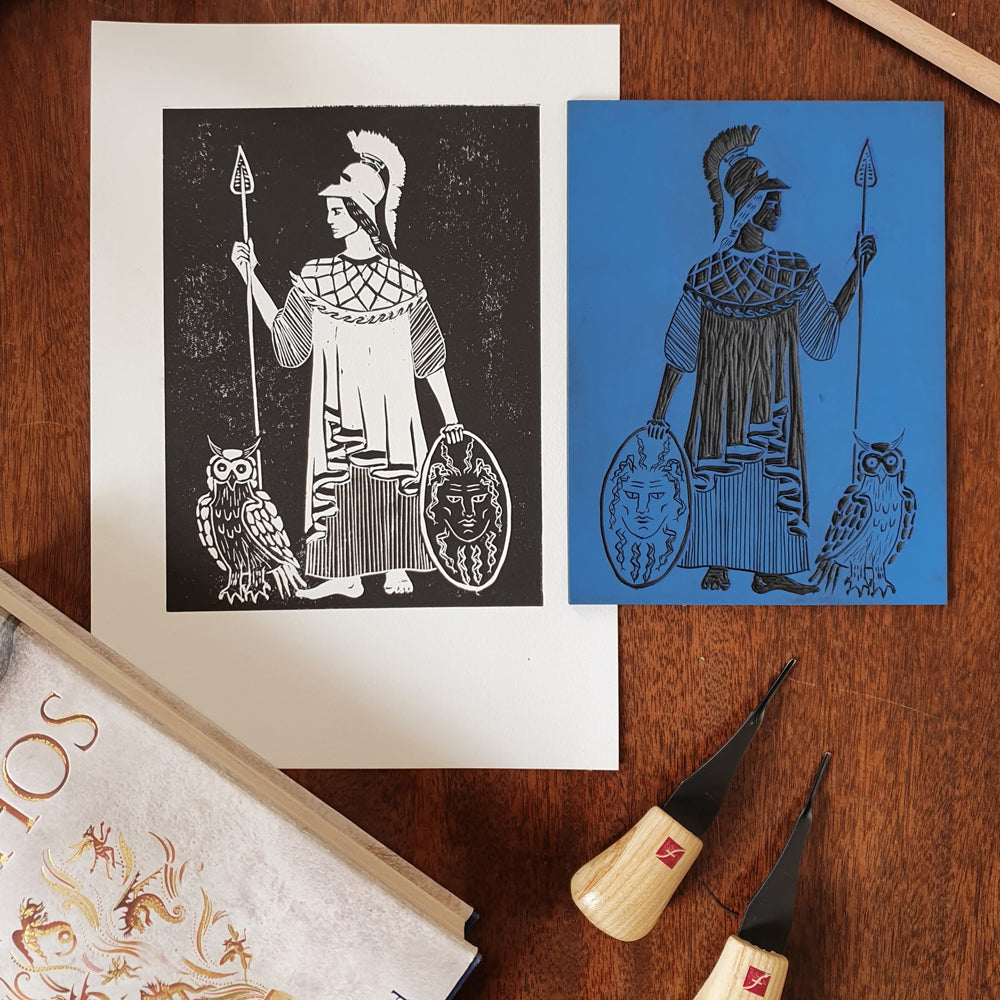 I am a printmaker and illustrator from Northern Ireland, living and working in Edinburgh. I studied History of Art at University but have reverted back to creating art rather than talking or writing about it!
As a self-taught printmaker, there is quite a lot of trial and error in my work and I might not always do things the 'right' way, but I really enjoy the learning curve and seeing my style and work develop over time.
Printmaking has really reinvigorated my art practice. I'd painted casually for a long time but always struggled with ideas, but for some reason, ideas for prints come to me quite easily. I like to add an element of the unexpected to my prints, like my 'things with legs' series.
I have another job as well as my printing, but the dream is to one day be a full-time artist/printmaker.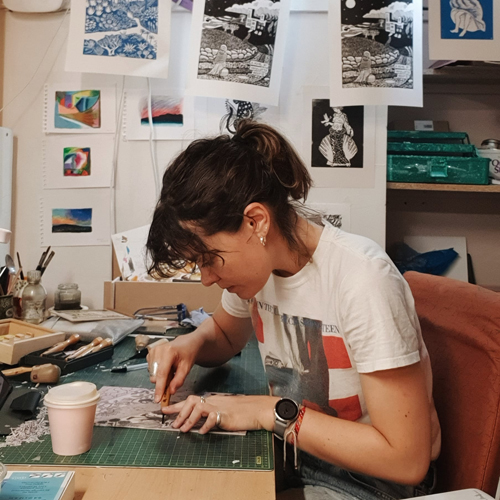 Describe your printmaking process.
I'll spend quite a long time mulling over my ideas and doodling in sketchbooks. Sometimes (rarely!) an idea will pop into my head fully formed, but most of the time I need to sketch it out a few times until I find something that works. I recently got an iPad and Procreate has revolutionised how I move onto the next stage with my prints, because it allows you to work in negative/reverse like a print, and it's so easy to change and edit drawings. Once the image is drawn on Procreate, I'll print it out and transfer onto the lino, using Red Japanese Carbon Paper. I know there are faster methods, but I love doing it this way. I use Softcut Lino, because I've found that it is so much more durable and easier to print than Traditional Lino, and although it's plastic, I think in terms of sustainability longevity is important. Once transferred, I start carving, which is my favourite part. When I've finished carving, I still print by hand using a Bamboo Baren and a wooden spoon, but I'm hoping to save up for a press soon!
How and where did you learn to print?
I remember doing some lino printing in school, but I started properly when my Aunt (also an artist) bought me a lino kit for my 30th birthday. I took to it instantly, and haven't looked back since. My earliest prints were pretty rough and ready, but I love being able to see the progression and improvement in my prints. I've never been great at starting off slowly at things, so I was jumping into challenging prints quite early on!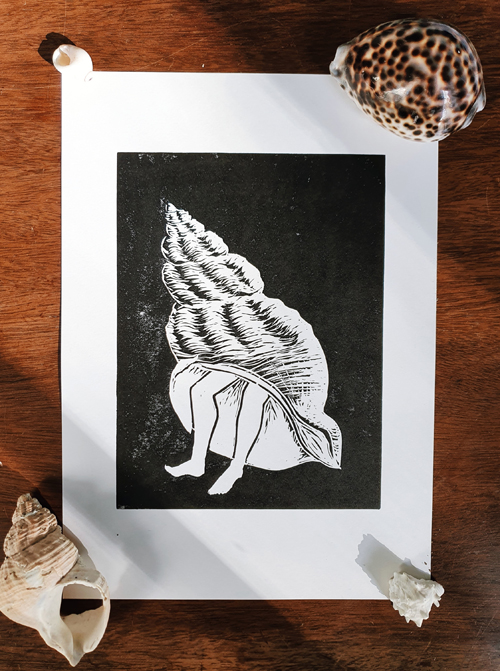 Why printmaking?
Tough question! I do still love painting and drawing, but I think what I love most about printing is the 'surprise' element in the process. Although I can plan it out carefully, often I won't really know what it's going to look like until it's printed, and the smallest marks and changes can alter the outcome quite significantly. It's a good test of flexibility and accepting things not being quite perfect! I also love the tactile nature of it, the carving especially, and all the equipment! And I also love the look of prints, there's something so dense and graphic about the lines.
Where do you work?
In a shared studio space in Abbeymount Techbase, in Edinburgh. I absolutely love having a dedicated space for my art. When I started off, my parents' dining room became my studio, which they were very gracious about despite the inky marks and paper everywhere.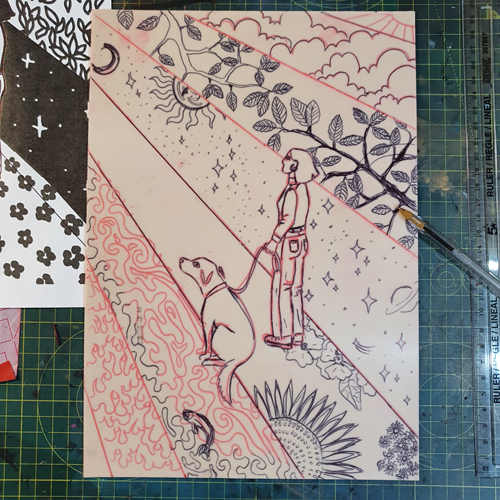 Describe a typical day in your studio.
I have a 'normal' job alongside my art, so I usually spend at least one day of the weekend at the studio, and then a couple of evenings during the week after work. Generally, I'll try to pack up or print any orders first, to get that out of the way. To 'warm up' a bit, I might do a bit of scribbling in my sketchbook. I've got really into Neocolor Pastels and find them a really nice contrast to printmaking. I'll then either start planning a new print, or continue working on something ongoing. I accept commissions for house prints, and I try to intersperse these with a print of my own design (one for them, one for me). If I'm working on a Saturday, I might treat myself to coffee and a cake from Twelve Monkeys bakery, and then try to find a good audiobook or music to give me background noise. I am not the tidiest person in the world and printmaking is a messy process, so I have to spend a chunk of time tidying up at the end and clearing up rogue ink smears.
How long have you been printmaking?
2.5 years!
What inspires you?
I really enjoy blending mundane or quiet moments of normal life with unexpected or fantasy elements, hopefully with a bit of a "whimsical" sense of humour. I'm really interested in our emotional relationships with ourselves, animals and nature, and exploring this in a lighthearted way. I like to make people smile!
Graphic novels and illustrated books are a big influence stylistically. I had books illustrated by Marcia Williams as a child, and I honestly think about her drawings a lot! I also love Persepolis by Marjane Satrapi. I often see my prints as cells or scenes from a larger story, and I think this influences my style. Lastly, I studied History of Art and Classical History at University, and I always loved learning about symbolism and mythology, which has definitely inspired my work. I like making prints that feel like they could be an allegory, or fable.
What is your favourite printmaking product?
I love all my tools, but I'd have to say the ink! I use Caligo Safewash and I love the density of the colour. Rolling out the ink is one of my favourite parts. I also love Hosho paper.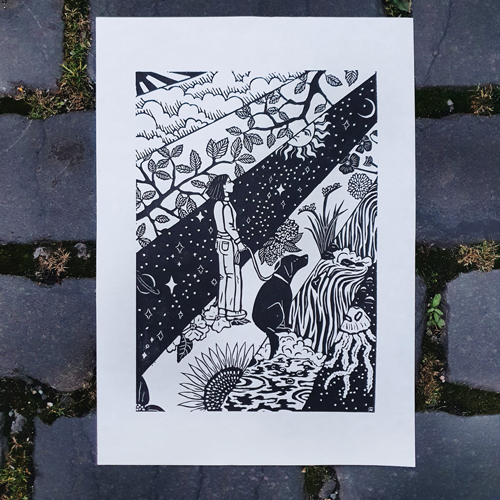 What have you made that you are most proud of?
A tie between my most recent print 'Going for a Walk' and my mountain print of the Cuillin in Skye, mainly as that was a new challenge for me stylistically. Some of the house prints I've worked on I've also been very proud of, as the details are quite complex.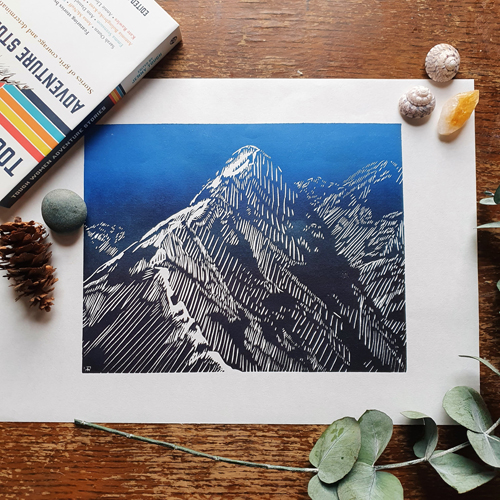 Where can we see your work? Where do you sell?
I have some work available in the Red Door Gallery in Edinburgh, and I also have an Etsy shop. I post regularly on Instagram as well.
What will we be seeing from you next?
My long-term dream project is a lino print comic. My brother is a writer and I'm hoping to persuade him to write a story for me to illustrate. One day!
For now, I've just finished 'Going for a Walk' so I'll probably work on a couple more house prints while mulling over my next designs. I recently went to France and cycled through some incredible mountains and swam in rivers. I loved the towns with all the shutters and cats, so maybe something inspired by that, with a little twist.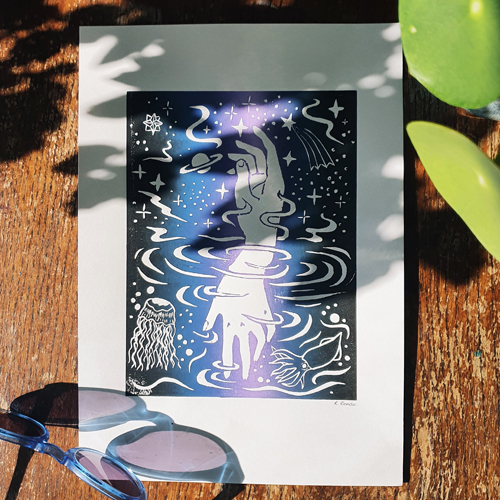 Do you have any advice for other printmakers and creatives?
It's never too late to follow your dreams, and create for yourself, not other people.
To see more from Rosanna, follow her on Instagram!