Meet the Maker: Sunbul Akhtar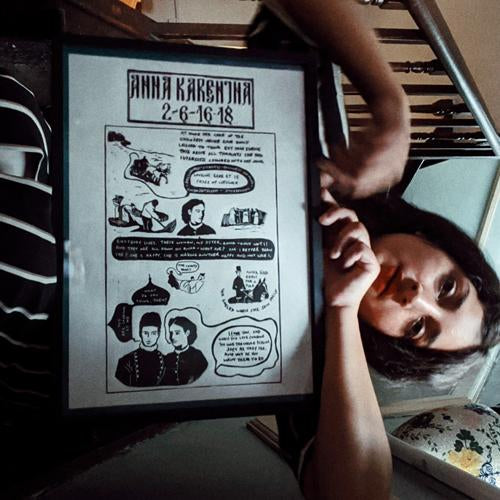 My name is Sunbul Akhtar and I run Night Press from my bedroom studio. I work in publishing during the week, ordinarily cooped in an office on the 41st floor of a building in London, and I love my job. I sometimes wish I was born half a century earlier to experience what publishing was like in its post mid-century revival – cigarette smoke and typewriters.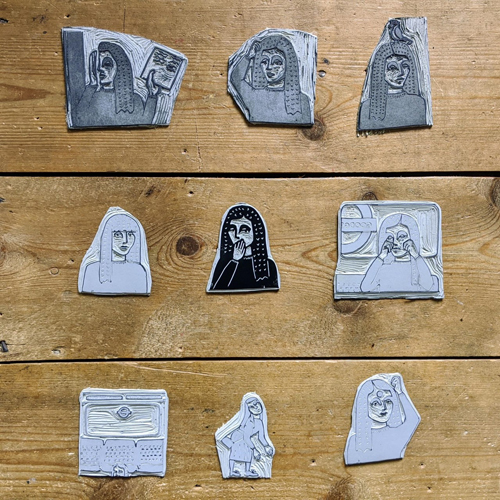 Describe your printmaking process.
I don't have a static style of printing so each print I produce has a unique process of production. My blocks are always transferred from tracing paper. For larger composition prints, I use small pieces of tracing paper which gives me the opportunity to move the images around on the block before committing to transferring it.
My favourite part of the printmaking process is the carving. It is therapeutic and calming (even when I'm holding my breath getting into the intricate details of the print). A helpful tip, if you're working on a print with faces, start with the faces first, there are so many small nooks and details that if you mess it up on your first try, you haven't wasted hours of carving. Test printing is also another favourite, it's so exciting not knowing what your final image will be. Once I'm happy with the print, I just go like a machine – a hand burnishing machine.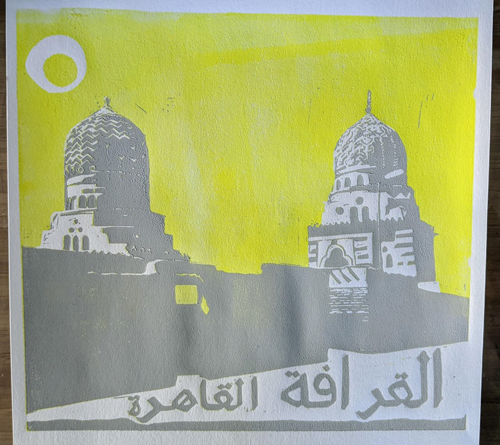 How and where did you learn to print?
I started printing in school, we had an amazing art department and my art teacher was someone I really looked up to. My very first print was of Dali's 'The Burning Giraffe'. I just really liked Dali and wanted to reproduce one of his pieces in a different medium. After I separated from my partner in 2012, I felt like I needed to rediscover the world as a different person. I jumped into lino printing again and my first block after the hiatus was a reproduction of Picasso's 'The Guernica'.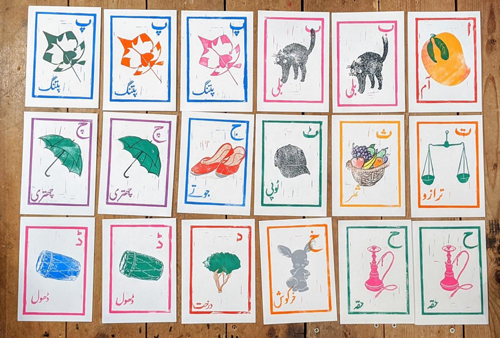 Why printmaking?
Because I find every process of production thoroughly enjoyable. I run block printing workshops in schools in London. I love teaching the process to children and rediscovering the delight of producing a print vicariously through them. I really hope I have inspired some printmakers for the future.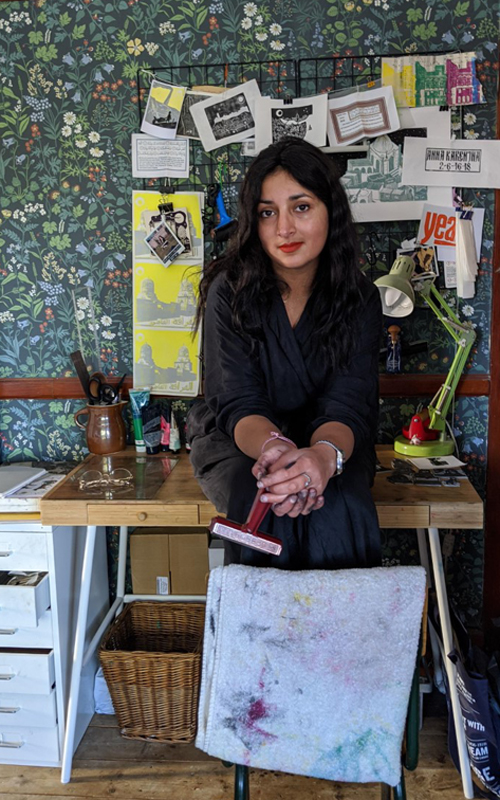 Where do you work?
Having a studio is a pipe dream for me, I live in a small apartment in London with my daughter and have just enough space in a corner of my room for my printmaking activities, which is entirely confined to this space. I call it my bedroom studio.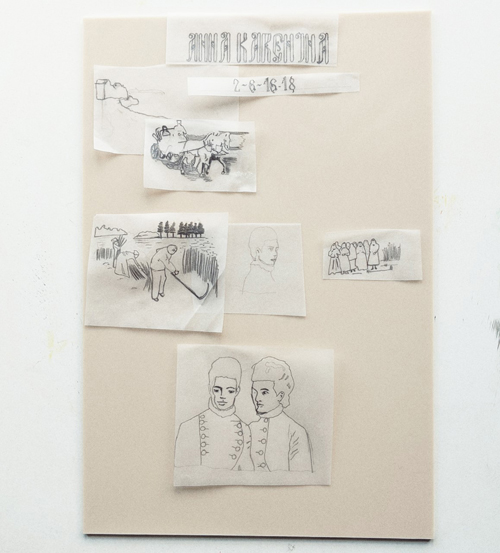 Describe a typical day in your studio.
A typical day in my studio starts at night. I try to be present for my daughter during the day, although, as she gets older, we each move towards independent activities. When she's asleep I own the time for my printing. I'll sacrifice sleep and work until late on whatever process of the printmaking I'm up to. Sometimes it's carving or test printing. Sometimes that time is spent packing orders, it takes about half an hour to pack one item, I like the recipient to feel as though they're opening a gift. Each purchase comes with a gift and a handwritten note.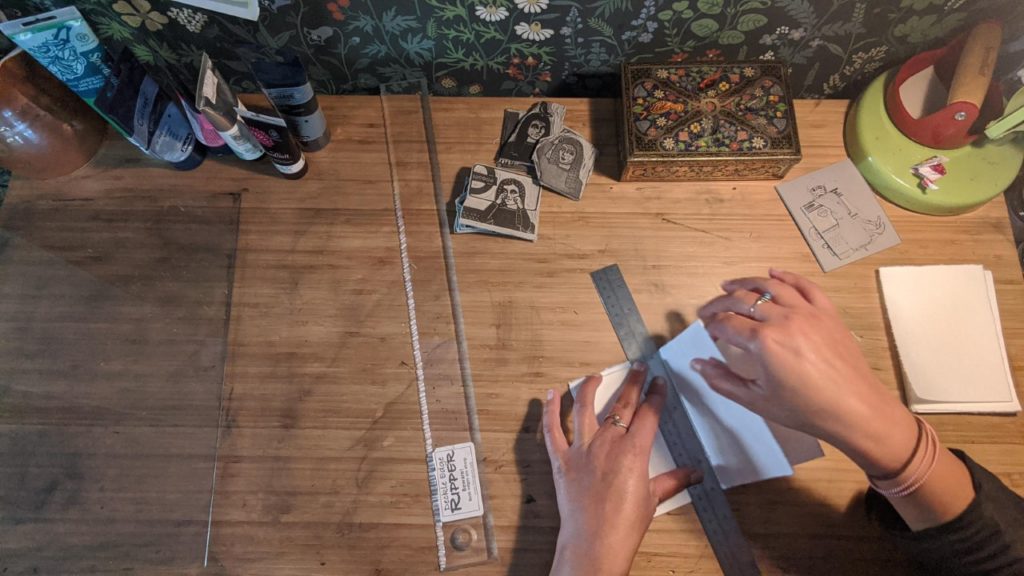 How long have you been printmaking?
I'd say I rediscovered printmaking after 2012. I started Night Press in order to sell my prints. I carved 'al-Qarifa al-Cahira', a reduction print of the city of the dead in Cairo and it gave me the confidence in the subject matter of my prints to start selling. It hasn't been a year yet, but it's been amazing! I've received commissions and I've made such amazing friends in the industry.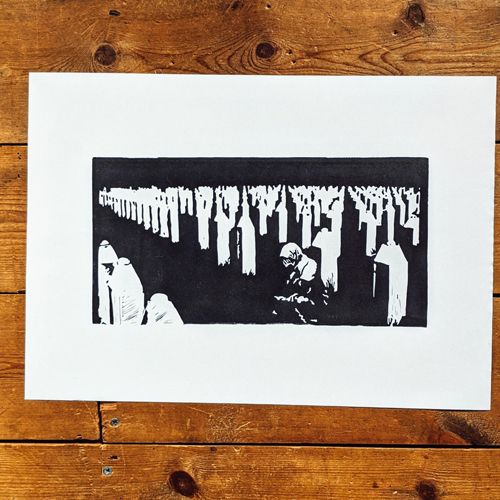 What inspires you?
I'm mostly inspired by world events. I use my prints to highlight events, like the Srebrenica genocide, arms trade, the Syrian conflict and the war in Iraq. I studied politics at university and remain interested in it all these years later. I also use printmaking to reconnect with my heritage. I am a British Pakistani woman, growing up during the tail end of the National Front and the beginning of the BNP, being Pakistani alone was enough cause for derision. I'm trying to rekindle the heritage that was so derided in my youth with my printmaking. I have been having a debate with myself, as you do, on the line between inspiration and imitation and I am trying to look at my work objectively enough to see whether that comes into play. I am definitely inspired by other printmakers, in particular, Imen Roulala, a French printmaker and Persileaud for the sheer volume of her output.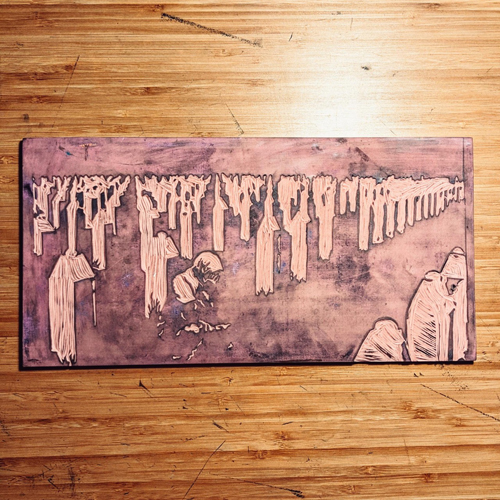 What is your favourite printmaking product?
By far it is my Pfeil tools, I only have a small collection. I started with the 12/1, and then added the 11/0.5. Whenever I reach a personal milestone I treat myself to a new tool. I have four now.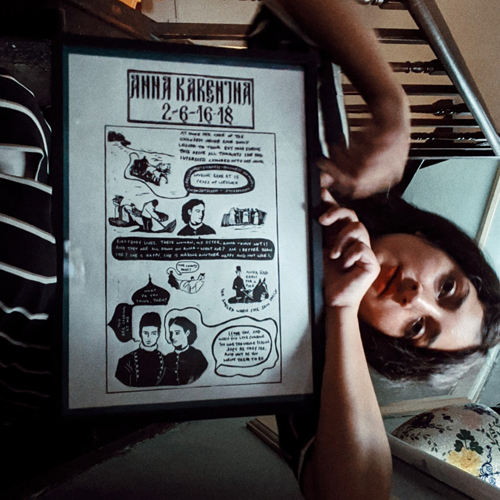 What have you made that you are most proud of?
I am most proud of my last completed print – the Anna Karenina print. I took a few chapters from the book for my print. Anna Karenina is my favourite book and the chapters I chose contain my favourite quote from Tolstoy ever. It is a quote on unconditional love and it is said between two female characters of the book. The book revolves around the male-female relationships of the characters and this quote really speaks to me, showing the bond of sisterhood that transcends societal limitations and prejudice. I've written about it at length on my website and I have a whole page dedicated to the print and the process of creating it. The illustration and composition of the print took the most work, the carving I managed to do over a few nights.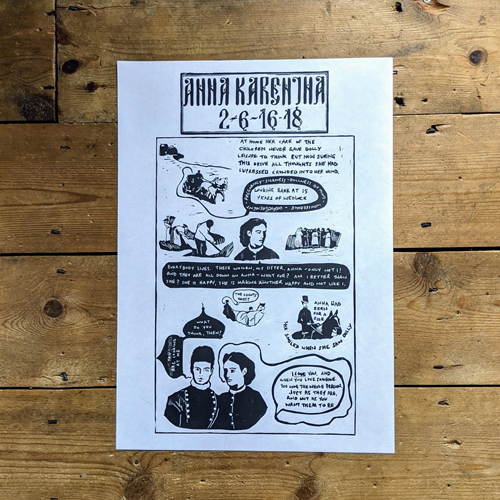 Where can we see your work? Where do you sell?
I am on Instagram and I recently started my own website to write more about my work. I sell my prints on Etsy including the Anna Karenina print.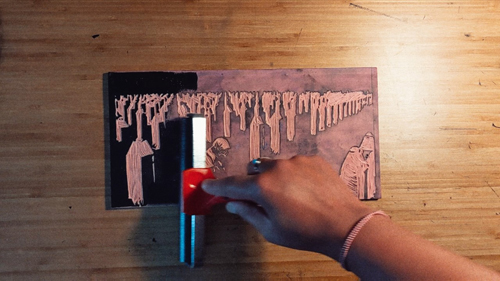 What will we be seeing from you next?
I always have a few projects on the go at the same time. At this very moment, I am carving a series of prints for the 'About Me' page on my website. They're illustrations mostly of embarrassing moments I have experienced. "Waterloo", for example, is a print on the time I was walking into Waterloo Station and a pigeon landed on my head. I have a very 'do not make a scene' attitude in public, and so I acted like it didn't happen and carried on my journey.
I'm also working on a Marxist critique of Adam Smith and the Wealth of Nations in print form. It makes sense in my head and hopefully it will make sense when it is printed.
I had my first showing at the Museum of London planned for April 2020, I was supposed to showcase my Urdu alphabet flashcards but it was postponed. I'm looking forward to it, whenever it can happen.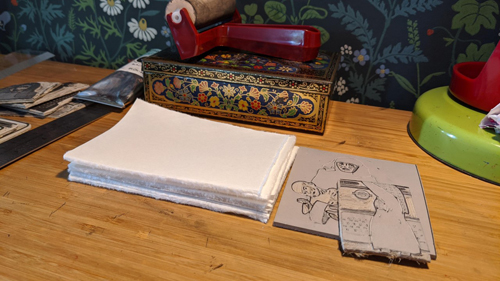 Do you have any advice for other printmakers and creatives?
If you're interested in taking up lino printing, my advice is to start with the Essdee cutting tool set. Build your set slowly, taking your time to get to know what tools work best for you.
To see more from Sunbul follow her on Instagram and visit her website.