Meet the Maker: Thomas Mitchell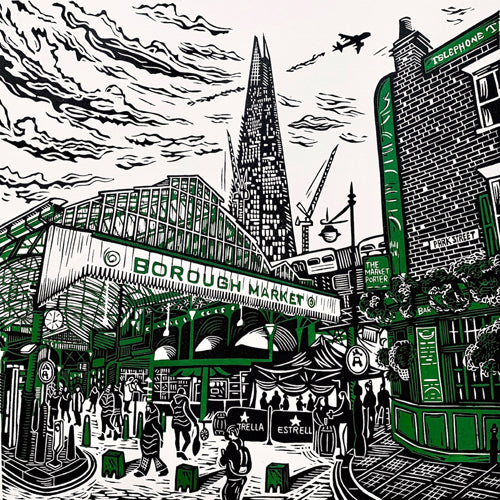 Hi, my name is Tom Mitchell, and I am a printmaker in my spare time, based in Dorset. I specialise in multi-block linocuts of mostly architectural, and urban themes although I've also produced a few fun animal prints.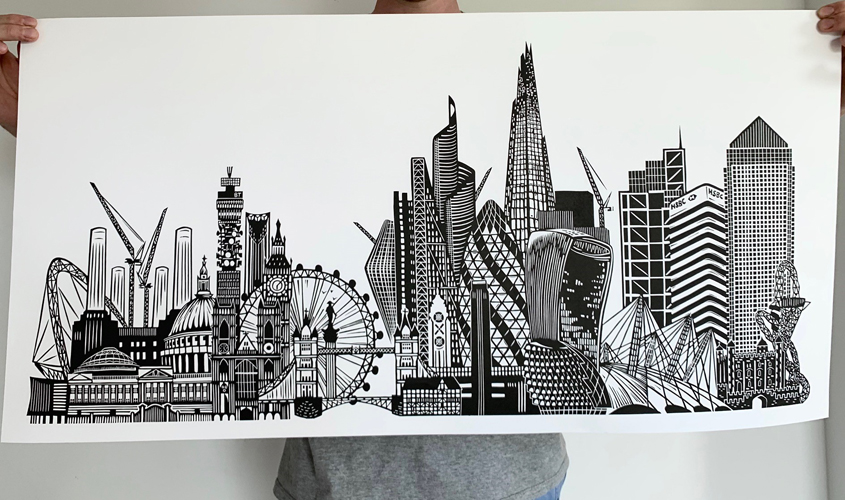 How and where did you learn to print?
I learnt the basics of lino cutting at school but fell in love with the process when studying Illustration at University in Bristol (UWE). I have continued making prints in my spare time since graduating in 2017, alongside my full-time job.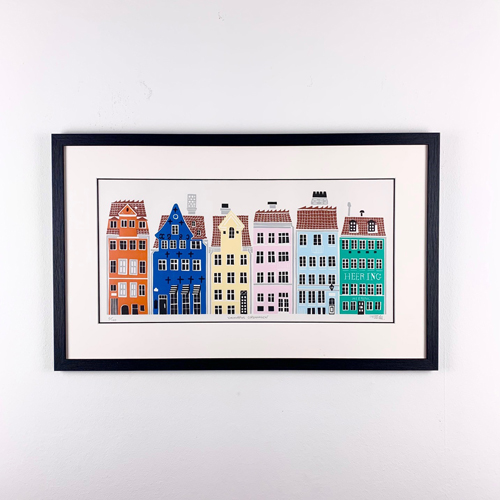 Why printmaking?
Printmaking, and lino cutting, in particular, are my favourite media because I particularly like the crisp, graphic nature that the process produces.
I enjoy the precision of intricate cutting and the different marks you can make using various tool shapes. I also love how I can use a combination of several different stages to create a print; pencil drawings for the design, cutting the lino, inking, and printing. When I reveal the print from my press and I'm happy with the result, it makes the lengthy process worthwhile and very satisfying.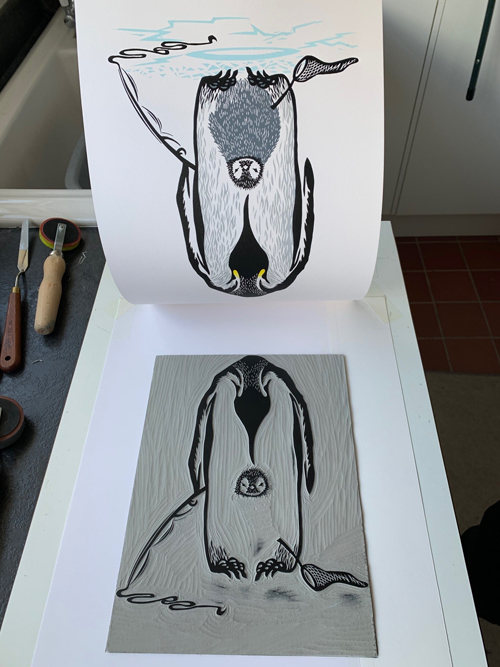 Where do you work?
My work is designed at my desk in my bedroom at home; I regard it as my mini studio. I have an etching press in the garage as it's too big to keep in the house.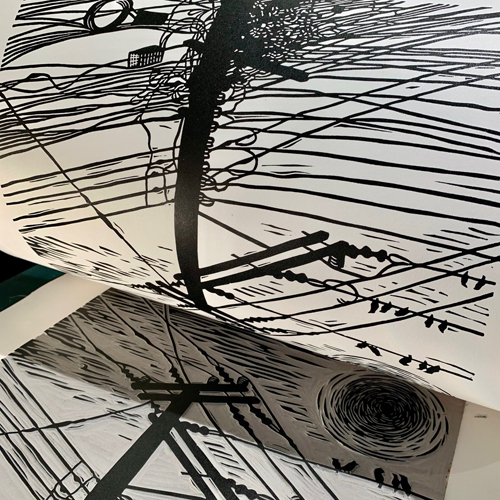 Describe a typical day in your studio.
 I tend to come home from work and either start printing more editions ready for sale on my online shop or sketching some new ideas for my next print.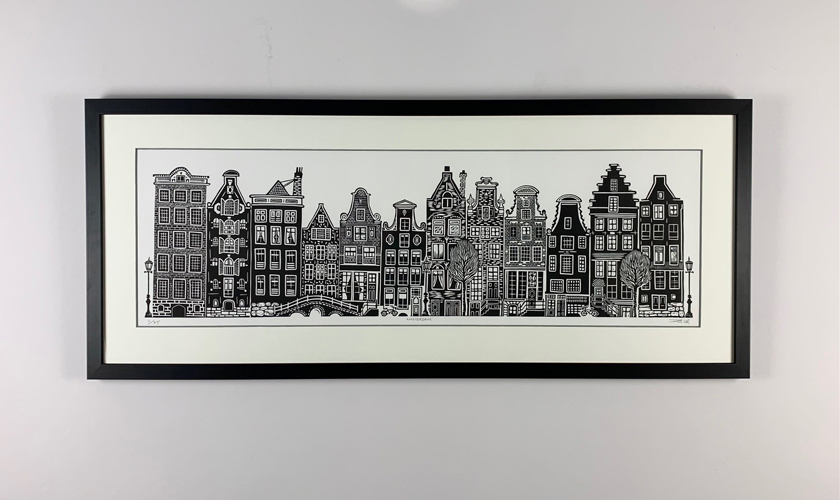 How long have you been printmaking?
I have been lino printing on a consistent basis since graduating in 2017.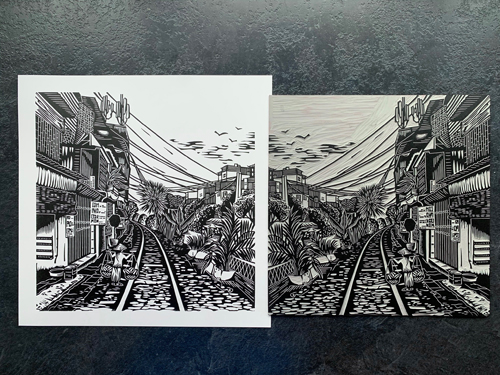 What inspires you?
My work tends to be of places I've visited, mostly involving an urban/architectural theme. I love cutting buildings, cranes, and cables so most of my work is based on cityscapes. I have particularly enjoy making lino prints of London.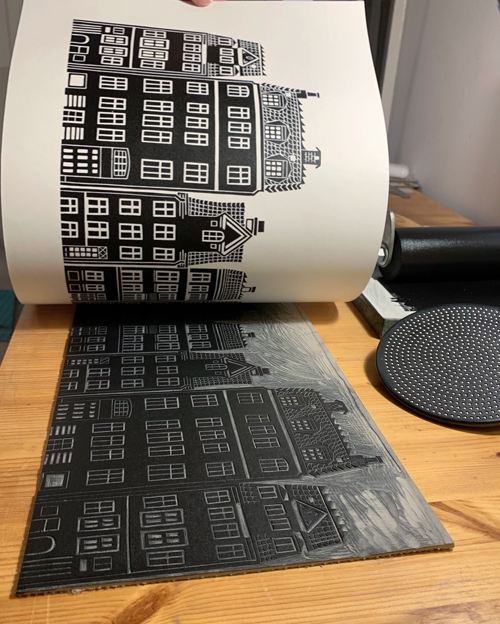 What is your favourite printmaking product?
It would be between my Etching Press and my Japanese Baren, as they have both helped me produce crisp prints a lot quicker than when I used to use a cheaper hand press. I almost prefer to use the Baren now as my Etching Press is only A3 size and most of my recent prints are larger.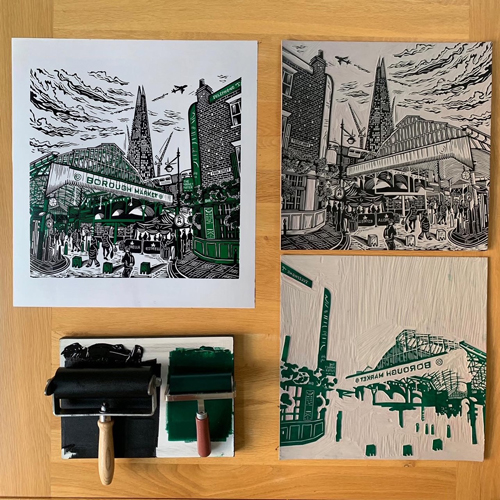 What have you made that you are most proud of?
My London Landmarks print that I produced during the first lockdown. It took a long time to design, cut out and print, but as I was furloughed for 8 weeks, I spent some quality time focused on it. It was worth the effort as I've received many compliments and made several sales so far.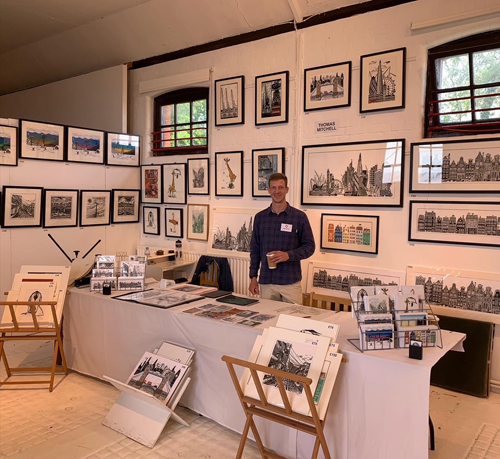 Where can we see your work? Where do you sell?
I set up my own website in 2017, to showcase my work online and to enable people to contact me. I use social media, mainly Instagram and Facebook to show the process of how I create my linocuts. I think it's helpful for people to see and follow the process so they can relate to the prints. I set up an Etsy shop in 2018 so that people can purchase my art easily; this is linked to my website. You can buy all my linocuts and I also sell greetings cards for each print.
What will we be seeing from you next?
As already mentioned, I enjoy creating prints of London which have been very popular, so I'm planning to produce more London scenes. I would also like to attend more art fairs this year but have found this difficult to do when having a full-time job. In parallel, I will try to arrange for my work to be displayed in more galleries while expanding my portfolio further.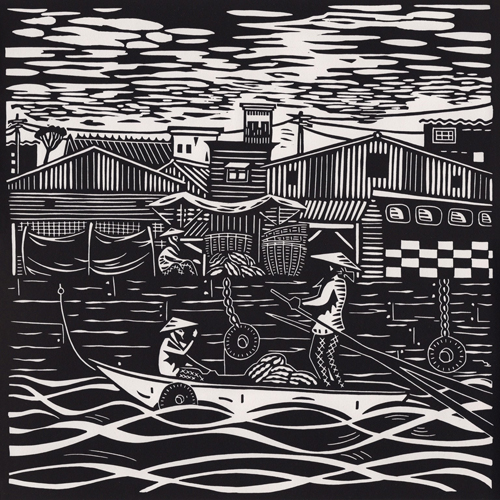 Do you have any advice for other printmakers and creatives?
Be true to your way of working and continuously experiment with new ideas. This is important to discover what works for you best and to establish your individual style.
To see more from Tom follow him on Instagram.