Meet the Maker: Tom Boulton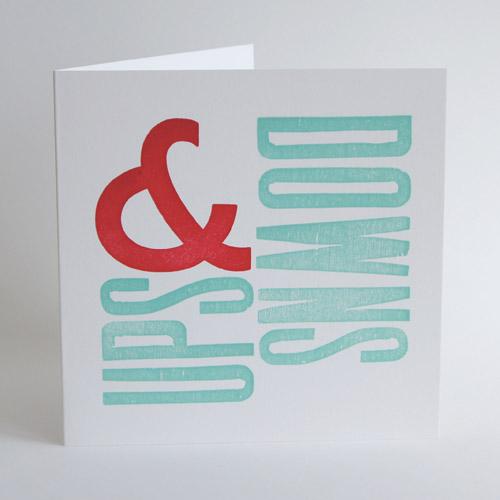 Tom Boulton will be teaching Letterpress in the Handprinted studio starting at the end of October! You may also have seen Tom in the Handprinted shop if you've popped in to say hello. 
I'm a typographic designer who started buying letterpress machines and type about 10 years ago. I design and print artwork, stationery and products that
are unique and affordable. I have my own line of products, I also do commission design and print work for individuals, independent shops and galleries
as well as larger organisations. Over the years I have worked on commissions and run events with a number of different groups including Tate Modern,
Southbank Centre, Design Museum, Fortnum & Mason to name a few.
Describe your printmaking process.
Letterpress is a puzzle and a constant battle. It goes – I have an idea in my head that needs to be printed, I then have the limitations of the typefaces I physically have in the point sizes they are, I have a chase they have to be locked out in, that all then goes into the machine to be printed one colour at a time. During this process I have to be very flexible to allow the type to design and form itself, to let everything balance, to give the print the correct feel and desired effect, whilst bearing in mind what the end product is and how it will be made. When I start I often have an idea in my mind but in the end the design often looks nothing like my original concept.
How and where did you learn to print?
I have always loved printing and making things with my hands. I did not start letterpress printing until I finished my degree at London College of Printing and realised the potential that letterpress has for mass production of real prints. So I started by purchasing an Adana 8 x 5 and got my first commission (to design and print gift certificates for a shop). After printing them I realised that an Adana was not enough for what I wanted to do! So I started to buy more machines and type, then I started teaching myself how to print, how to get different effects and how to
make different products, then find its application in the modern world.
Why letterpress printmaking?
It was a really simple thing, I really enjoyed print making, I love machinery and engineering and there was a need and a gap in the market – letterpress
offers mass production for the individual whilst at the same time allowing the ability to control what you do and how you make it, you can pull real prints – to produce real products that have soul that can be sold for an affordable price – it means I don't have to go down the route of producing one real print then having to get it digitally reproduced to be able to sell one – I really don't like digital copies.
Where do you work?
I work from my office at home (for designing and office work) and I have a main workshop in Bognor Regis (for printing).
Describe a typical day in your studio.
I don't really have a typical day in the workshop – I tend to have a very long to do list and just go at it and get on with it! The nature of what I do means that there are a lot of different elements and things that need doing day to day – whether that is printing, creasing, book binding, restoring machines, updating the website, planning an event, packing up orders, doing running repairs, meeting clients, designing new products. It's good because each day is different but it really is a very long list!!!!!
How long have you been printmaking?
I have been professionally printing for around 10 years.
What inspires you?
I don't really find inspiration in a lot of current design. I find it much easier to be inspired by the weird things I collect – I really like old packaging, strange colour combinations, old 50's life style magazines, Typefaces on sheet music, retro computer gaming. I recently became a father for the first time – it has be very inspiring to watch a little person grow and see the excitement she gets when seeing things for the first time, it makes you look at things in a different way which is great.
What is your favourite printmaking product?
Letterpress printing is one of those weird processes that means I do not really need to buy much to print with – apart from a lot of low odour white
spirit, recently I tried Zest-it as an alternative to white spirits for when I'm doing workshops or pop up printing away from my workshop (where the
smell of white spirit is not popular!)
What have you made that you are most proud of? 
I feel very proud of the process itself and the work that has gone into restoring my machines, most of which were going to end up being sold for spares or just scrapped. I think for anyone who restores machinery you feel strangely bonded to a machine at the end of process, you develop an understanding for the amount of time others have spent engineering it. In my case an era when engineering was very basic and raw (most of my machines date between 1880's – 1950's) each time I use a machine there is a sense of pride. 
Where can we see your work? Where do you sell?
I like to take part in exhibitions, and I sell to a number of shops across the UK from small independents to museums, galleries and to larger shops. If it looks like a letterpress print turn it over, if it is mine it will say my name on it. I also sell direct through etsy (TypeTom).
What will we be seeing from you next?
More printing, More Machines, More Workshops, More Products, More Stuff & Definitely some road trips!
Do you have any advice for other printmakers and creatives?
Do it and enjoy it. To have a creative output is a privilege and it should not be broken down and dissolved with overly concerning yourself with the real world or what other people expect or want. Find your own voice and do it your own way.
See more of Tom's work on his website, on Instagram or get your hands on some of his prints via Etsy.
To book a place on Tom's Introduction to Letterpress Workshop starting at the end of October.