Meet the Makers 2022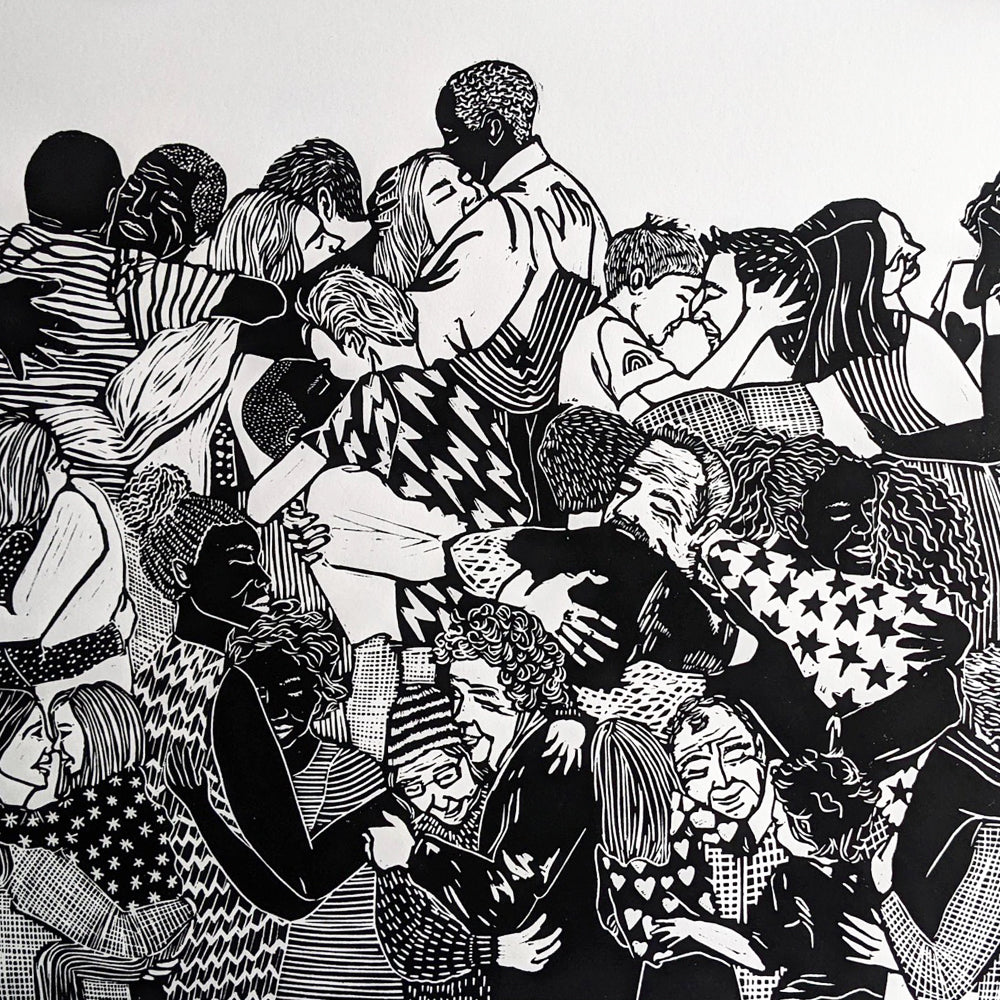 We've featured some fantastic makers on our Meet the Maker blog this year! Thank you to all that have been involved and those that are yet to come in 2023! We love reading about your printmaking practices and hearing your beautiful words of advice.
Grab yourself a drink, pop your feet up and read some of the advice this year's makers have to offer!
Sarah Frost
"Maybe to not just follow the work of other printmakers, although they are fantastic for guidance and inspiration, you need to find inspiration outside the printmaking world. I remember at the start I would create images that every other printmaker was creating because that's what 'sold on Etsy' and it's so easy to fall into this trap! Since then, I've just created work based on an aesthetic or idea that I'm interested in without really considering how "sell-able" it is. I would say that because of this, the quality of my work has improved a lot."
Anna Hermsdorf
"Be sure to invest in good material if you are seriously interested. Nothing is more daunting (and dangerous) than having to work on old, hard linoleum plates with dull knives. You will lose motivation very quickly! Rather, acquire a few high-quality materials and expand your collection. I started with two cutting knives, unfortunately, chose the wrong sizes and had to reorder new ones directly. But of course, you learn the most from mistakes. Ask other artists what they recommend or use!"
Bryan Angus
"Printmakers are better at learning from peers than painters, probably due to the print studio system, but I'd still say, keep asking questions of other printmakers and keep challenging your skill level."
Alice Spotorno
"As a novice myself, I don't really know whether I'm in a position to share much advice, but I'll try. Using tracing paper to transfer your design onto your carving surface avoids the headache of trying to think in terms of mirrored images. Handprinting is hard, but I've found using a baren and thinner paper can usually improve things a lot. And, finally, being kind to other artists and sharing your enthusiasm for their art will lead you to smile a lot, feel warm inside and create opportunities to share thoughts and inspiration."
Sarah Price
"Don't compare yourself to others. It's so easy to scroll Instagram feeling envious of other people's work, but I'm learning to find satisfaction in what I am achieving and having confidence in the uniqueness of my prints, as well as making peace with the fact I can't do everything I would like to at this moment in time. There are lots of benefits to having printmaking as a part-time project as well as the limitations and frustrations, and I'm trying to remember I'm no less of an artist just because I have another job too!"
Mandeep Dhadialla
"Don't be afraid to make work following your intuition, even if it isn't "on trend".
There's a place for everyone in the creative world – revel in immersing yourself in the flow of new experiences, direction, and the magic that will follow."
Jeremy Williams
"Enjoy the process and don't be put off by social media groups that have image after image of fantastic work, this can be overwhelming. Instead, learn from them, there are plenty of printmakers out there that will offer help and support.
Printmaking is a process that is ever-evolving and as such is a continual learning process. This is what makes it so enjoyable and exciting to me, the challenge of each new print and what will be learnt from the process whilst producing it. So do embrace the challenge and revel in the glow of a print well done!"
Good Girl Gang
"My only advice as common as it sounds, is to not give up & really just believe in yourself. No one but you can change your life so don't let the outside noise distract you from your true life goals. The only person stopping you is you so go for it!! You don't know where it could lead you :)"
Jody O'Reilly
"I guess my biggest advice is that a creative life doesn't have to come with a studio and days of free time. Try hard not to think 'Oh I don't have time, it must take ages'. It really doesn't have to. Yes, there's a lot to think carefully about in bringing a print, or any project, to life, but if you can recognise and take back the five minutes here and ten minutes there you can bring huge amounts of creative space into your life."
Paul Cleden
"Yes, do it. Don't give up! There's always a way to work part-time or on the kitchen table in snatched moments. The saddest thing is to hear someone has given up. Be true to yourself, make mistakes, and don't try and be someone else. As long as you like what you are doing, others will too."
Winsper Design
"It can be a bit overwhelming looking at what everyone else is doing and sometimes it can make you can feel a bit stuck; my only advice would be to do something every day that pushes you forward. Even the smallest amount of work will soon add up. There's room for everyone and it's never too late to start something."
Joshua Miles
"Stay honest with yourself and keep on working."
Shelly Brown
"My only advice is to just do it. It doesn't need to be perfect. It needs to be done, and once you do it, just keep doing it!"
Maud of Fungus and Mould
"Keep making things that you love and not what you think others might want to see."
Salty's Studio
"We have become connected to the whole process through printmaking, from designing to making to selling. You become responsible for sourcing materials, finding inspiration, to managing your retail (and online) space. I think that attention to all those details comes across as a very unique-to-us experience – trying to keep aligned with our reasons for wanting to have creative careers. And in turn, we offer something unusual for passers-by to stumble upon that is a reflection of us and our setup. We know we don't speak to everyone, but we're learning that by being and believing in yourself will keep producing work that we're proud of."
Thomas Mitchell
"Be true to your way of working and continuously experiment with new ideas. This is important to discover what works for you best and to establish your individual style."
Marigold Plunkett
"I always encourage new printmakers to try and embrace the unexpected in their prints. You rarely come out with what you started with in your imagination and it's far more rewarding to work with what the plate presents you, rather than fighting the process."
Madder Cutch & Co
"Just do it, enjoy it and keep going with what you love and want to do."
Rosanna Reade
"It's never too late to follow your dreams, and create for yourself, not other people."
MintFlamingo
"My biggest piece of advice is something I have to keep reminding myself daily too… Make things for you, not others. Don't base 'success' on sales or Instagram likes, we're living in an ever-changing world where people are under all kind of stresses and pressures."
Chris Long
"Aesthetically, I'm not sure I have specific advice. I have come back to visual art after a break and I suppose I already have the education and confidence to put work out there. One big change is that the internet and social media has transformed the way we can get our work seen. If I'd say anything it would be to exploit those avenues to their full potential. Don't wait for people to come to you, get your work out there."
Moïra Swann
"To keep on experimenting in order to improve your work and to accept all those little hazards which are integral part of this technique which is, sometimes, inexplicably rebel (yes, sometimes, a whole printing session can be a disaster without any reason...)
Also, I think it's essential to be surrounded by the work of your favourite printmakers or artists : not only it's a way to support them and to make your working place a better place, but also its' great to give their technique a closer look : you can learn a lot from the observation!"
FamousAdolf
"Try every material there is until you find something that feels comfortable and helps you achieve what you are looking for. Then do it over and over until you get good at it."
You can view all of our Meet the Makers past and present here!