Perfect Fabric Prints with Indian Wooden Blocks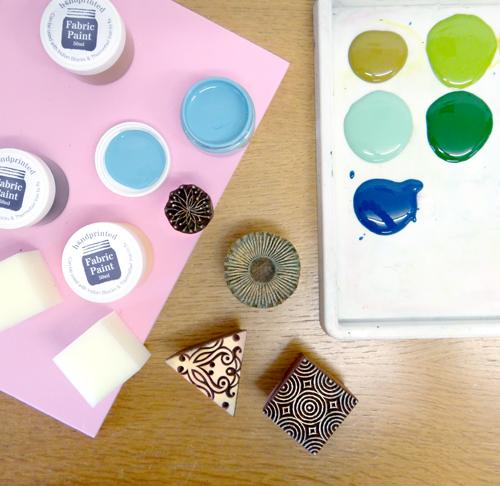 Indian blocks come in a wide variety of designs perfect for printing onto fabric and paper. It can be a bit tricky to achieve an even, bold print on fabric so here's our method of printing with these blocks!
Handprinted Fabric Paints are perfect for printing these blocks onto fabric. We've scooped out a little of a variety of colours onto an Inking Tray: Mushy Pea, Kiwi, Yellow, Sea Green, Forest, Cloudy Blue and Royal Blue.
Loading up the blocks with a sponge is a good way of getting even coverage on the design. Dipping the block in paint would  result in a blobby, messy print. We're using sponge.
Place your fabric on top of a padded surface like a blanket for a nice even print. You don't need to press hard to achieve a good print.
You can blend different colours with the sponge onto the block to print varying shades.
Layer up your design by loading up another block with paint and printing over the top.
 Some Indian Blocks are designed to be repeated, like this block.
Printing using a padded surface such as a blanket helps you to achieve an even pattern when printing in repeat.
 Iron your prints when they're dry to make your fabric washable with a lovely soft handle.
To print using this method you will need:
Indian Blocks
A padded surface such as a blanket
Iron