Tie Dyeing 5 Ways – Part 1 – Scrunch Dyed Denim Hotpants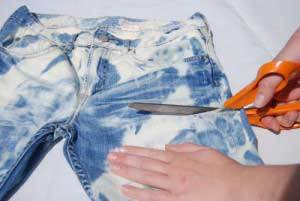 This weekend I tie-dyed some clothes with my two daughters. They had seen some Isabel Marant styled clothes in Top Shop and we thought we could give it a go ourselves.
First up was a pair of sad and tired jeans.
We dipped them in a 10% bleach solution scrunched up for about an hour (whoops forgot to take a photo) and then machine washed them ready for dyeing.
We cut off the legs and then placed the denim hotpants to soak in a bowl of water.
We added 1 teaspoon of Deep Purple Procion MX dye to 100mls of cool water. Making a paste from a little water and the dye first makes it easier to dissolve the dye fully.
We added 1 tablespoon of Soda Ash to 100mls of water and stirred until it had all been dissolved.
We mixed the Soda Ash solution into the Dye solution.
We poured the Dye and Soda Ash Solution into a leakproof plastic bag. Putting the bag inside a tub makes this step much easier.
After squeezing out the excess water from the hotpants scrunch them into the bag and tie the top. Give the bag a couple of squeezes and then leave for at least two hours. (We wanted the the depth of colour to be stronger in places, so giving the couple of squeezes ensured the dye was spread about inside the bag, but allowed the folds in the hotpants to act as a natural resist to the dye).
Remove the hotpants from the bag and rinse with cold water until the water runs clear. Then put the hotpants on a 60'c machine wash to remove any excess dye. (We use Metapex for this as it will remove the excess dye. If you don't have any Metapex you can use a non-biological washing powder/liquid).