Using an Etching Press to Print a Linocut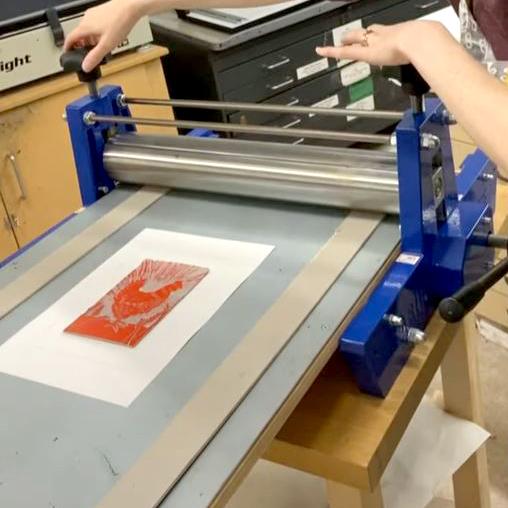 Etching presses aren't just for printing etchings. They have a bed that is rolled between two rollers, the top of which is adjustable in height. This makes it great for printing from lots of different surfaces as the tension is customised for each print! Printing a linocut with an etching press is easy with a few adjustments.
Scroll to the bottom to watch a video or read on.
One of the presses we use in the Handprinted Studio is the Abig geared 50 x 70 press but you can print linocuts on any etching press.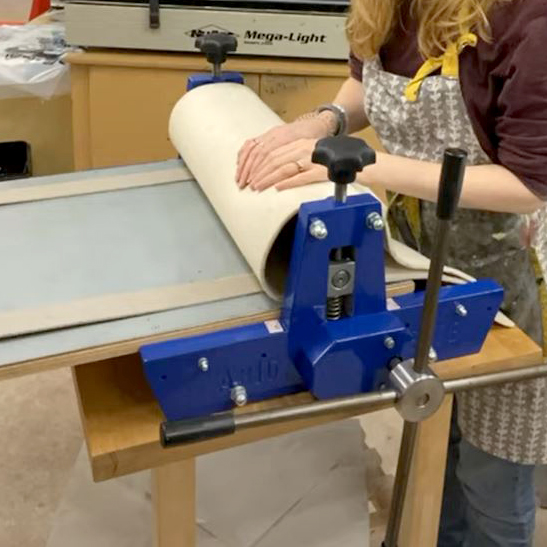 The most important thing to amend when using an etching press for lino printing is to use a pair of runners. These are strips of lino that run down the edges of the press bed. They are the same height as lino (3mm) and help keep the roller in contact with lino the whole way along the bed. This means that your top roller will turn easily at the right height. It will not get stuck on the edge of the lino block, which would cause smudges and jumps.
To set the press height, first establish whether or not you will be using a press blanket (read on for more information on that). Raise the top roller up. Lay the runners either side of the press bed. Lay the blanket(s) on top (if using) and lower the top roller so that it sits on top of either the blankets or the lino runners. If you like, you can put an un-inked piece of lino and a blank sheet of paper through the press. You should be able to tell the correct pressure from the paper as it comes out – too much of a dent from the lino and the top roller is too low, absolutely no mark at all and your top roller is probably too high.
Most etching presses are used with blankets. Some have just one, some two or three. Printing linocuts with the blankets will result in the paper being presses into the lino more. This is likely to pick up lots more of the 'chatter' background lines. Whether or not you would like this is an individual design choice for your print. Printing linocuts without blankets will result in less chatter.
You may want to use a registration sheet under the lino to help position the paper in the correct position for your print.
Lay the inked lino face up in the centre of the press bed.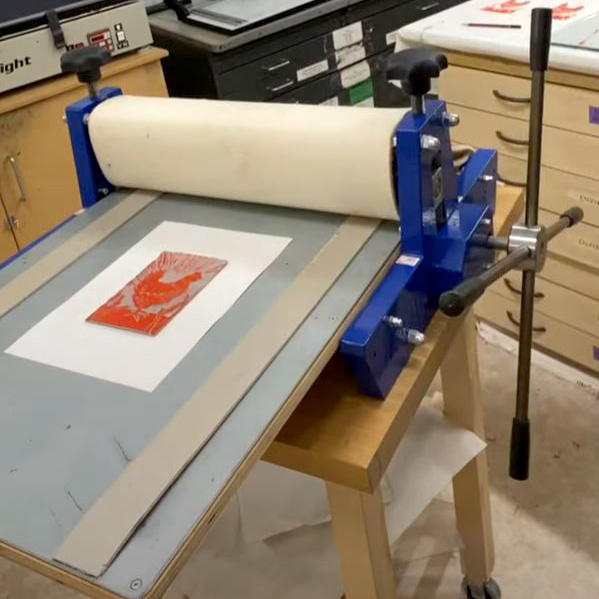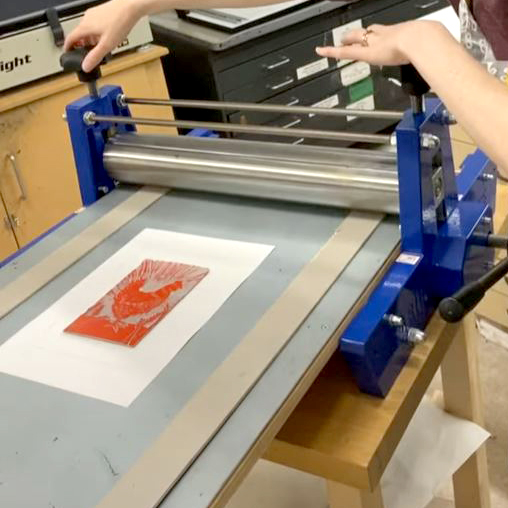 Gently lay your paper on top of the lino.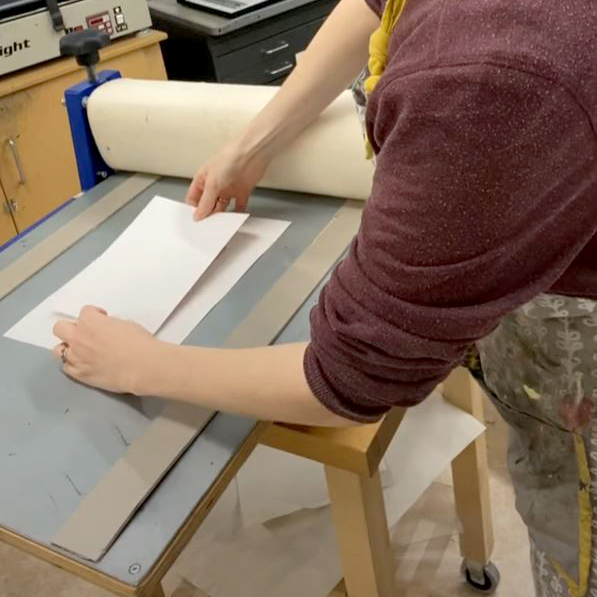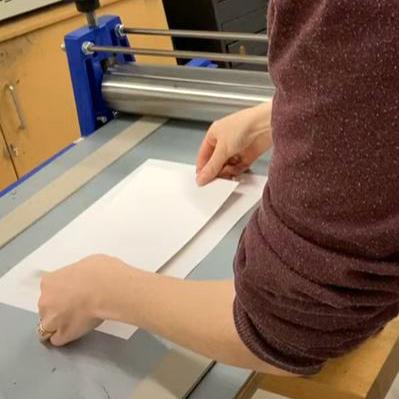 If using blanket(s), carefully lower down on top.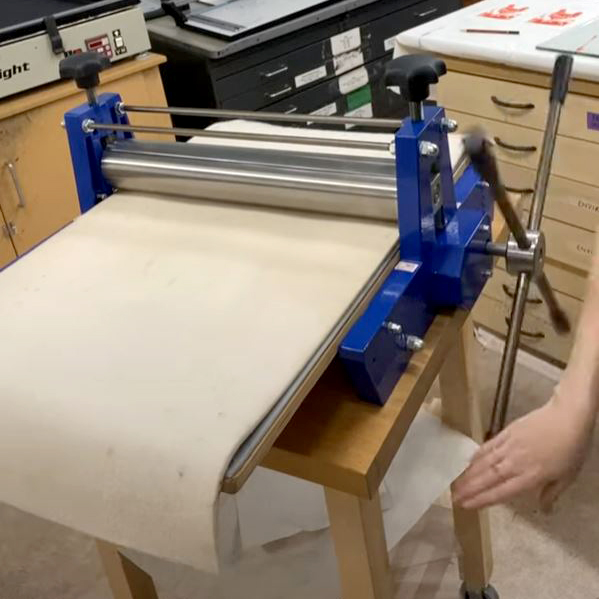 Turn the handle on the press to wind the bed through the rollers and take your print.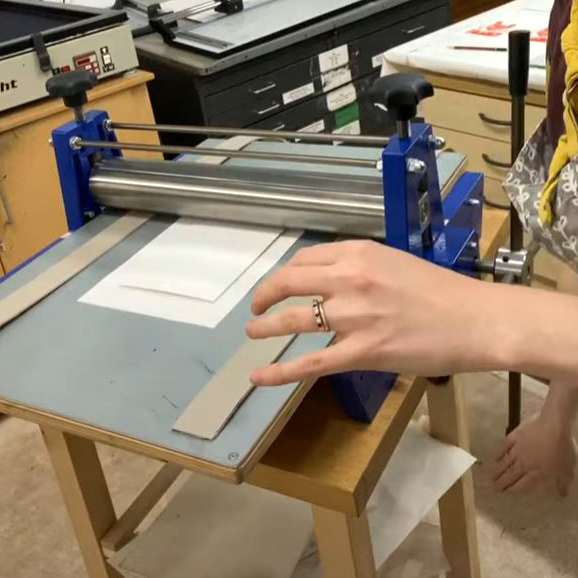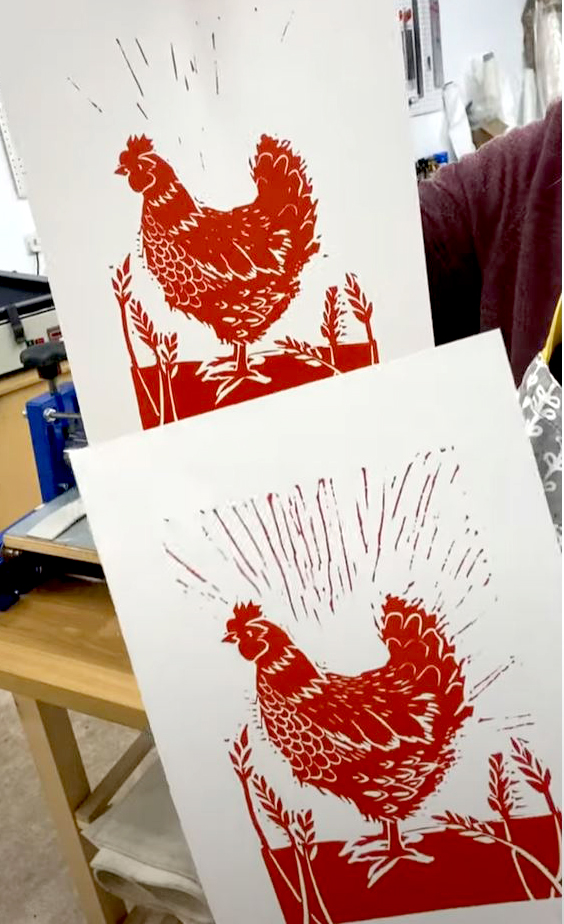 You will need:
– An Etching Press
– Runners
– A lino block, inked up
– Paper on which to print