Meet the Maker: Alice Spotorno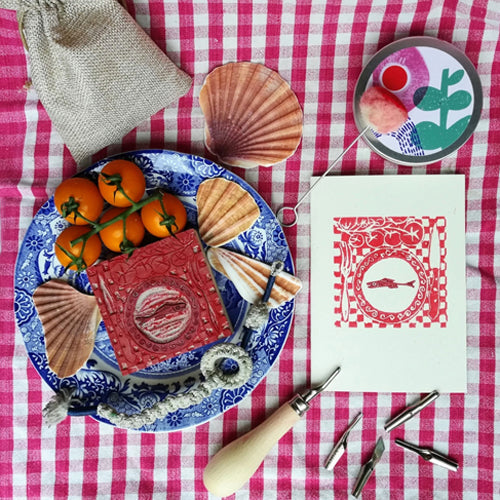 My name is Alice, and I am half Italian / half British. Although I grew up in Italy, I've been living mostly in the UK since I went to university in 2013. Printmaking for me is just a hobby at this stage, but I do hope one day I can make it into something more, alongside embroidery. In Italian, my name is also what we call anchovies, so that is the inspiration behind the name for my art page: The Arty Anchovy.
My imagination has always been overactive, but it has shifted to visual arts only recently. Firstly, during the infamous March lockdown in 2020, I focused on instant film, 35mm and Polaroid, then in springtime of 2021, I began to cross stitch patterns and embroidery. In July, I finally decided to try out lino and rubber carving. So far, I've really been enjoying this new learning journey!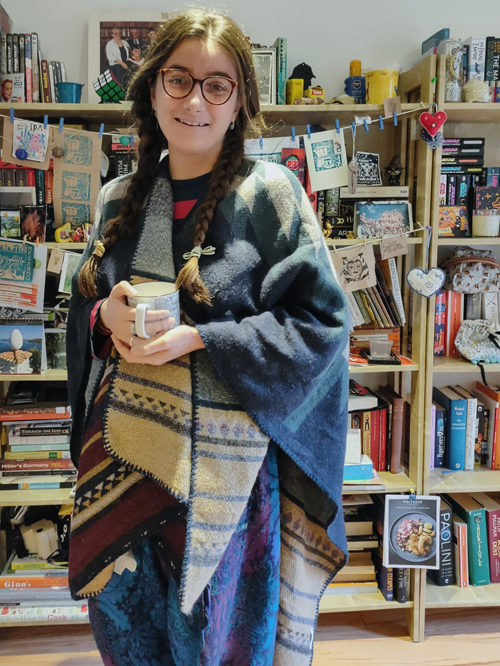 Describe your printmaking process.
Normally it all starts with a sketch (or sometimes multiple drawings) in my notebook, which I then trace over with tracing paper. Then I rub the paper onto my chosen surface and start carving! At times, if the design is more intricate, I might have some marker pens to hand to help me highlight the areas that must remain untouched. Once it's done, I normally just print it using a Japanese bamboo baren and hang it up to display on my Arty Bookshelf. Pretty basic, really.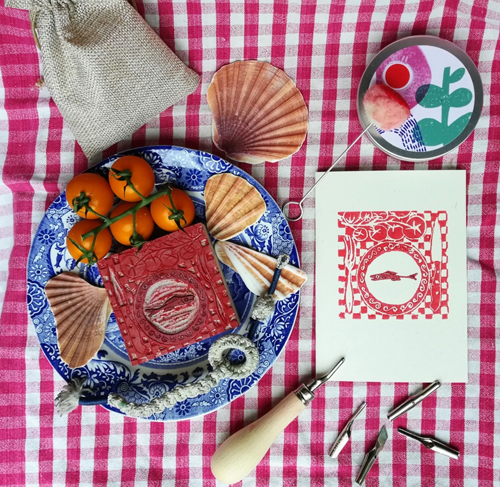 How and where did you learn to print?
At home, on my own. From then on, it's been a lot of trial and error, and learning from watching others on social media.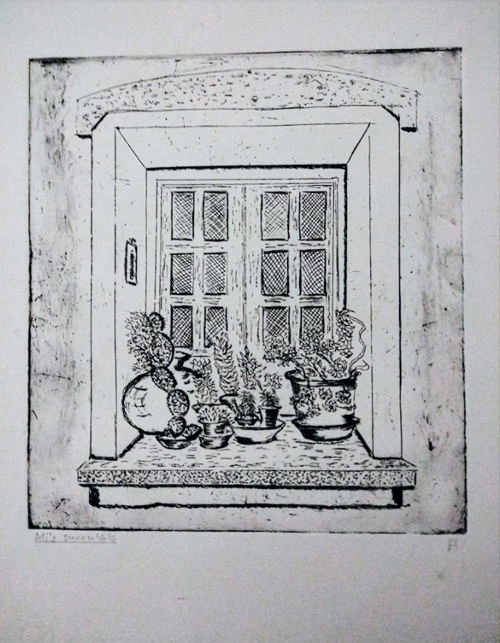 This print was made by my Granpa Alan.
Why printmaking?
Gosh. I've always been surrounded by prints while growing up thanks to my Italian Nonno who was an artist (Michele Spotorno, you can look him up!) and in his later years my English Granpa Alan. But I don't know if that's what drew me to printmaking, in all honesty. I'd love to have a cool origin story, but I think the truth is that I came across more and more printmakers on Instagram and eventually could not resist the urge to try myself. For some reason, I've never been able to draw or paint the things that I imagine, but printmaking is a different story. Even though negative space still baffles me at times, and I often get my linework wrong, my ideas and designs seem to take shape more easily. Plus, I love the physical mess of inky hands and an offcut-strewn table.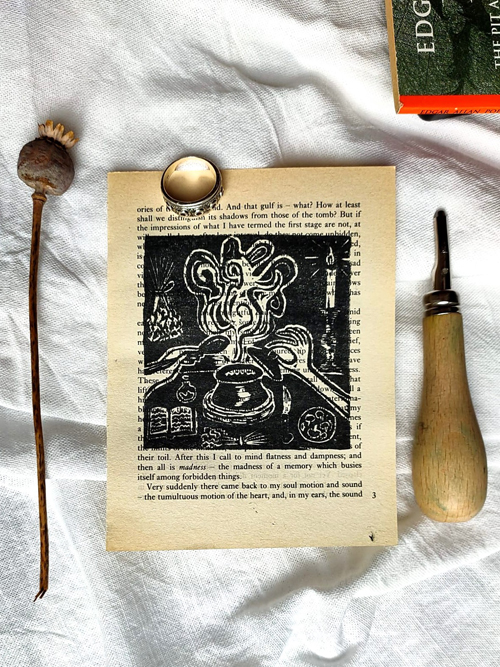 Where do you work?
Now, I've finally got some furniture from IKEA and built myself a little Arty Corner in my spare room, with a simple desk, lots of tiny drawers, and the red Pixar lamp that has illuminated me since my university days studying History and German. Before, it was the floor, the garden, the kitchen table, the sofa, my dad's garage… anywhere!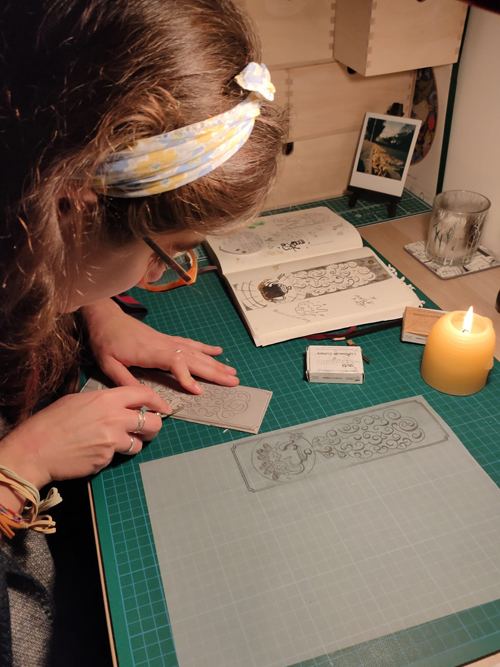 Describe a typical day in your studio.
Sadly, art is not my full-time job. So I don't really have a typical day, more like little snippets of time here and there. But it'll always start with lighting a candle. I find fire very soothing and – now I think about it – I suppose it is something of a ritual to ignite my creative spirit or leave a symbolic offering to my imaginary muse. My sketchbook is always full of scraps of paper where I note down ideas that come to me during the day and then I just follow my inspiration. I want to design, carve and print things that bring me joy, so that is my primary driving force.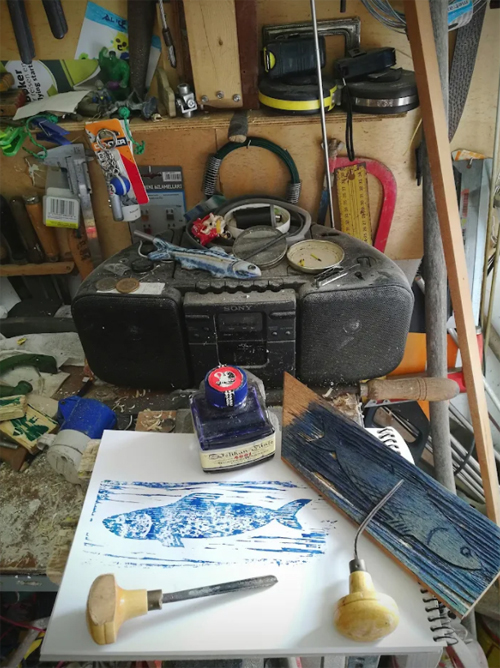 How long have you been printmaking?
Printmaking is a very, very new process for me. I carved my first little lino block in August 2021 while I was in quarantine after travelling to see my family in Italy. But the first thing I ever set my tools into was a piece of spare teak boat decking foraged from a box of wood offcuts in my father's garage after I came across three rusty bent tools that used to belong to my Nonno. This was July 2021. We'd just arrived in Italy and had to self-isolate for 5 days, so I really took advantage of that bubble of time to let my inner child take the lead and run wild with creative force without being dampened by the daily responsibilities of being an adult.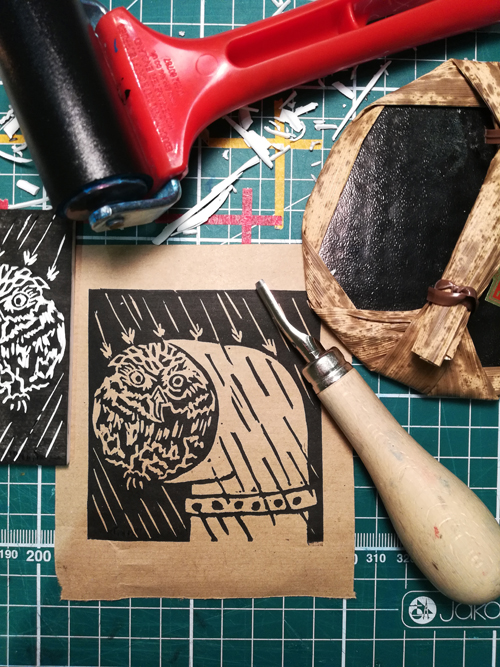 What inspires you?
Oh, so many things! I'm a very open-minded person, which means that anything I come across in life, from the books I read to the food I eat, the places I've been and the photos I've taken has the power to fuel my imagination. Because of my bi-cultural upbringing, I also have access to the best of both worlds when it comes to inspiration. From the Ligurian side, I daydream about seafoam, dried herbs, maritime pine trees and simple, fragrant food; from the British side, I take woodlands, wildlife, folklore and legends. I also love looking at what other artists create because it's the best way to come across fresh ideas or try new techniques. Then there are the Ancient Greeks and Romans, which I studied for many years at my classical high school in Italy, and all those whimsical and wholesome moments you can find in day-to-day life, if you're willing to look. I could go on for ages, but I hope you get a general idea.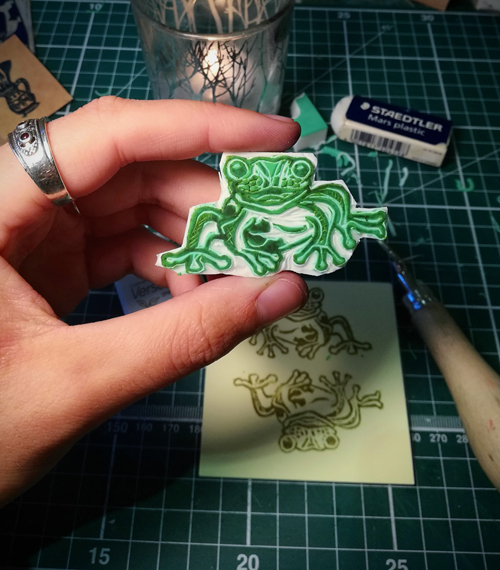 What is your favourite printmaking product?
So far, I think discovering the Japanese carving rubber by Tsukineko has been a bit of a revelation. I love that the dual colour makes it easier to see what I'm carving and for someone who has not yet had the chance to invest in proper tools (and tool sharpening materials) the soft-yet-firm consistency of the rubber is perfect to achieve fine details. Also, I like how the smell reminds me of going stationery shopping with my mum in September before the start of a new academic year.
What have you made that you are most proud of?
I'm still really impressed with myself when I think of my first lino block, which I've temporarily titled "At the Table". I managed to carve so much detail, without having any idea what I was doing, and mostly sitting on my spare room floor for lack of desk space. The cheeky smile on the anchovy's face says it all, really.
More recently, I made my own prompt list for Inktober, which I called Inky Anchovy, and one of the first prompts was "frog". I made a little stamp using Japanese rubber, and to this day I'm delighted with the result!
But I think my favourite piece is a little square block I've named "Mediterranean Witch". It was birthed from one of my October prompts, "stewpot". The way I'd carved it at first was just not quite right, but I persevered, adding little details and drawing inspiration from my wonderful memories of reading "Circe" by Madeline Miller. In fact, I'm so pleased with it now that I'm planning to make it one of the first prints I will list on my online store when I open it.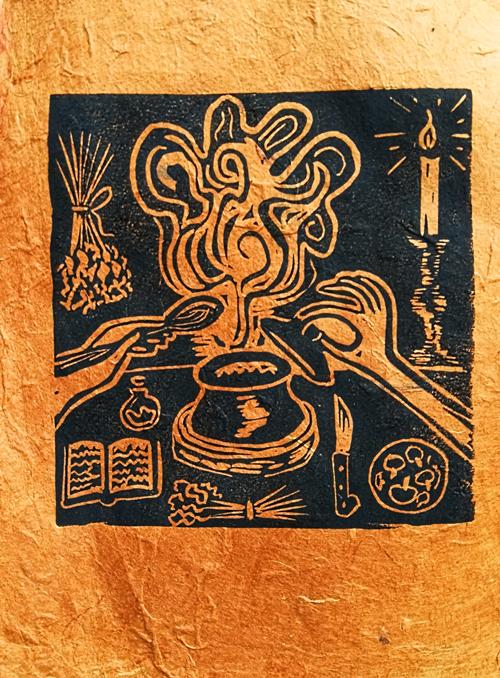 Where can we see your work? Where do you sell?
You can see my work on my Instagram page. Unfortunately, I don't sell anywhere… yet! I wanted to have an Etsy store open by the time this feature came out but, alas! Life got in the way. Hopefully, I'll open a store soon. When I do, you can be sure to find out about it on Instagram.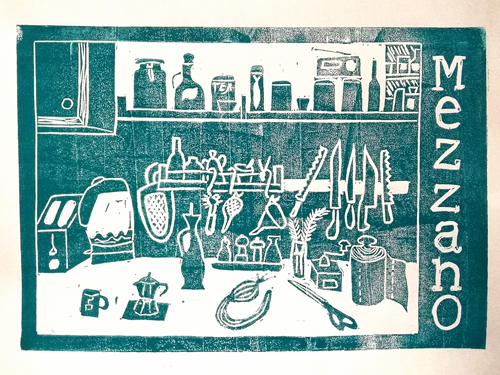 What will we be seeing from you next?
I'm really eager to challenge myself with some larger, more complex prints. So far, my biggest print is your standard film photo size, 10x15cm. I have a project in mind which I've titled "Kitchens of Home" where I'm hoping to carve a portrait of all the kitchens I've called my home throughout the years – a way of connecting with my personal history through memories of shared meals. I've already made the first one in the series, "Mezzano" which is my childhood home in Italy, but I'm still to plan, sketch and carve the rest. That's the long-term, ambitious project.
Then I have other things I want to try out, such as combining my interest with embroidery to make printed pieces on fabric or embroidering patterns on prints, and also experiment with printing on different types of paper like vintage maps or music scores. I'm very keen to keep everything I do as sustainable as possible, so using scraps of paper I forage from charity shops has the dual effect of being repurposed material as well as increasing the narrative potential of whatever I print on it. The possibilities are endless!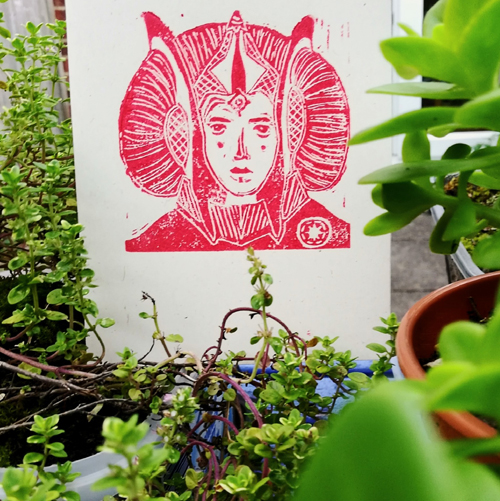 Do you have any advice for other printmakers and creatives?
As a novice myself, I don't really know whether I'm in a position to share much advice, but I'll try. Using tracing paper to transfer your design onto your carving surface avoids the headache of trying to think in terms of mirrored images. Handprinting is hard, but I've found using a baren and thinner paper can usually improve things a lot. And, finally, being kind to other artists and sharing your enthusiasm for their art will lead you to smile a lot, feel warm inside and create opportunities to share thoughts and inspiration.
To see more from Alice follow her on Instagram.