Meet the Maker: Caroline Whitehead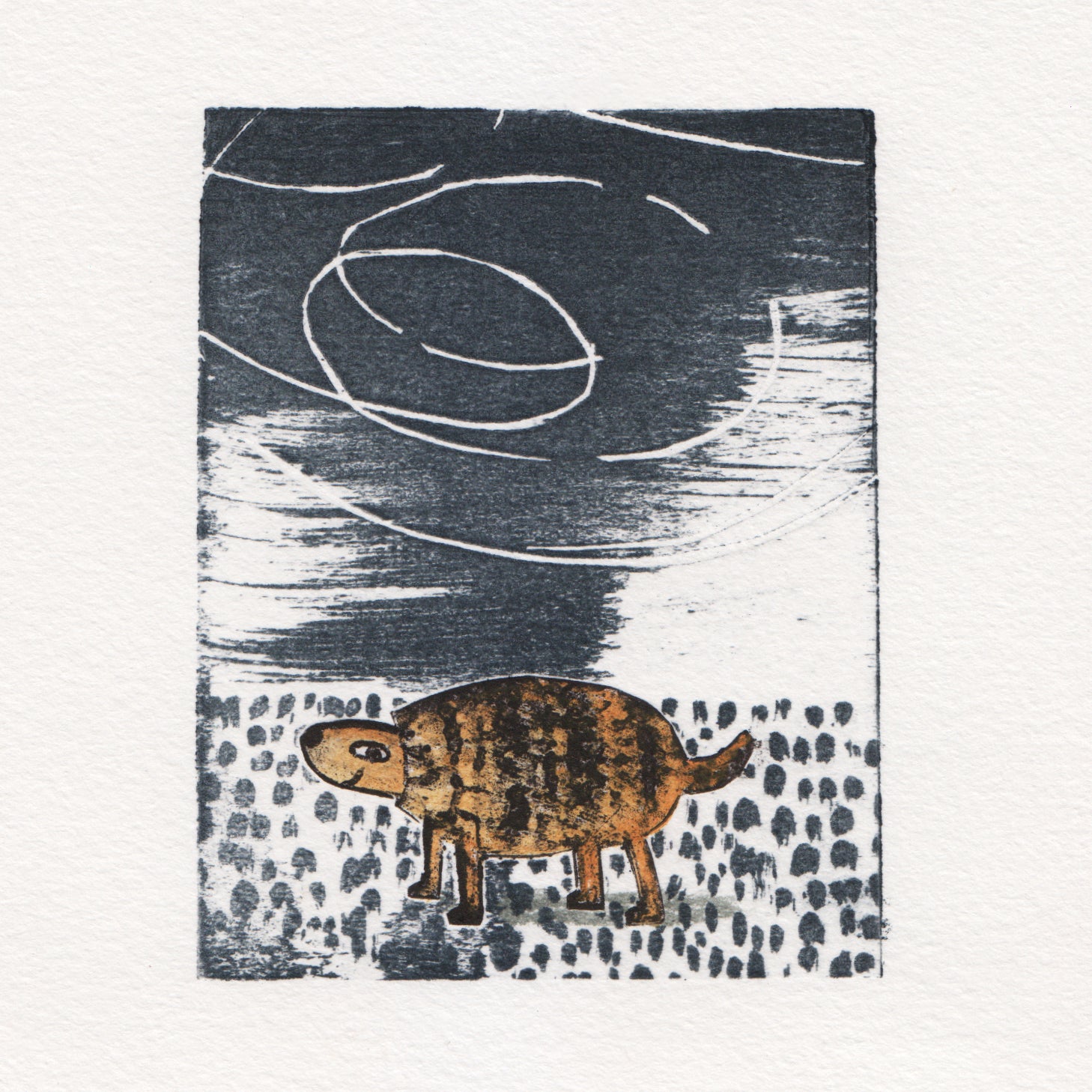 I'm a printmaker based in East London. For about eight years now, I've been obsessed with alternative forms of lithography (mokulito (wood litho), kitchen litho, prontoplate litho, waterless litho, gum transfer). I also make prints on clay. As well as making my own prints, I also teach mokulito and kitchen litho at East London Printmakers and as a guest tutor at printmaking studios outside London.
Describe your printmaking process.
 Almost all my prints start with a drawing. Often this will be a drawing made in a museum, but it could also be a drawing of one of the toys or pieces of folk art I've collected over the years, or a drawing of a creature I've made myself. I don't usually make drawings specifically for prints – often I rediscover a drawing in a sketchbook or a drawer, months or years later, and it will spark an idea for a print. I also recycle parts of older prints – often because of a sense that there's unfinished business. Sometimes I use Photoshop and Procreate to play around with drawings, but I almost never draw digitally – I miss the accidental marks and the history that becomes engrained in the surface of paper. I'm also a big believer in cutting/tearing up drawings and proof prints and moving things around physically, I just don't find a virtual environment as stimulating. I don't really have a fixed printmaking process. Obviously there are certain technical steps I need to get right, but as far as possible I try to respond to the materials I'm using – the grain on a particular piece of wood, for example. Once I've got a plate that prints, I start playing around with masks, offsets, chine collé and monoprint elements. I also combine different techniques (e.g. mokulito and waterless litho) in the same print. Once I get into the flow of printing, I can become totally engrossed in the process. I try not to judge the results too much while I'm working – I've learned it's best just to keep going and assess the prints at a later date. Very often it's prints that I didn't particularly like at the time that turn out to be the most interesting.
How and where did you learn to print?
I first discovered printmaking at school. When I was doing A level Art, I had the luck to be taught by the Australian printmaker Katie Clemson, who was working part-time in the art department. Katie taught us her technique of making complex reduction linocuts using transparent inks and the excitement of revealing the colours created by successive printings remains with me to this day. Around the same time, the printmaker Mark Cheverton (later a founder of the Leith School of Art), showed me how a humble material such as cardboard could be used to make subtle and beautiful prints. After school I went to the Ruskin School of Art at Oxford, where I specialized in sculpture and printmaking. I spent days exploring the cabinets and drawers in the Pitt Rivers Museum, drawing all sorts of strange artefacts that later found their way into my prints. The Head of Printmaking was Jean Lodge, who had studied with Stanley Hayter at Atelier Nord in Paris. I learned about viscosity printing from Jean, and I think that was how I became more interested in exploring how to obtain different results from the same plate(s), rather than printing editions in the traditional sense. I also made a lot of experimental screenprints.
Why printmaking?
For some reason, I find it far easier to create images indirectly. As soon as I start making a plate, I get excited about possible techniques and ideas. This is in complete contrast to painting, where I'll almost always be consumed by self-doubt and over-think myself to a standstill.
Where do you work?
I'm a keyholder at East London Printmakers, which is an artist-run studio in Mile End. The studio has very good facilities for almost all printmaking techniques – the only real exception is stone litho – and it's wonderful to have the space to work on large prints. I also have my own studio a short cycle ride from home, where I mostly spend time drawing and making plates. I love printing in a shared space, but I like to do the thinking and platemaking in my own space. I also print small plates in my own studio, but printing anything larger than A5 can be a logistical challenge. I also belong to Turning Earth Hoxton, which is an open-access ceramics studio. My shelf there is crammed with printing-on-clay experiments at various stages.
Describe a typical day in your studio.
I don't really have a typical day. I also work part-time as a freelance translator (I translate texts from Norwegian to English, mostly for museums and art galleries), so I juggle studio time with translating. This may be partly why I don't do much digital artwork – I like to get away from the screen when I'm not translating.
How long have you been printmaking?
 I remember making a linocut of the Tower of London for a school project when I was nine. It was difficult because the tools were blunt and the lino was hard, but inking the block and seeing the result was very exciting. So I've been printmaking for a very long time.
What inspires you?
I'm a bit of a magpie, but some enduring sources of inspiration are birds, fish and reptiles (real and imaginary); motheaten taxidermied mammals in museums; folk art; and mediaeval art. During lockdown, I signed up to an online art history course about beasts and monsters of the Apocalypse. I found it a bit heavy going (naively, I hadn't reckoned with having to study the Book of Revelation), but though it I discovered the Silos Apocalypse, a 12-century Spanish manuscript in the British Library, which is currently a big source of inspiration.
What is your favourite printmaking product?
Not exactly a product, but my favourite pieces of printmaking equipment are two drying racks made by my husband, Rick Yoder. They're based on the traditional design with marbles and I got to choose the marbles.
What have you made that you are most proud of?
Generally I don't get particularly attached to my own work – I'm more interested in current and future projects than looking back. But I am proud of a toy theatre that I made from a stone lithograph that was my contribution to the Ghost[ed.] lithography project, coordinated by Nicole Polonsky and Sue Baker-Kenton. It was a challenge to reimagine a print that had been conceived as a flat image as a three-dimensional theatre, but I'm very happy with how it turned out. I made the theatre for A Pollock's Gallimaufry, a group exhibition I organized with Nicole at Pollock's Toy Museum (sadly now closed). I think part of the reason that I'm attached to the theatre is that it reminds me of that very successful project.
Where can we see your work? Where do you sell?
 I exhibit regularly with East London Printmakers at the Hampstead and Battersea Affordable Art Fairs and the Woolwich Contemporary Print Fair. I also exhibit with Printmakers Council and in open exhibitions (when I have work accepted!). I also have work at Hybrid Gallery in Honiton and I am dipping my toe into selling online with a shop on my website.
What will we be seeing from you next?
I'm just starting on a new series of linked mokulito/monoprint and ceramic-transfer prints – expect to see some marine life.
Do you have any advice for other printmakers and creatives?
To slightly paraphrase the saxophonist John Coltrane: Start in the middle.
Caroline will be bringing her Mokulito Printmaking workshop to the Handprinted Studio on Saturday 23rd & Sunday 24th or Monday 25th & Tuesday 26th of September 2023.
To book your space on this exciting new workshop, click here!
To see more of Caroline's work, follow her on Instagram.