Meet the Maker: Chris Long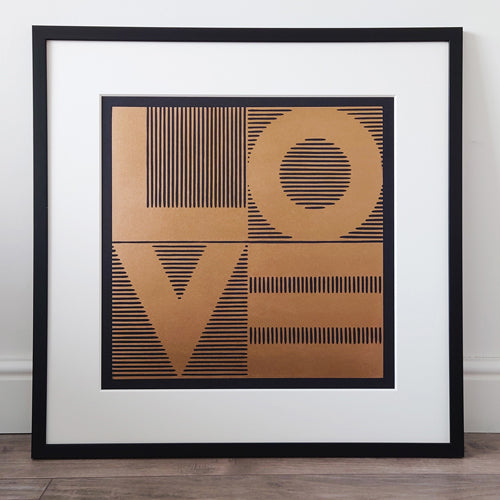 My name is Chris and I am an artist, printmaker, composer and teacher. I studied fine art and music at the University of Liverpool, a Masters in musical composition at Newcastle University and I completed my PhD at the Royal Birmingham Conservatoire. I have recently returned to my visual work after a focus on other artforms and projects.
Describe your printmaking process.
My main focus has been relief prints, mainly lino, but also some woodcut. These prints have been running alongside various intaglio work such as collagraph and drypoint. I have a background in multimedia work and painting, so my process starts with sketches. I am quite impatient and can only plan up to a point so I try things out at the press, experimenting with layers and colour until I come across something I like. I like to reuse blocks, try different things with them, layering, rotating and moving blocks.
How and where did you learn to print?
I happened upon printing as a natural development of mixed media work I was developing. I have used lino prints in large scale collages and mixed media painting. As a student I was also advised to try collagraph but never had any advice on how to do this, and, pre internet times, I improvised. I created blocks using mountboard coated in a layer of candlewax, into which I carved and used various textures and objects. I then used oil paint as ink and printed by hand. Since returning to my visual work I can afford ink, a press and various surface media, but those early collagraphs had a real delicacy to them more reminiscent of Japanese woodblock.
Why printmaking?
Process. Making. Experimentation. There are two stages, a visual idea, and then the making, and this process can lead you in a completely different directions compared to other mediums. Maybe it is the composer in me, but making a plate, and then using it in different ways is very musical. The prints I have produced over the past year, whilst accessible and immediate, are a result of a process. Process can be planned, but the results are often unexpected, a little like the layers and rhythms in minimalist music. The political history of the medium, and it's place in the fine art world, really resonates with my own values.
 Where do you work?
In my garage.
 Describe a typical day in your studio.
I work as a full time teacher, so a day in the studio would usually be at a weekend. It usually starts with a tidy up, paper cutting and a catch up on printing orders, or packaging and a trip to the post office. This saves the rest of my time for working on new ideas.
 What inspires you?
I am inspired by anything I see. Any juxtaposition of colour, pattern, shape and texture. Whilst it may not be evident in my current prints, I am also inspired by a sense of place, weather and light, be that urban or in nature. And, as with my music, I create for people. I want people to find a connection with my work.
 What is your favourite printmaking product?
Cranfield Caligo inks are great. I use safe wash but I am gradually moving towards the Cranfield traditional oil based inks for relief and intaglio. I'm finding that the tack quality of each is slightly different, especially when using extender. Oh, and 'Bessie', my press. My press has been a game changer. It is portable and allows me to produce my larger relief prints, up to A2, and also explore etching, collagraph and intaglio processes.
 What have you made that you are most proud of?
In my recent work I am most proud of the more abstract rotated love print. It was an unexpected result of running a small block through the press 8 times, each time applying the block to a different rotation. It also shows an unexpected result of 'stopping' the metallic ink with the opaque first layer, adding shapes with different tones to the design.
 Where can we see your work? Where do you sell?
At the moment on Instagram and I sell on Etsy, and I am a member of People of Print. I am currently exhibiting at the Less is More Winter Exhibition at Eastgate Studios in Beverly which is on until January. 
 What will we be seeing from you next?
New designs and I'll be developing my collagraph prints. Some different subject matter with my collagraphs and intaglio work.
 Do you have any advice for other printmakers and creatives?
Aesthetically, I'm not sure I have specific advice. I have come back to visual art after a break and I suppose I already have the education and confidence to put work out there. One big change is that the internet and social media has transformed the way we can get our work seen. If I'd say anything it would be to exploit those avenues to their full potential. Don't wait for people to come to you, get your work out there.
To see more from Chris, follow him on Instagram!