Using a Thermal Screen to Print Festive Wrapping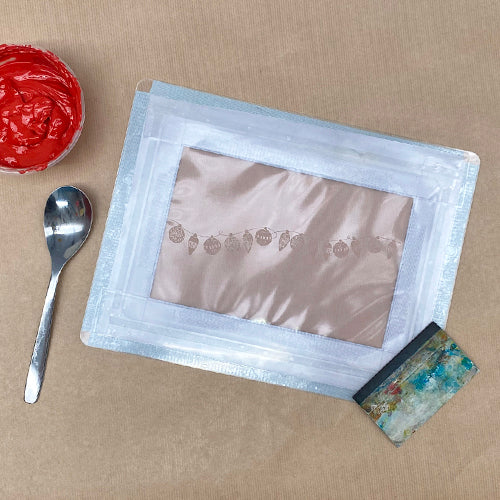 Printing your own bespoke wrapping paper or fabric can be very rewarding especially when the gift is for a loved one. This week we're printing our own kraft wrapping paper using a Thermal Screen. 
Here at Handprinted we use a MiScreen Machine to make our Thermal Screens. You can see how we make them here.
For this project, we will be using an image from a previous Festive blog post that we have digitalized. The artwork needs to be full black for a Thermal Screen.
Once the screen is made we are ready to print!
Place a bead of ink at the top of the screen.
Using a Thermofax squeegee or store card, pull the ink down the mesh holding the squeegee at a 45° angle, applying firm steady pressure all the way down the design.
Once we have taken our print, we want to lift the screen like opening the cover of a book.
We then want to repeat the process, making sure not to place the screen down on a wet print. You can use a hairdryer to speed up the drying process but make sure that your screen is flooded to avoid the ink drying in the mesh.
Continue printing until the entire paper is covered.
When we have finished printing, we will need to remove any excess ink and place it back into the pot. Using a soft damp sponge and cold water clean the screen. A delicate approach is best here as these screens are fragile.
Prop the screen upright and leave it to air dry. Once the screen is fully dried we recommend storing it flat to avoid the frame snapping.
Once our paper is dry it will be ready to use. For this project, we used kraft paper, but you can use any paper you like. Why not make it extra special by using the Khadi Lokta papers?
You will need:
A Thermal Screen (Thermofax)

Thermofax Squeegee

Pre-mixed Screen Printing Ink or Acrylic Paint and Screen Printing Medium

Paper to print onto e.g. Khadi Lokta Papers

Spatula or Spoon

Soft Sponge and cold water for cleaning