Meet the Maker: Good Girl Gang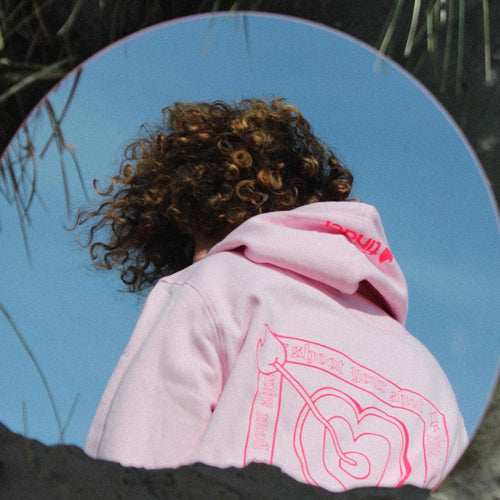 Hello, I'm Nawel. I'm a self taught screen printer and have been running my small sustainable brand, Good Girl Gang, since 2018.
 Describe your printmaking process.
 Everything you need for screen printing is hugely accessible at a very low cost. I have seen some people utilise charity shop frames for their screens to make amazing new creations. The thing I love most about screen printing is the ability of making wearable art.
 How and where did you learn to print?
 I learnt everything I know about the screen printing process through YouTube. From learning about photo burning (screen exposing) to the actual printing process, I continue to learn new things with this amazing method of print every day. 
 Why printmaking?
 Before I began my journey with printmaking, I would use fabric markers to draw designs onto t-shirts. The hand drawing was something I really enjoyed so being able to utilise that same feeling on a film transparency instead is amazing, and I suppose the results speak for themselves!
 Where do you work?
 I work from home and always have. Although working from home is hugely inferior to working in a studio, I've learnt to make it work which is what I love about screen printing. I also love how accessible it is with these DIY kits you can quite readily purchase online.
 Describe a typical day in your studio.
 A typical day at my home studio involves a lot of admin work, which can be the negative side of running a small biz but is all the more fulfilling when it comes to printing orders. I also like to spend some time on creating new designs that I can expose onto my screens.
 How long have you been printmaking?
 I started screen printing in late 2016 after using YouTube videos as a virtual teacher. It took me a couple years to really feel confident in my print making skills, especially when it came to exposing my screens at home, which took me at least 6 months to perfect & even now I mess up! 
 What inspires you?
 I'm inspired by a lot of things, usually music tends to motivate my creativity along with films that offer high grade cinematography. I have also found that the online art community as a whole has become a huge inspiration to how I not only run my business, but create as an artist. This has led me to experiment with other types of printing such as lino cut print; another hands on way to create wearable art with such a traditional technique.
 What is your favourite printmaking product?
 One big thing I hugely respect and appreciate is a good screen. I used to hand make my screens with wood so upgrading to aluminium screens has been a game changer. Being a sustainable brand I also like to make sure all my products are friendly to the planet and the people on it, which is why I love my water based inks. 
 What have you made that you are most proud of?
  I am most proud of the first successfully exposed screen I ever made. It was after months of frustration and calculation that I figured out the real science behind getting a design burnt onto a screen. I think not giving up and learning more about the process really helped me build confidence and grow my brand to where it is now.
 Where can we see your work? Where do you sell?
 You can shop all my sustainable clothing on my website as well as other marketplaces like The Pop Up Girls, Fassion, Etsy, ASOS Marketplace, check me out!
What will we be seeing from you next?
 I'm working on collaborating with more artists from all corners of this amazing world to create even more exciting clothing & broaden my horizons to what is possible when it comes to the world of print.
 Do you have any advice for other printmakers and creatives?
 My only advice as common as it sounds, is to not give up & really just believe in yourself. No one but you can change your life so don't let the outside noise distract you from your true life goals. The only person stopping you is you so go for it!! You don't know where it could lead you :)
To see more from Nawel follow her on Instagram.