Meet the Maker: Ian Mowforth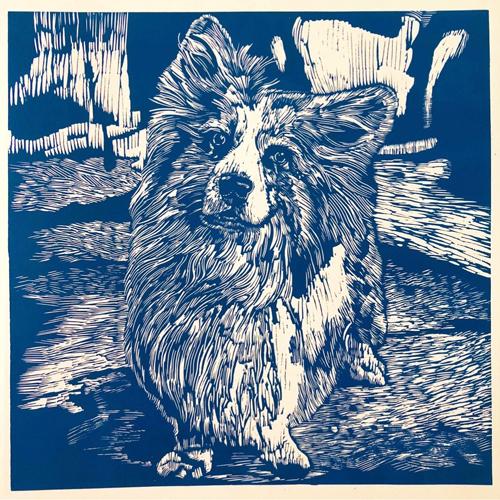 Ian Mowforth will be teaching a Linocut Pet Portrait Workshop for us in May 2020.
I am a painter and printmaker. I have experimented with pretty much every type of material and process over the years. I always return to painting and
printing though.
Describe your printmaking process.
I am usually a Lino artist. I have returned to etching and lithography this year too. I love the immediacy of Lino. I'm a teacher in a secondary school
and get some time to make my own work in between lessons and marking. Lino is something that I can pick up and put down easily after many years of using it.
How and where did you learn to print?
I did some Printmaking at school which pretty much put me off. I started printing on Foundation Course when I was 18. Mainly lithography and mono printing. I then experimented with etching on my Degree at Wimbledon School of Art in the 80s. They have a great print department.
I went on to do an MA in print at Brighton University.
Why printmaking?
I like the idea of making multiple images. I love the discipline and rigour of the techniques. I think because my painting is all about colour it's good
for me to make something just in one colour. I'm often asked why I don't make multi coloured prints. I have no interest in that as it's something I
already do in my painting.
Where do you work?
I have a studio in Wimbledon. I paint from there. I generally print at school as we have a press there.
Describe a typical day in your studio.
There isn't a typical day in the studio. Sometimes I'm painting a commission, often of a dog. Sometimes I'm cutting a piece of Lino. I teach 5 days a week so I'm generally in my studio between 6 and 9 pm on weekdays. Then most of Saturday and Sunday. I do get very good holidays so I'm always in the studio then.
How long have you been printmaking?
I made my first print when I was 13. It was a reduction Linocut of a volcano. It was hideous. It cured me of printing for many years. I seriously started printing in the early 90s where I used Lino for several years. I had a break from printing until 2014. That's when a friend encouraged me to put a print in the RA summer show. My print of Princess changed my life. I sold 74 copies and it opened lots of doors to me.
What inspires you?
I'm a huge fan of the real world. I love nature. I'm fascinated by plants and animals. I use the internet and regularly raid Instagram for imagery. I visit
exhibitions as I live in London. I find though that my inspiration really comes when I'm making something. No point in waiting for the next great idea. Just get on and the ideas come…….. it's never let me down yet!!
What is your favourite printmaking product?
One of the things that has really transformed my practice is Pfeil tools and also good quality rollers. Couldn't be without papers too. Purcell Papers are my church…….
What have you made that you are most proud of?
I'm proud of most of the things I make. There are always things I keep that I don't want to sell. Seeing my card in the RA shop was a big thrill and all
the red dots on the print too.
Where can we see your work? Where do you sell?
I sell directly from my studio in Wimbledon Arts Studios. We have an open studio exhibition twice a year. Next one is 15th to 18th of November. I also
sell through my website ianmowforth.com
You can enquire through Instagram too, @mowie66
People generally get in touch to ask me to paint their dogs. It's what I'm more known for these days ……
What will we be seeing from you next?
I'm doing quite a lot of painting at the moment inspired by Great Dixter garden in Northiam. I'm also going to make some much larger scale Linocuts of dogs and other animals. They'll be printed on to paper and fabric and stretched on to canvas stretchers.
Do you have any advice for other printmakers and creatives?
My advice would be to find a medium/s that you feel comfortable with. Try not to master too many techniques at once. All Printmaking processes take a while to become fluent in. Also, buy the best materials that you can afford as they do make a huge difference to your learning experience.
See more from Ian on his website or on Instagram.
Ian Mowforth will be teaching a Linocut Pet Portrait Workshop for us in May 2020.