Meet the Maker: Jeremy Williams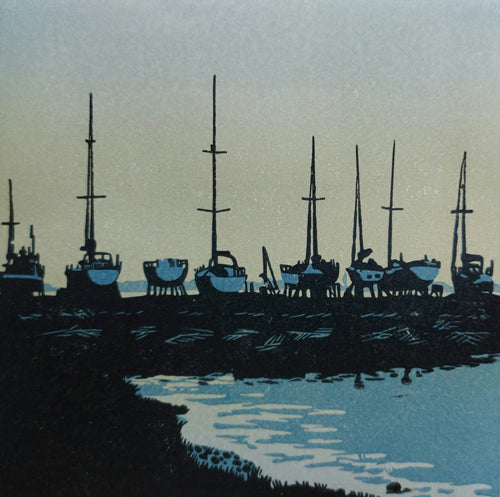 I am a part-time weekend printmaker. During the week I like to spend my time packing and posting out printing supplies to printmakers around the country!
My main printing love is linocut. I also enjoy drypoint printing and occasionally dabble with some screen printing. I am pretty much self-taught but have attended several weekend courses to enhance my knowledge of printing methods and to build my skills base.
Describe your printmaking process.
My process usually begins with a walk, usually with my dog and a camera. I am lucky to live very close to Chichester Harbour and the South Downs. This gives me plenty of opportunities to snap a good landscape, seascape and wildlife.
The desired image is then roughly sketched out, once I am happy with the composition and colours (this is usually quite a fluid and evolving part of my process) I then draw the image onto the lino. I generally use the reduction technique, which I prefer for registration purposes, but you do have to be sure that each layer is carved and inked to how you want as there is no going back and starting again!
I like to use a ball bearing baren and a wooden spoon to make the impression. I do also use an old cast iron book press for small prints or cards that I may be printing a larger quantity of.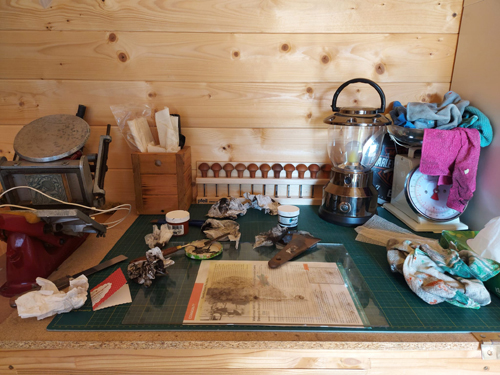 How and where did you learn to print?
I was first introduced to printmaking as part of a Graphic Design diploma course I attended back in the late 1980s. Very brittle brown lino was the order of the day, I am pleased that we now have grey lino, as this is a lot easier to carve!
Due to life getting in the way art was pretty much put on the back burner until a few years ago when I realised that I needed some form of the creative process back in my life. I had a go at linocut printing and after attending a weekend course with Nick Morley and then with Ian Phillips, I realised that I was quite hooked.
I really do quite enjoy the challenge that the whole process gives you, from the carving to the inking of the different layers. I also enjoy the amazing community of printmakers, who are generally quite happy to offer help and encouragement.
Where do you work?
I generally do my sketches and drawing onto the block on my living room table, I may also do some carving there too as my studio shed lacks power for lighting and heating.
I will do all my inking and printing in the studio shed. My dog 'Bella' is my constant studio companion and can usually be seen sunbathing in the doorway!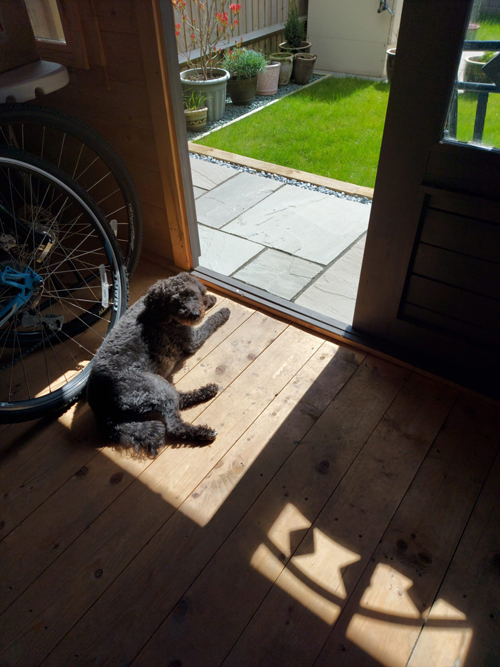 Describe a typical day in your studio.
It always starts with a cup of tea. I then organise the separate inking and burnishing areas. I use two separate benches for this. I then size my paper and mount my ternes burton pins onto the registration board and tabs onto the paper. I will quite often use strips of old lino to make up a jig so that I can remove the lino block from the registration board for easier and cleaner inking.
I then mix the inks for the first layer and get printing. I will keep inking and printing until the first layer of all of the edition is complete. Once done it is clean up time and another well earned cuppa! I will then get on with carving the next layer.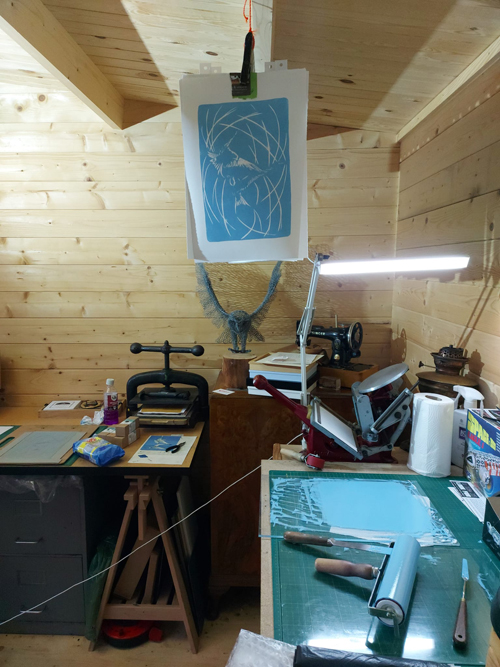 How long have you been printmaking?
I have been seriously printmaking for the last five years. This was thanks to several weekend courses at Handprinted with guest tutors, Nick Morley and Ian Phillips. I was finally able to get to grips with multi-block linocut and reduction printing as a result.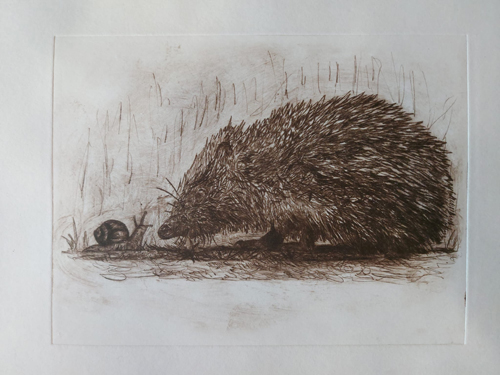 What inspires you?
I take inspiration from land and seascapes, buildings, man-made structures, boats and wildlife. I enjoy the effect of light on a landscape, crumbling buildings and boats. I am always inspired by a walk around the harbour.
I take inspiration from other printmakers, in particular, I love some of the wildlife and landscape artists from Norfolk. I am also very interested in the printmakers of the early 20th century, especially those working between the two world wars.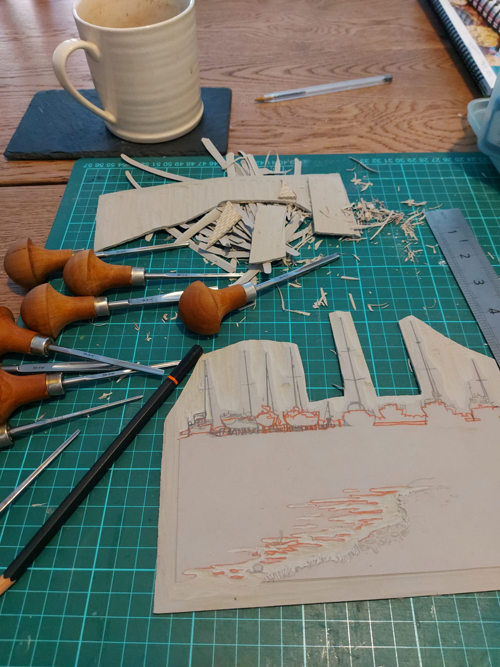 What is your favourite printmaking product?
My favourite product is without a doubt my pfeil tools. They just do what I want them to do, the blade keeps a good edge for quite a long time. I also regularly use a SlipStrop to keep the edge keen.
My other favourite product would have to be my new Slama press. Essentially this is a ball bearing baren with the benefit of a handle and more importantly, weight. This has taken the strain of hand burnishing out of printing larger editions as the Slama will essentially do the work for you, just like a press!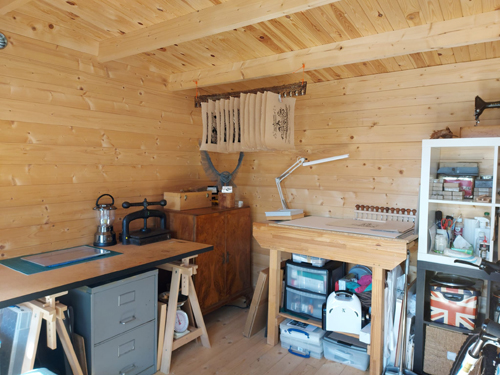 What have you made that you are most proud of?
Definitely my recycled pallet wood print drying rack. It took a while to do but was very cheap to make. It has made such a difference inside my studio shed. No longer do I have every surface covered in drying prints.
The print I am most proud of is probably, 'Old Dell Quay Boat' which was inspired by an old fishing boat left to rot on the foreshore. I did this print whilst on the reduction linocut course with Ian Phillips at Handprinted.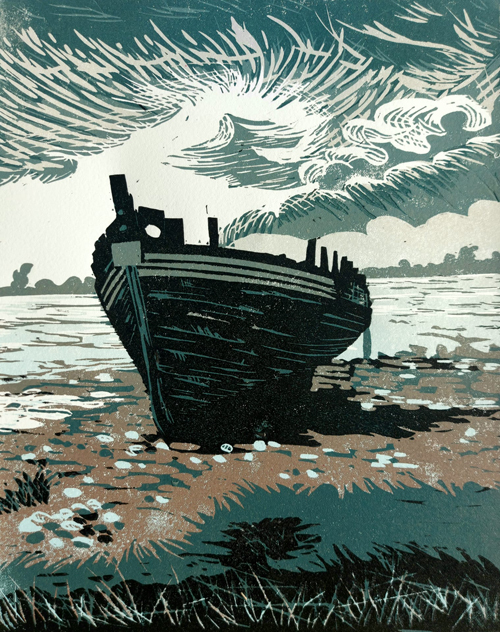 Where can we see your work? Where do you sell?
Currently, you can find my works on Instagram. I will be taking part in this year's Chichester Art Trail, which is a trail of artists who open up their homes and studios for people to come and have a look and discover the amazing talent in the area, and maybe buy a print or two!
I am currently looking into the best way to proceed to sell online, so any inquiries would be through Instagram.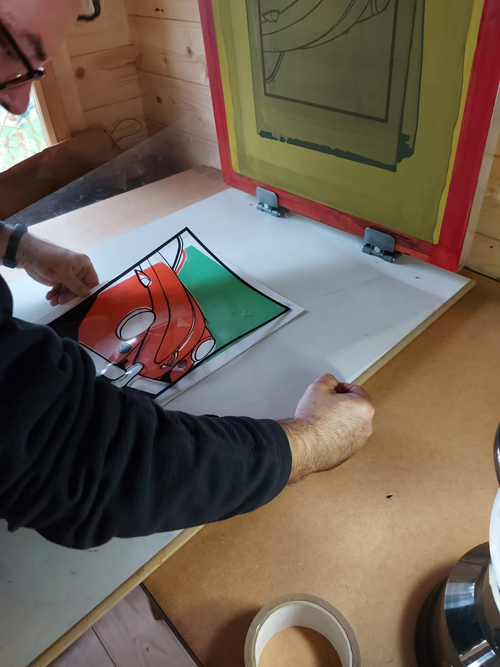 What will we be seeing from you next?
I am currently looking at and working towards building a bigger body of work. I would like to be involved in future exhibitions and art fairs. In the meantime more linocut, more dabbling with screen prints and more drypoints. One edition of prints at a time!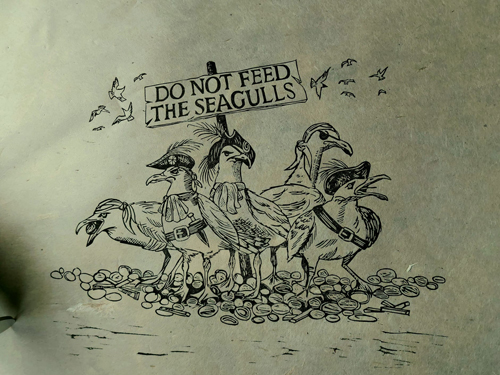 Do you have any advice for other printmakers and creatives?
Enjoy the process and don't be put off by social media groups that have image after image of fantastic work, this can be overwhelming. Instead, learn from them, there are plenty of printmakers out there that will offer help and support.
Plan your layers well, and make sure that whatever registration technique you use is sound as multilayer prints rely on this.
Do some weekend courses, these are invaluable as not only do they teach you the basics and more advanced techniques, but they also can iron out any silly mistakes or bad habits. Courses are also a great way to meet other printmakers.
Printmaking is a process that is ever-evolving and as such is a continual learning process. This is what makes it so enjoyable and exciting to me, the challenge of each new print and what will be learnt from the process whilst producing it. So do embrace the challenge and revel in the glow of a print well done!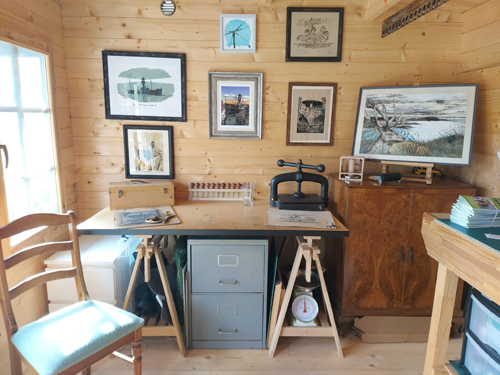 You can see more of Jez's work at Chichester Art Trail 2022 at Venue 26 from 30th April to 2nd May and 7th to 8th May 2022.
Make sure to give him a follow on Instagram.