Meet the Maker: Katie Edwards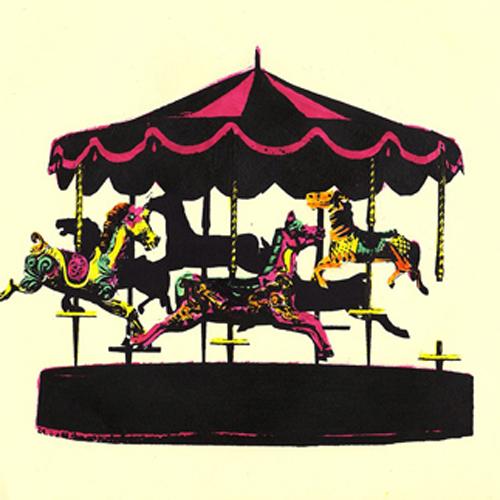 Hi, I'm Katie Edwards and I'm a freelance illustrator and screen printer, I produce conceptual illustrations for a wide range of international clients
from editorial to advertising. I also sell screen prints online, in galleries and at art shows.
Describe your printmaking process.
Using traditional photographic and silkscreen printing techniques. Focusing on metaphors and symbolism, reflecting enjoyment for the natural world, evoking
thoughtfulness and humour.
How and where did you learn to print?
I first tried my hand at screen printing on my art foundation course, I'm pretty sure I loved the process from the get go. Then at University where I studied
Graphic Arts and Design, if I wasn't in the printmaking studio I was in the darkroom developing my photos onto lith film to make my screen from. My
way of working came from a love of photography and screen printing.
Why printmaking?
I find all printmaking techniques extremely satisfying, that moment you reveal the print is very pleasing every time. Screen printing appealed to me because
it could be combined with placing photographs in unusual compositions and I enjoy the printing process, other techniques can be very laborious. The
planning and set up of screen printing can take some time, but once your ready to print it can be fairly quick and enjoyable, producing unique textures
every time.
Where do you work?
I work from my home studio in Newby Bridge, The Lake District.
Describe a typical day in your studio.
I don't really have a typical day, it depends what project I'm working on and at what stage. It varies from generating ideas for a commission, creating
the design, planning the colours and layers. If I'm printing a limited edition print run, I'll be exposing screens and printing. Or if I have an exhibition
coming up I'll be preparing frames and mounting prints. Then there's all the nitty gritty stuff, such as paperwork and packing online orders that need
doing in between and goes hand in hand with running a business.
How long have you been printmaking?
14 years
What inspires you?
Growing up in the Lake District and spending some time in Canada, I've been closely in touch with the outdoors, the countryside and animals. My screen
print illustrations reflect this appreciation for natural beauty, yet sometimes mixed this with familiar cityscapes. My style of illustration came
about from the juxtaposition of different objects to communicate a new idea. This way of working appealed to me in a way that I could create quite
imaginative pieces with quite ordinary photos. I didn't consciously always include an animal or nature in my pieces, but this was what I was interested
in and so were the basis of my ideas. Animals also hold so many hidden meanings and so often create a symbolic image.
What is your favourite printmaking product?
My exposure unit, it's not a full-size one: I can only fit up to an A2 screen, but it fits perfectly in the corner of my studio. It was a game changer
having to not go to a workshop to expose my screens and a must when I moved from the city back to the countryside.
What have you made that you are most proud of?
'Joy' was for a competition of the same title, which I struggled with an idea for a little while but when I thought of the horse escaping the carousel
it was a real 'Aha' moment. Also 'Think Big' is my biggest selling edition.
Where can we see your work? Where do you sell?
I sell on my website https://ktedwards.co.uk in galleries across the country and at Art Fairs.
What will we be seeing from you next?
This year I have been working with the Apartment Hotel chain Roomzzz and there's lots more to come from this exciting partnership.
Do you have any advice for other printmakers and creatives?
My way of working came about in my final year of University, I think before then I'd tried too hard to create a style. When actually it should come naturally
by doing what you love, in my case combining photography and printmaking, my two passions. And enter competitions, they are great for getting noticed.
See more from Katie Edwards:
Facebook: https://www.facebook.com/ktedwardsillustration/
Instagram: https://www.instagram.com/ktedwardsillustration/
Photographs by Milton Haworth