Meet the Maker: Rob Luckins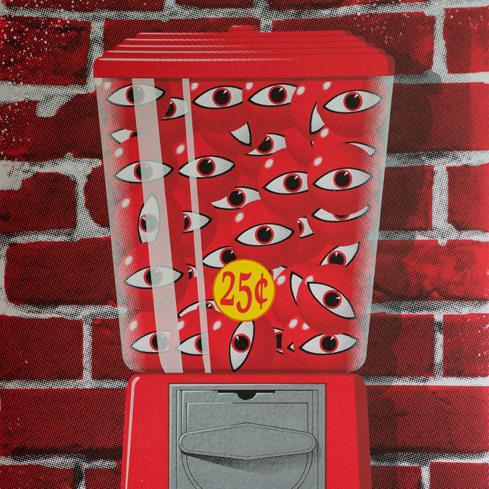 My name is Rob Luckins I'm a printmaker and commercial photographer. I make screen prints, letterpress and linocuts under the name Triffid. My inspiration
comes from 1950's television shows and packaging. I love old tin toys, model kits and the 1950's view of what the future would look like.
Describe your printmaking process.
My printmaking process is screen printing. The way I approach a piece is to create a very small sketch roughly the size of a small matchbox to work out
composition, I'll then shade this to work out roughly where I want light, shadow and texture. I then scan this and drop it into Adobe Illustrator and
block out all of the shapes. From here the artwork goes into Adobe Photoshop where I texture it and create my final separations ready for printing.
How and where did you learn to print?
We had a 1-day introduction to screen printing at University, but it wasn't until I saw the work of Peter Lloyd and his series Royal Rumble that I got
really excited about what could be achieved using the process.
Why printmaking?
There's something deeply satisfying about the whole process that I've never gotten from painting. The ability to lay down perfectly flat colours and layer
something up is something that really appeals to me.
Where do you work?
I work and teach at Badger Press, which is an open access printmaking studio situated in Bishops Waltham in Hampshire. I also have a small set up at home.
Describe a typical day in your studio.
Get in early, get all of the screens coated, exposed and washed out, cut paper and mix up inks. All peppered with plenty of tea drinking.
How long have you been printmaking?
Since 2001 when I worked as a commercial screen printer, printing t-shirts.
What inspires you?
People who are passionate and proactive about what they do, people like Lord Lav, Curxes and Tom and Emily over at CreatureHut who are all friends of mine
and fit the above description perfectly.
What is your favourite printmaking product?
I would probably say well used wooden handled squeegees that are splattered with paint.
What have you made that you are most proud of?
Apart from my two boys, I would say my most recent piece featuring a 1980's style gumball machine.
Where can we see your work? Where do you sell?
You can see my work over at my Etsy store www.etsy.com/uk/shop/TriffidPress where my work is also for sale. It is also available for sale at Aspex gallery in Gunwharf Portsmouth and on the wall of the Butchers Hook micro Brewery
in Southampton.
What will we be seeing from you next?
I am working on an A2 piece of a pinball machine and plan to produce a new series of letterpress prints.
Do you have any advice for other printmakers and creatives?
Don't feel like you have to have access to expensive equipment in order to get started and if you're unsure about a process, reach out to printmakers and
ask them questions. I would highly recommend attending courses and talks and don't be afraid to get your hands dirty. It's the best way to learn!
See more from Rob Luckins on his Facebook page.