Meet the Maker: Krona Prints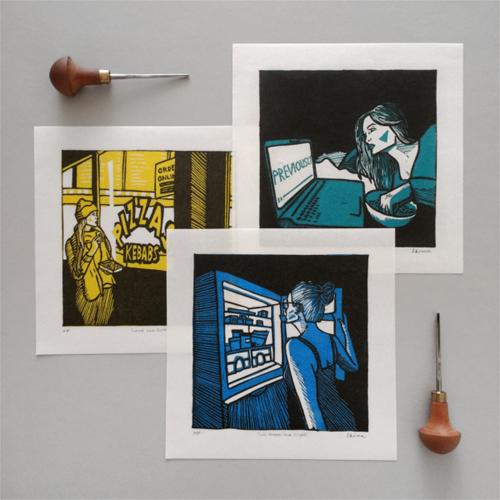 I'm Nathalie Krona of Krona Prints. I am a linocut printmaker from Birmingham, England and I currently live in Edinburgh.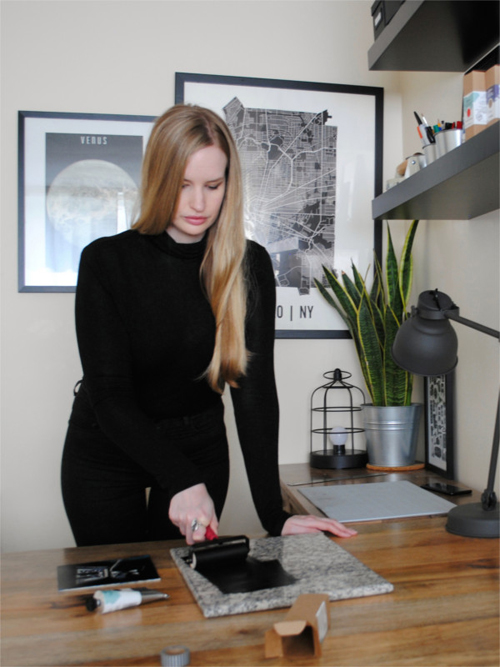 My most popular prints have been pieces that use multiple blocks. I hand burnish all of my prints and work mainly on paper but occasionally play with fabrics.
I'm currently making prints that are re-framing negative experiences and emotions as signs of strength instead of weakness.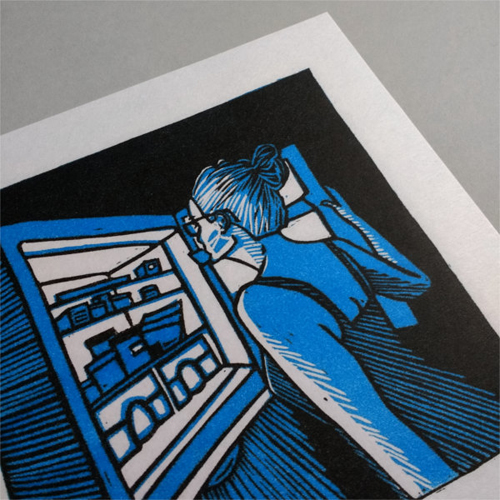 Another subject I'm focusing on is the minutiae of millennial life and I'm attempting to create nostalgia for times that haven't quite passed yet.
Describe your printmaking process.
The majority of my printmaking process involves just thinking about how a print is going to work.
Once I have a strong idea and I've worked out in my head how the blocks are going to fit together, the journey from sketch to print is pretty rapid. I get so stuck into the process that I forget to take breaks!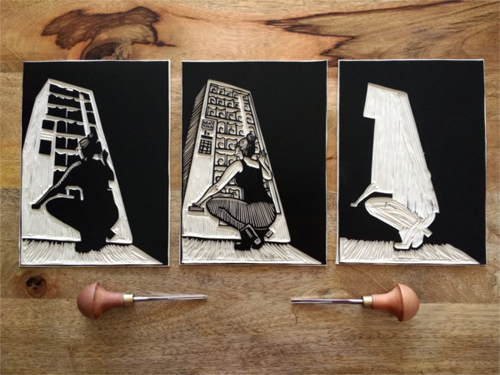 All of my drawing is done with a pencil and paper. I scan the sketches and play around with different colours digitally.
I test print a lot throughout the carving process. I'm not too keen on surprises!
How and where did you learn to print?
I learnt to print by reading the instructions that came with my linocut starter kit. From then on, I've just been winging it.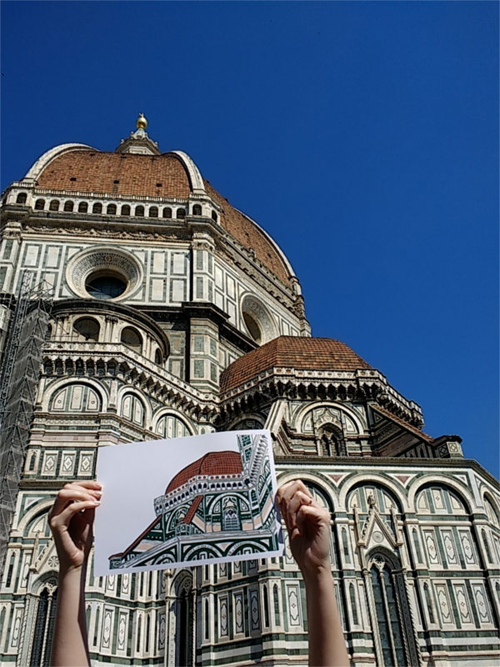 Why printmaking?
In the beginning, printmaking appealed to me because I loved the idea that I could make something for me, and if someone else happened to like it, I could easily make one for them too. It was about sharing and in many ways it still is.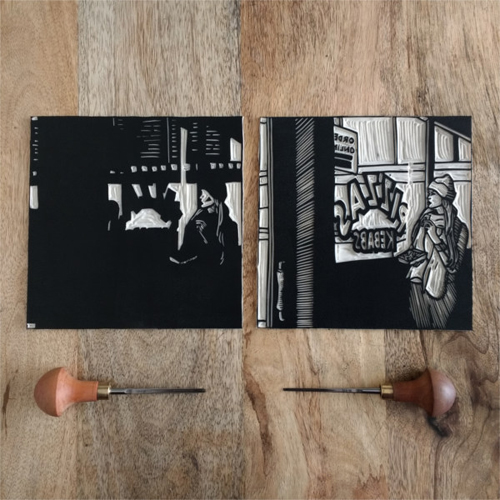 Where do you work?
I work in a tiny studio halfway up a massive hill in Edinburgh.
Two mango wood tables make up my workbench. The larger of the two used to be my dining table, until I realised I liked printmaking much more than I liked dinner parties.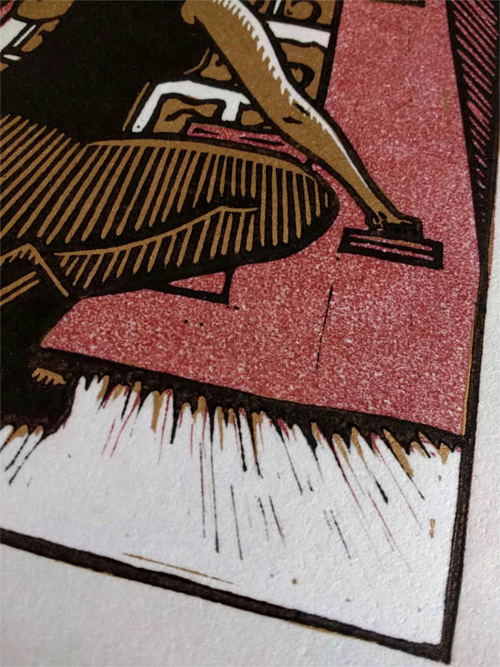 I can just about see Edinburgh Castle from my window and I'm in the process of hanging prints from other artists whose style I love.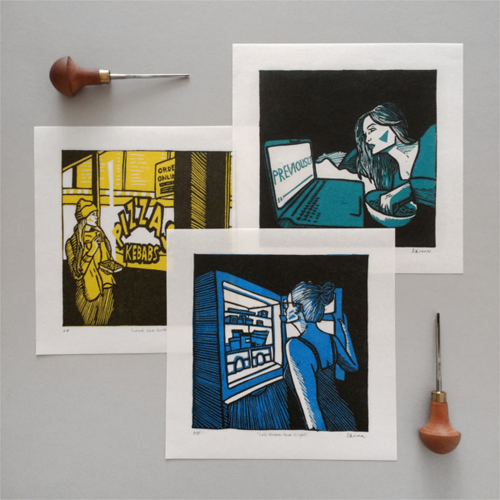 Describe a typical day in your studio.
Every day is different, but my favourite type of day is when it's sunny enough to film a process video.
I prepare by stacking up all of my stools to create a makeshift camera rig. I set up the shot and get the settings on my phone right. I prepare a cold, sugary drink with a straw so I can sustain my energy levels and keep my hands clean and dry. If it's still light after all of that, I film the video and edit it the same day.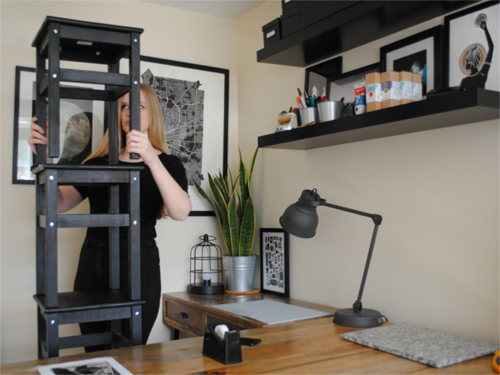 How long have you been printmaking?
I've been making linocut prints since December 2016, so about 2 and a half years.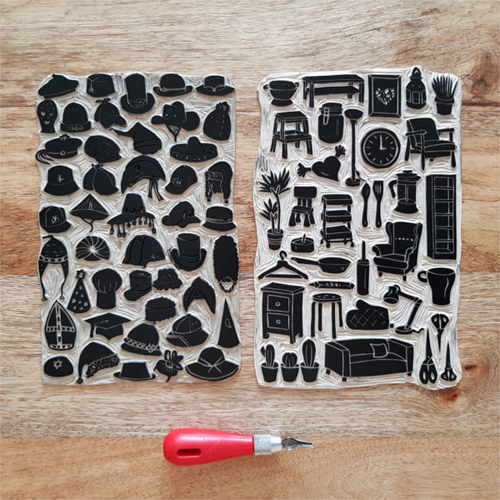 What inspires you?
My background is in psychology and that influences pretty much all of my pieces. Memory, emotions, the zeitgeist, identity and perception are a few topics that regularly inspire me.
Visually, I'm not quite sure what has inspired me until I see the finished print. Recently I can see a lot of 90's cartoons and Instagram-style interior design coming through in my prints.
What is your favourite printmaking product?
Awagami's handmade Japanese paper is my current crush. It's quite overwhelming to print on something which has so much beauty already. I feel like I'm printing on a piece of history.
My all-time favourite products include: Softcut lino, Pfeil tools, Cranfield gold ink and Speedball soft rubber brayers.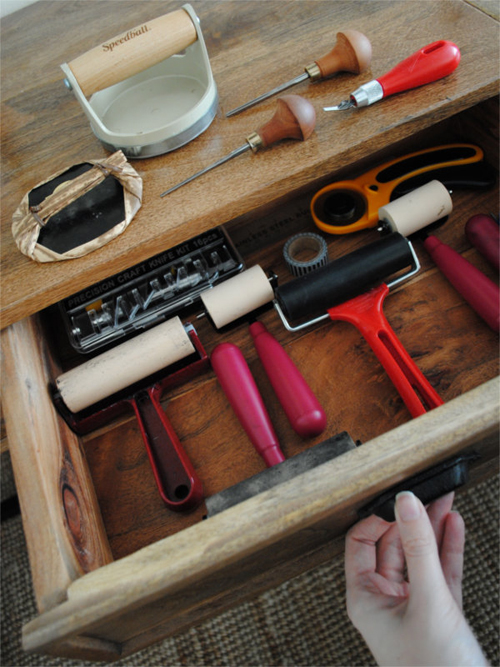 What have you made that you are most proud of?
'She who Walks Away' is the print I'm most proud of because of the reaction it received. I love that I've created something that has inspired strength and perseverance in (mainly) women from all over the world. The print is currently displayed in homes from California to New Zealand. It's very humbling.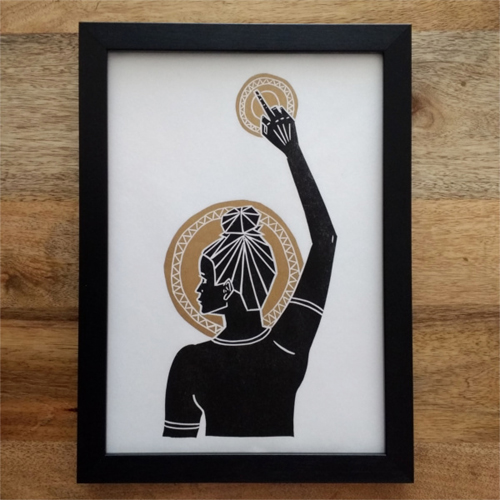 Where can we see your work? Where do you sell?
The best place to see my work is on Instagram. I post pretty much everything I make – including the duds! I also show a lot of my process there too.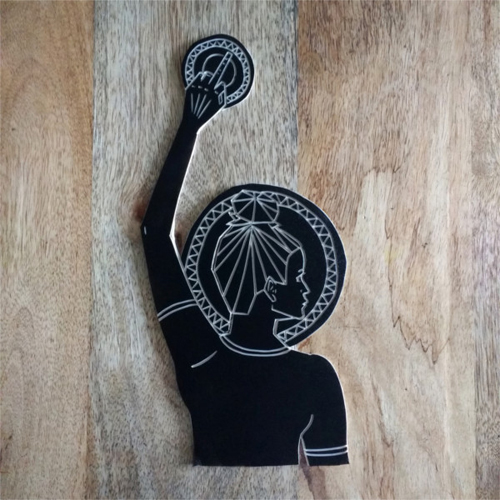 I sell most of my favourite pieces on my website www.kronaprints.com. The website also features a blog where I go into a little more detail about the things I'm making.
What will we be seeing from you next?
I'm superstitious and I don't want to jinx anything… Keep an eye on my Instagram account!
Do you have any advice for other printmakers and creatives?
Create things for yourself. Make things that you want to own and things that make you happy. If you do that, then you'll pretty much never be disappointed.
Instagram: www.instagram.com/kronaprints
Blog: www.kronaprints.com/blog
Shop: www.kronaprints.com/products