Meet the Maker: Laura Danby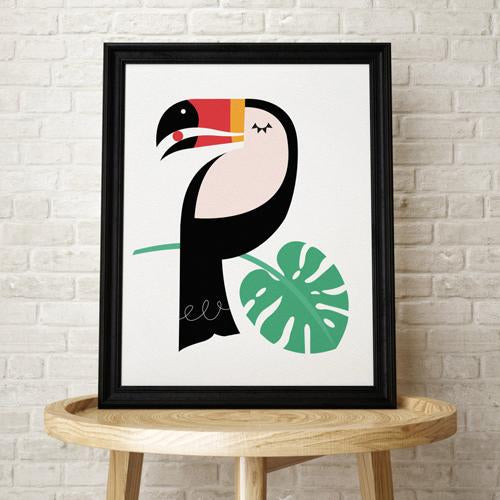 Hello! My name is Laura Danby and I am an illustrator / designer / print maker and creator from sunny Brighton! Inspired by simple iconic Scandi folk artwork
and retro styling from the 50s, I love taking a form and simplifying it into a bold design which can be printed, patterned, made into jewellery and
more! 
Describe your printmaking process.
I generally use Adobe illustrator to create my artwork in, unless its a paper cut stencil. When the design is ready. I print my separations onto acetate
and expose my screens for each colour. Once the screens are prepped and dry, I tape over the edges and any bits I don't want to print. Mix my ink up
and print away!
How and where did you learn to print?
I was given a gift to do a weekend's screen printing course at West Dean College. I absolutely loved it and totally got the bug. I met my lovely tutor
Jane Sampson, who I discovered ran a studio 10 mins walk away from my home in Brighton. So not only did I learn a new skill, I came home knowing it
was totally possible to carry on my new passion!
Why printmaking?
I am originally a designer, so I do love a sharp line! I love how screen printing gives me a slick, sharp edge in perfect flat coverage but still using
thick ink. It gave me the finish I was looking for. Plus I find printing is really therapeutic… once all the setup is done, I really enjoy the
process of squeegeeing! I get into a rhythm with it. There is always that added excitement when you lift the screen to see if it has come out right!
Where do you work?
I recently gave up my day job to do my illustrating and print making which I am absolutely loving. So I can say I now work for Laura Danby Enterprises!!!
Describe a typical day in your studio.
I have recently moved into the One Girl Band studio space in the North Laines in Brighton, which is filled with inspiring entrepreneurial women following
their own path. So my typical day would be first coffee, nothing can happen without coffee! Then my next job is to package up yesterday's orders and
answer my emails. Each day differs but general jobs would be to make stock for my shops, work on new pieces and prototypes, photograph products, list
items and keep my online shops up to date and running smoothly. I also do graphic design / branding work and this week I've been working on an illustration
for a magazine. To screen print I use local studios Ink Spot Press and Tidy Print, I tend to wait till I have a few designs, then go and blitz them
in a day or two. All this squeezed into between 9.30 and 2.30pm… my to do list is never ending!!
How long have you been printmaking?
About 5 years now.
What inspires you?
Nature, Scandinavian folk art, interior design, geometrics, travel and tropical wildlife inspire me to name a few!
What is your favourite printmaking product?
Hmmm tricky one, I love them all! I have been prototyping some new metallic patterned purses recently and they were simple patterns printed in metallic
ink (gold, silver and copper) onto a thick black linen. They were such a pleasure to print! Single colour and so simple, yet really rewarding! They
were then cut up and made into purses, backed with a crushed glitter fabric. So the result is luxurious and super shiny!
What have you made that you are most proud of?
Probably my toucan sitting on a big monstera leaf. I was so pleased with the design the way it came out when printed. It was a five colour screen print,
which tested my patience with the registration! I printed it on a thick watercolour paper, so the texture shows through the ink.
Where can we see your work? Where do you sell?
Online I sell on Etsy and Not On The High Street.
I am starting work with a few hand picked stockists, but as I am only a one woman company, I have to be realistic about what I can achieve in the time
frame I have. My big task in the next few months is to get my own website www.lauradanby.co.uk into an e-commerce site.
What will we be seeing from you next?
Good question! I have a few products prototyping that I plan to launch in the next few months. More illustration work, more series of images, more patterns
and definitely more screen printing. I have a dream to produce a set of enamel picnic ware, which has been a goal for a while. Watch this space!
Do you have any advice for other printmakers and creatives?
Follow your dreams! I feel so lucky that I am now making a living from my hobby. Its so refreshing to get off the computer and roll your sleeves up and
get mucky and covered in ink!
There are lots of ways to see more of Laura's wonderful work:
Website: www.lauradanby.co.uk
Instagram: instagram.com/lauradanby
Twitter: twitter.com/lauradanby1