Meet the Maker: Lou Tonkin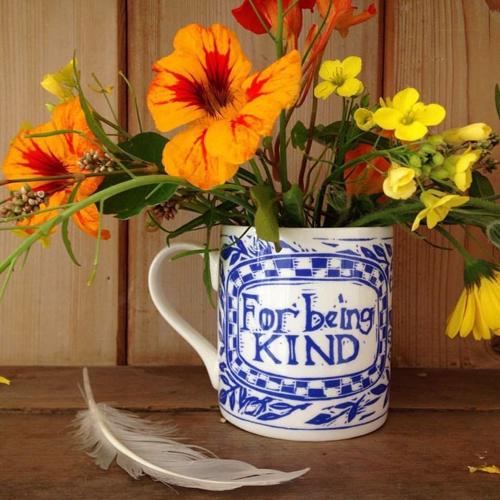 I'm a block printer working mainly with lino blocks, my work is largely inspired by nature & normally grows from our wonderful environment here in
Cornwall.
How and where did you learn to print?
I studied Illustration originally & while I didn't necessarily do print as a specific medium in that study it is a way of working that comes very naturally.
Why printmaking?
It's exciting! When you draw you know what the next mark will be but when you print the whole process of negative & positive shaping, the reverse process
etc. gives a lot of unknowns which has an outcome that feels like magic every time you do the first print.
Where do you work?
I work from home in a workshop which is a dream place to be.
Describe a typical day in your studio.
I mostly enter my studio after I've just done the school run & then the dog walk which means I'm generally super inspired by something I've seen when
walking & really relaxed because I've done some exercise & prepared my head for what needs doing or finishing that day. I get in, put a pot
of coffee on, answer emails, spend too long fiddling about on instagram then get on with the current print block or product I'm designing from a print.
How long have you been printmaking?
A good while but I've concentrated on JUST print for about two years.
What inspires you?
Nature, birds, a glorious walk in the woods, visiting somewhere interesting & generally being out & about.
What is your favourite printmaking product?
A really sticky inky ink… ideally in a dark indigo blue
What have you made that you are most proud of?
(My children) But in terms of print product it has to be the lowly 'For Being Kind' mug which was developed from a lino block but then I had it screen
printed for me locally on to bone china mugs. It's my favourite because every time someone buys one they tell me a story about the person they're buying
it for because they did something especially kind & then often I get a really kind reply from the recipient saying how much they loved it. It feels
like a double positive.
Where can we see your work? Where do you sell?
I sell from my etsy shop & my website www.loutonkin.com I also sell in lots of beautiful shops & galleries, I'll try to list some (I have a famously terrible memory!)
: Me and East (Totnes), Midgley Green (Clevedon), Era of Leek, Mulberry Tree Gallery, Blue bramble Gallery, Circa 21 (Penzance) Tremenheere Sculpture
Garden, The Poly Falmouth, Morva (Marazion), Cornish Food Box (Truro).
What will we be seeing from you next?
I'm working on a new repeat print inspired by my love of Victorian stained glass.
Do you have any advice for other printmakers and creatives?
The same advice as I'd give for anything, work on what inspires you & do lots of it. Immerse yourself & enjoy it.