Meet the Maker: Maarit Hänninen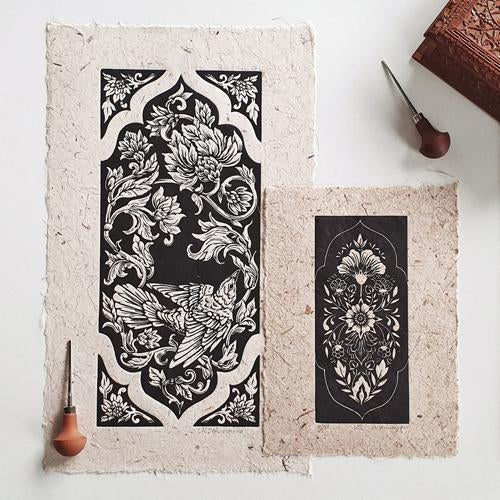 My name is Maarit Hänninen. I'm a Finnish printmaker and artist living in the Netherlands. I love traditional/folk art, nature, plants and animals, and all these elements are all strongly present in my work.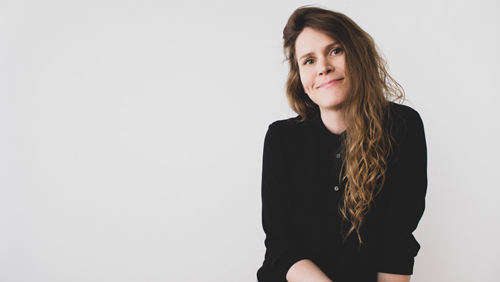 Describe your printmaking process.
I work mainly with linocuts. After sketching a design (either with pen and paper, or a digital tablet) I hand-carve, print and dry all my prints with minimal equipment in my tiny 10m² studio. I actively document and share my process with the online community through social media and YouTube.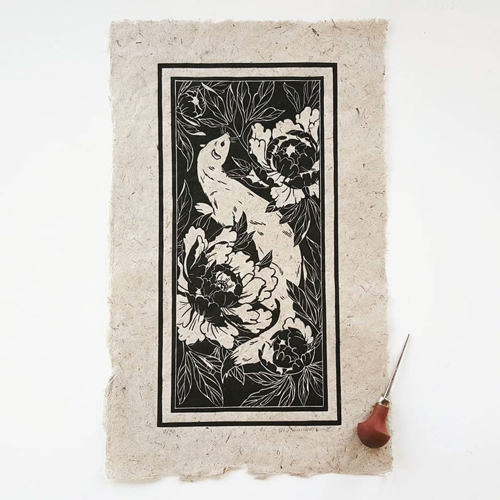 How and where did you learn to print?
My first introduction to linocuts was in grade school when I was 10 or so (I made a yin yang symbol for my Mom). But much later, while studying at Liminka School of Arts in Finland, part of the curriculum consisted of intaglio printmaking and woodcut. I had enrolled in the school to improve my drawing and painting skills, and at first, I didn't know what to make of printmaking. It took me a while before I learned to appreciate the art form.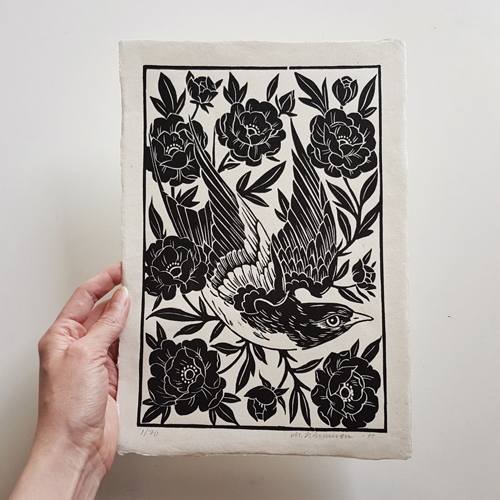 Why printmaking?
Before becoming a printmaker, I drew. But before I started drawing, I loved making just about anything with my hands. Whether it was textiles, sculpting, baking, building or gardening, if it meant creating something new, I loved it. Through printmaking, I can combine various craft elements with drawing, thereby satisfying not only the artist in me, but the maker as well.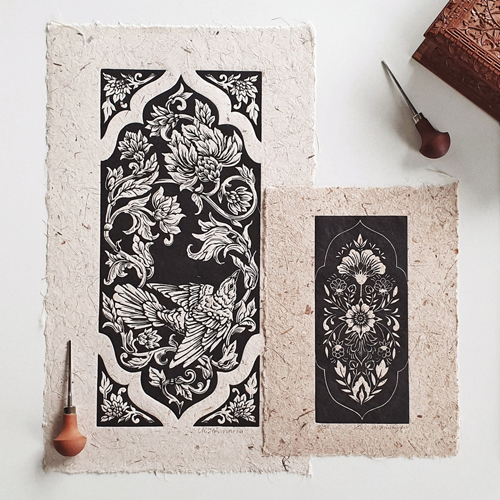 Where do you work?
I work at my Amsterdam-based home studio. This is an ideal place for me to work because, not only am I an introvert, but this way I don't need to brave the rainy and cold Dutch weather.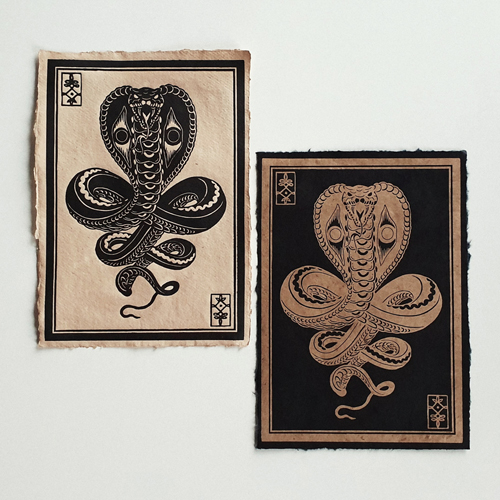 Describe a typical day in your studio.
No two days are alike, but I always try to start working by 9 am and be done by 6 pm (though I often find myself working later). Before I begin working, I usually start my days by sitting down at my desk to eat my breakfast and stare out of the window, just to relax for a moment. I run an online store where I sell my prints, so much of my time is spent on the business side of things: packaging orders, administration, content creation, etc. The days I'm fortunate enough to dedicate just for the creative work, I usually have a schedule in place. One day might be for sketching, the next day carving, and some days are all about printing.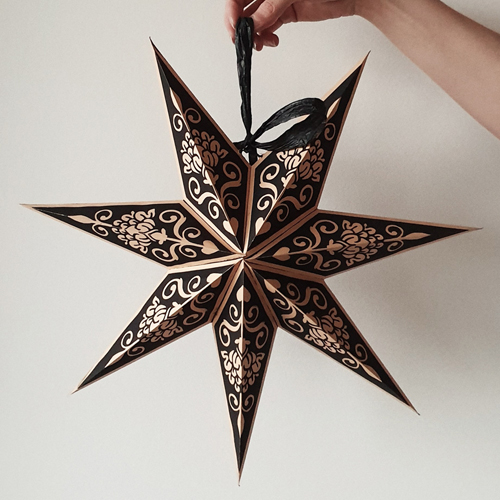 How long have you been printmaking?
Outside of the one year at art school, I've been printmaking for nearly three years.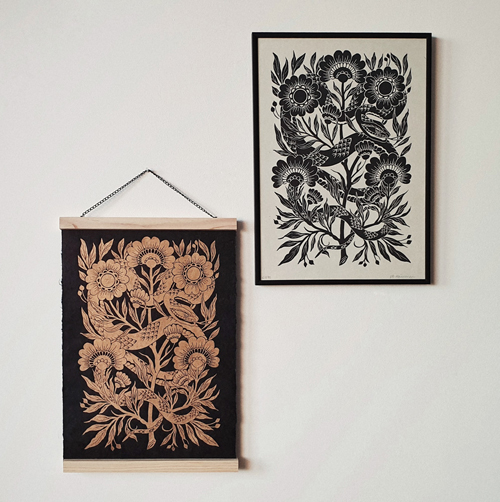 What inspires you?
My biggest inspiration is nature. I love plants and animals, and so it feels natural to use them in my work. I love the strong design and illustrative qualities often used in folk art and old school tattoos, and I seek to create my own, contemporary interpretation of them.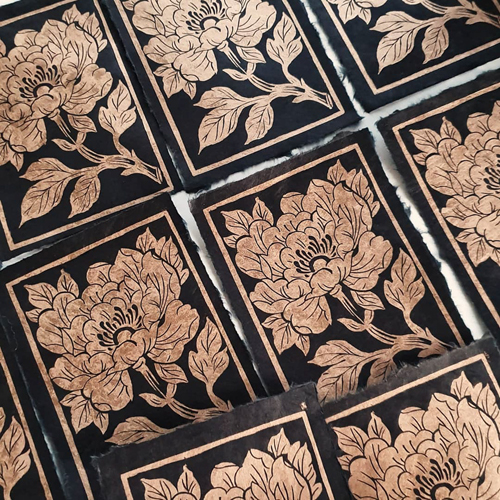 What is your favourite printmaking product?
There are so many great ones that it's hard to choose just one, but probably the biggest game changer for me has been my press. It's an A3 tabletop etching press, and I don't think I could keep producing the volume and quality of work that I'm currently making without it. It's just the right size for my studio, mobile enough to be stowed away when not in use, works great for my A3 size (and smaller) linocuts, and is just an overall solid and affordable piece of equipment.
Second place would go to Cranfield Colours gold (and recently also their copper) ink.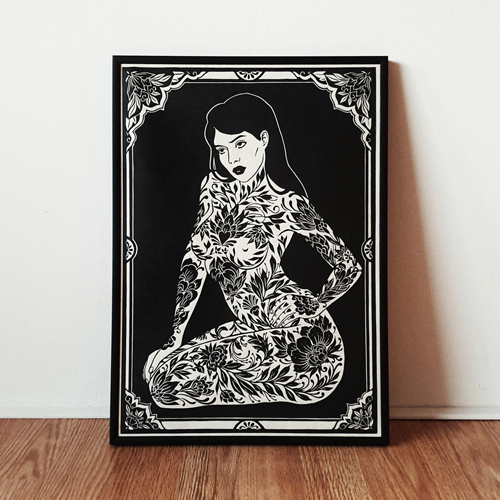 What have you made that you are most proud of?
My recent linocut "Lady in Black" is my largest and most intricate project so far. Not only did it take the longest to design and carve, but I filmed the entire process of carving it, keeping the block still the entire time – something that is quite challenging for someone who's used to turning the block every few seconds. I compiled the footage into a one-minute time-lapse video that you can watch on my Instagram page.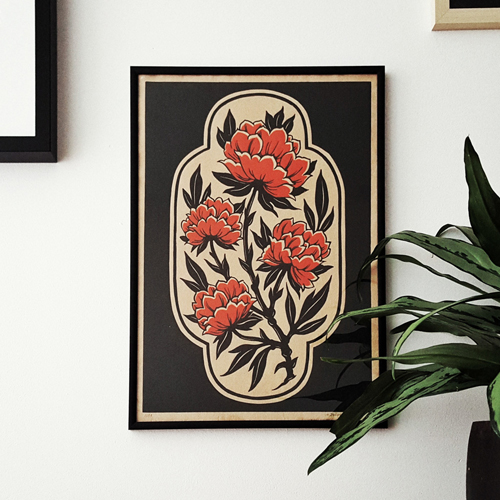 Where can we see your work? Where do you sell?
I'm most active on Instagram, but you can also watch videos of my printmaking process on my YouTube channel. My prints are available for purchase on my website.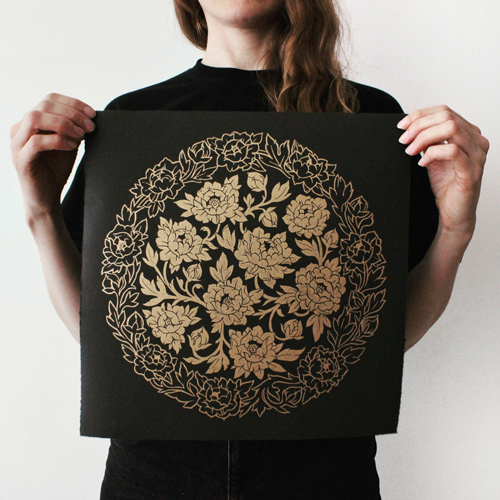 What will we be seeing from you next?
I will be focusing on more floral linocuts in my signature style. I'm also planning on producing more content for my YouTube channel, and I'm hoping to expand my catalogue to other products as well in the future.
Do you have any advice for other printmakers and creatives?
Be patient, love your work, and don't be afraid of making mistakes.
To see more from Maarit check out her website, Instagram, Facebook and YouTube.