Meet the Maker: Mariko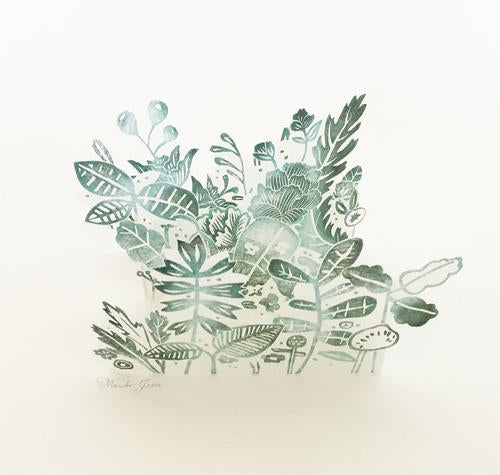 Hello! My name's Mariko and I'm an illustrator and printmaker. I grew up in Hong Kong, went to school in London, travelled around for a bit, and have just moved from California to Tokyo, although I do still travel all the time. I work on commercial illustration commissions such as cookbooks, window displays and packaging, as well as spending as much time in the print studio as I can.
Describe your printmaking process.
I primarily do etchings, but am spending more time on Japanese woodblock (mokuhanga) printmaking, especially now that I'm in Japan. For my mokuhanga prints,
I start with sketches, and try to develop a simple idea in lines and shapes. I carve the woodblock slowly and carefully. This is my favourite part!
I love the feeling of the wood slowly revealing its shapes as I carve. Then I print.
How and where did you learn to print?
I did my first monoprint at kindergarten in Japan, developed basic lino-cut skills in highschool, and did my first etching on my foundation course in London.
I spent a lot of time printmaking at art college, learning silk-screen as well as developing my etching skills. I studied mokuhanga at the Nagasawa
Art Park (now Mi-Lab) residency in Japan in 2004 and fell in love with working with wood immediately.
Why printmaking?
As long as I can remember, I've always loved the feeling of ink and paint on paper. But I've never been that into painting. Somehow print adds another
dimension to how I make art, another layer of process that adds a tiny element of chance. I love that I'm not totally in control of the outcome. An
added texture there, a little highlight here, it adds up to a sometimes-unexpected beauty.
 Where do you work?
I do etching either in my printmaking co-op the Graphic Arts Workshop in San Francisco or at the London Print Studio when I'm in the UK. I do mokuhanga
at home, as there's no need for a printing press and I can sit at my low Japanese table on the floor to work.
Describe a typical day in your studio.
There aren't really typical days in my life, but on a day that I'm going in to the etching studio to print, I'll start by doing any drawing prep at home,
make myself a packed lunch and flask of Japanese tea, and then drive to the studio, about twenty minutes away in Dogpatch, San Francisco. I'll choose
a table with lots of sunlight to work at and set out all my tools. I tend to work very quickly, so I can usually cut a plate, put ground on it, draw
it, etch it, and print tests from it all in one day. If I decide to edition it, I'll come in again and print the edition in one day.
If it's a mokuhanga day, then I'll stay at home and sit at my low table, and if I'm carving, will probably be there for the whole day. And the next. And
the next. If I'm printing, I like to get it all done in one day, so the paper doesn't have the chance to dry out.
 How long have you been printmaking?
I've been printmaking seriously since art college, so around twenty years. Today I looked at two of my prints side by side and realised that there were
forty years between them. So maybe the answer should really be forty years!

What inspires you?
I travel all the time, visiting museums and galleries, and looking at the world around me for inspiration. I'm constantly drawing what I see, and my sketchbooks
then fill up with inspiring things. I collaborate regularly with friends on various printmaking projects and they also always inspire me.
What is your favourite printmaking product?
I love my carving tools. Both my grandmother and mother also carved from wood, and I've inherited all their tools. My grandmother even made some of her
tools by hand. I sometimes buy old tools from Japanese flea markets if they look interesting. My prints are quite small, so I love tiny-bladed carving
tools.
I also love the barrier hand cream I got from Crown Point Press in San Francisco, for when I'm etching. It smells nice! I should really learn to use gloves,
but I can't give up the feel of the ink of the metal plates, so barrier cream is pretty important for me.
What have you made that you are most proud of?
I often look back at the first print I made when I was around 3 or 4 years old: it's a single rose, and I find myself trying to recapture some of that
simplicity. It's quite similar somehow to my newest mokuhanga print of a peony.
I've illustrated five cookbooks for Hugh Fearnley-Whittingstall's River Cottage in the UK, each one with a slightly different style and technique, and
the most popular by far has been River Cottage veg. I made the illustrations for that book from prints of actual vegetables: it's next level
vegetable mono-printing. I love how they came out, and am now an expert on which vegetables print well!
I'm also very proud of the project I did about fifteen years ago for the Hong Kong subway system: I made over one hundred and fifty multi-plate etchings which were then reproduced on a large scale on vitreous enamel panels to renovate an entire underground station. I sometimes go there and marvel at the sheer scale of it.
Where can we see your work? Where do you sell?
My HK subway project is permanent and open to the public, just pop along to Cheung Sha Wan MTR station. My illustration/print work can be seen in the River
Cottage cookbooks and I try to exhibit my prints at least once a year, in various galleries. I occasionally put prints for sale into my online shop and my ceramics are for sale from faux in Hong Kong:
What will we be seeing from you next?
I'm going to spend the next year concentrating on honing my Japanese woodcut skills, being inspired by Tokyo everyday life, and making more artwork. I'm
working on several big illustration projects, so hopefully more printmaking will balance out the computer work. My collaborative printmaking project
wood + paper + box is also ongoing and a spin-off project from that, into the fold, will be touring and showing in three separate
locations this year: Philadelphia, Kansas and Tokyo.
Do you have any advice for other printmakers and creatives?
Work hard and be determined! Find other printmakers and support each other. It's really helped me a lot to work collaboratively and get advice whenever
I get stuck. I love going to the mokuhanga conferences and listening to the experiences of other printmakers and seeing their work first-hand. Being
able to do what you love is such a privilege, enjoy it as much as you can!
Find more from Mariko:
Website: marikojesse.com
Instagram: @mariko.jesse
Blog: marikojesse.com/blog
Mariko's collaborative printmaking group: woodpaperbox.com