Meet the Maker: Mark Jelliman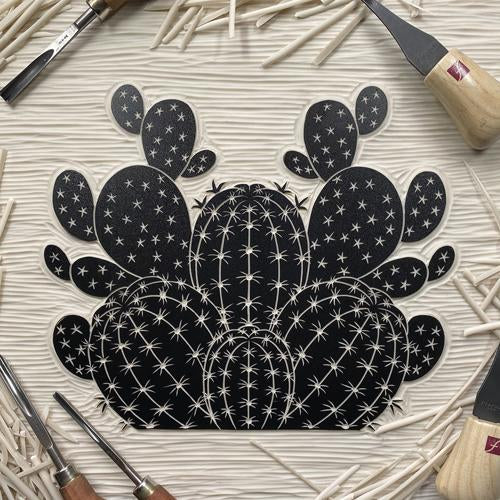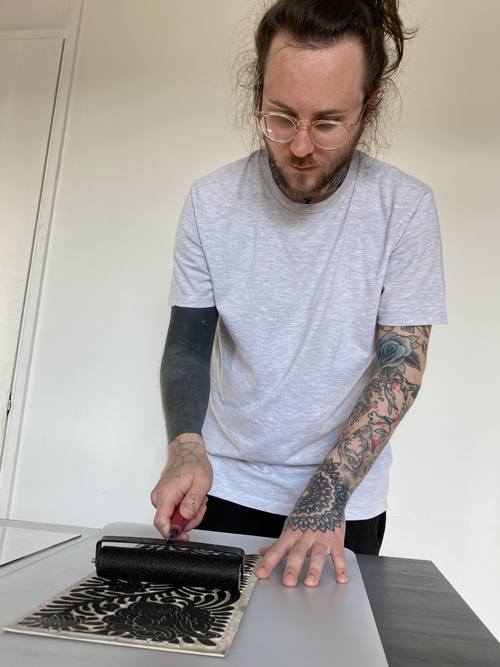 How and where did you learn to print?
I did a small amount during my degree in Art but didn't continue as I moved into digital artwork. Being a tattooer, I have always worked in a medium where your canvas leaves with your work at the end of the day. I wanted to get back to creating something hands-on, where I can make something and keep it at the end of the process. Once I tried working with lino, I was hooked.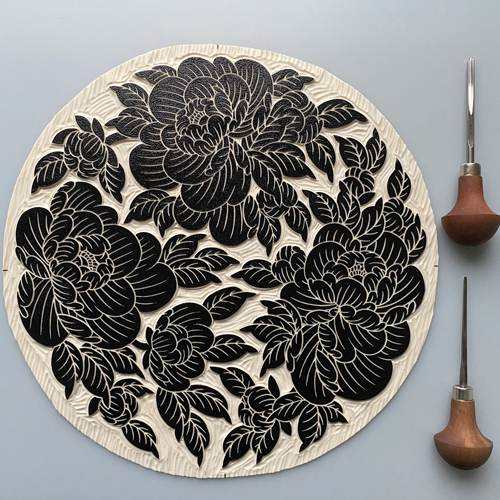 Why printmaking?
I have always enjoyed working with wood and carpentry, where you physically mould and create the piece. I decided to give printing a go again so I bought a few pieces of wood and lino. Once I started with the lino, I loved it and bought more!
Every piece is as close to unique as possible, and that made printmaking stand out for me. Every finished print is handmade and has its own texture in the ink, its own edging to the handmade paper, it's all unique. Compared to a screenprint, where its a uniform copy of the artwork, 20 times say, each print I make is individual.
Printing stands out for me because I love that I am responsible and do every step of the process myself. From cutting out the design, cutting the paper, printing, running the press, hanging up, signing, packing and sending. I do it all, and I love that because I know everything meets my standard for what is good enough to go out to a client.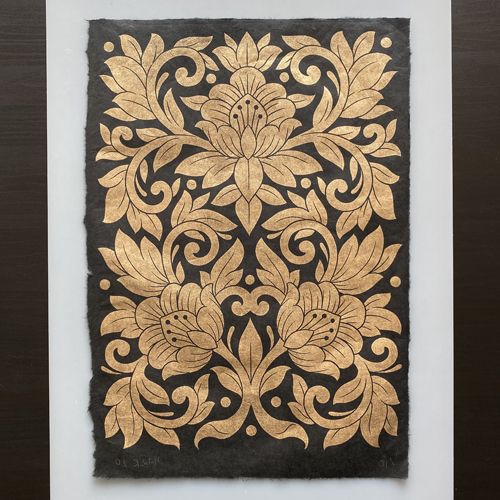 Where do you work?
I work in my art studio in South East London, originally I was working in my spare room but I stepped up my equipment and ended up outgrowing the room, so now I work in a studio where I have the space for my equipment.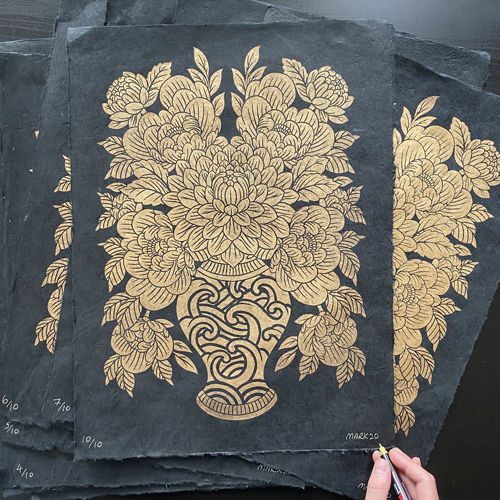 Describe a typical day in your studio.
It always starts with a cup of tea. After I have checked in on my emails, I'll draw up a design and get it transferred onto lino and start carving if I have time. Printing is always a full days work, so that is a day on its own. It really depends on what part of the process is on the agenda.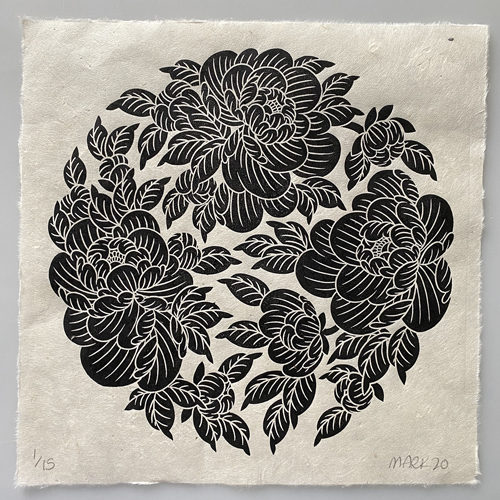 How long have you been printmaking?
Around 9 months I would say. Lockdown allowed me to take on printmaking full time for a period, and that is where it really took off once I was able to give it some real attention and time.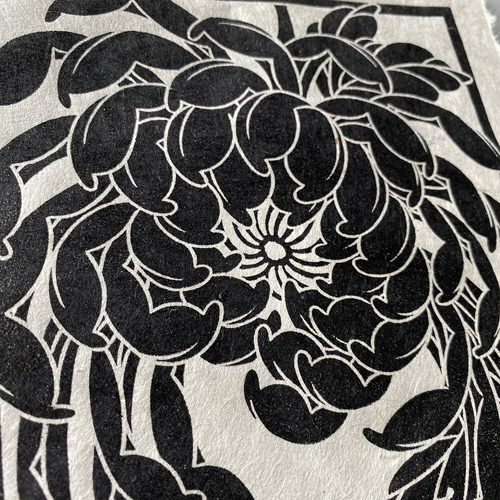 What inspires you?
Pattern work and baroque imagery, as well as traditional Indian imagery. Botanical illustrations are also a big influence. I am always looking in antique bookshops to find hidden gems for new ways of looking at pattern and botanicals.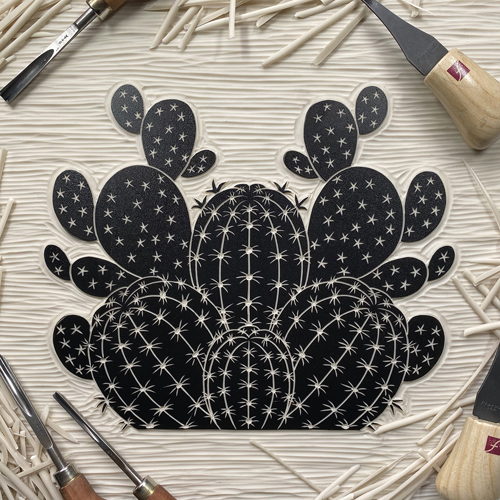 What is your favourite printmaking product?
I love my inks, but my favourite item is my cutting tool. I use Pfeil cutting tools, and they are the best part of my arsenal as they cut fast and easily into the lino.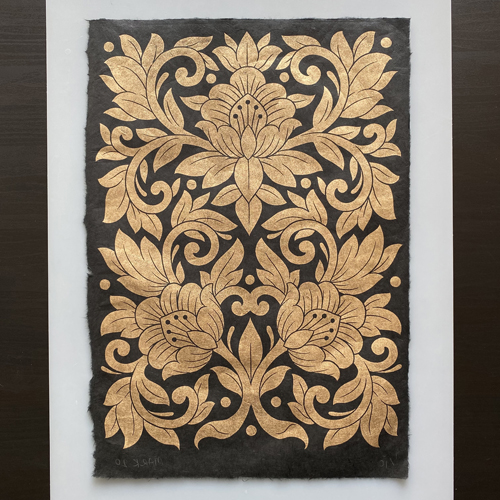 What have you made that you are most proud of?
I have made so many prints I love, but the one I love most is the Baroque floral print I made. It was the first symmetrical piece I did, which was the most daunting aspect of printing, and something I aimed to do which was a real turning point for my work. Once I had finished that piece, I realised I could do symmetry and I started to look to do more difficult cuttings that I had ideas for but was hesitant about attempting.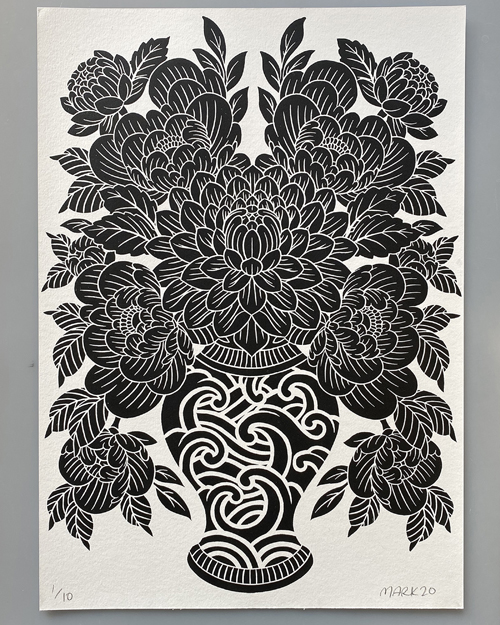 Where can we see your work? Where do you sell?
I sell online through my website. I have just invested in a new piece of equipment that is going to take my printing to a much larger scale, which is where I have always wanted to go since starting.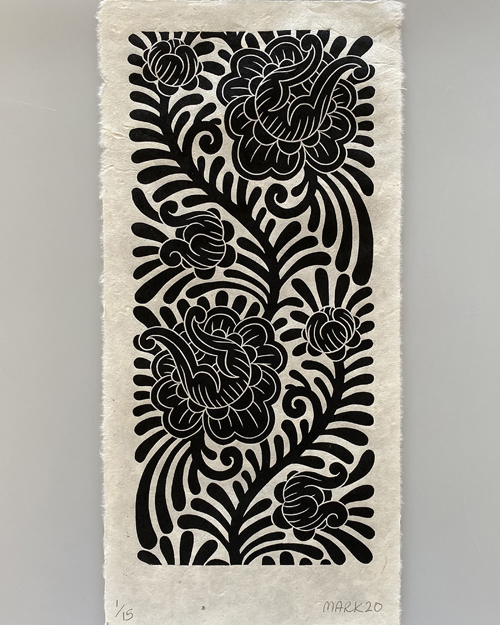 What will we be seeing from you next?
I am currently working on some very large scale printing pieces, and also some of the most intricate pieces I have done to date. I like to go the point of highest difficulty and see how far I can go with my printing.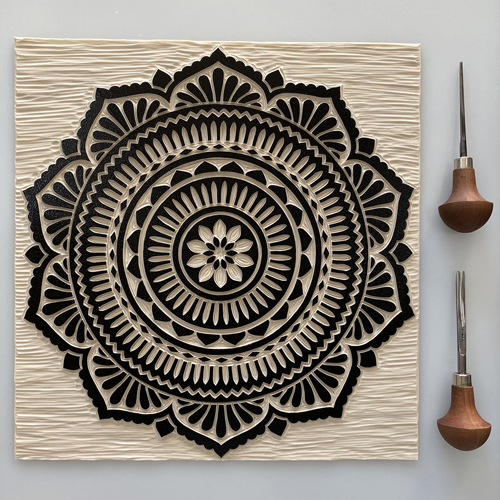 Do you have any advice for other printmakers and creatives?
Start small, and then make it more intricate. The worst mistake I made was trying to start with a difficult project. If you start with a big task and you don't get the result you are aiming for, you might feel demotivated and give up. It's much better to start with a simpler design, and master that, and then cut more into it to add more details. As you get used to your tools and techniques, you can improve the easy design and end up with a better piece, but most importantly, a better mindset for yourself and for printing. And don't give up!