Meet the Maker: Miesje Chafer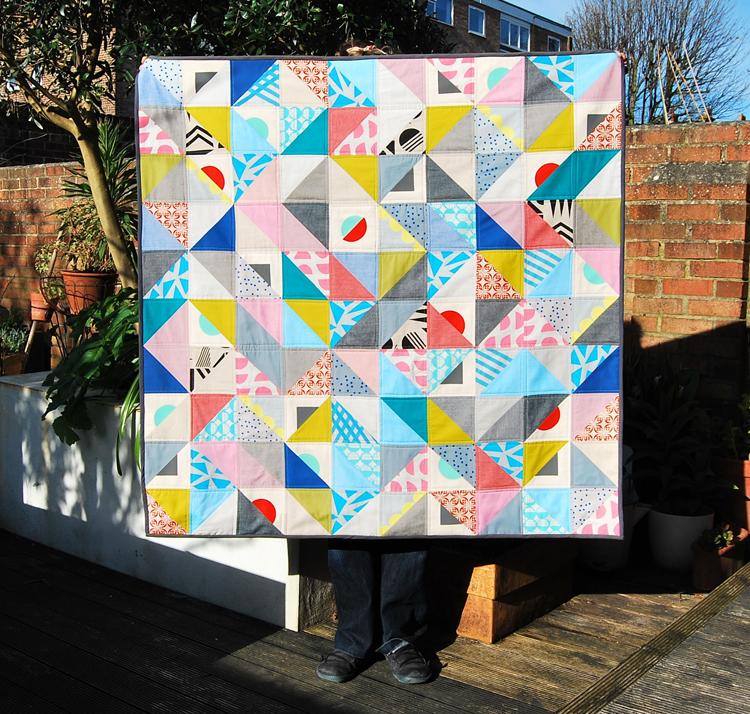 Hello! My name is Miesje Chafer and I am textile designer, screen printer and maker. I live down in Southsea and work at The Sorting Office studio in Eastleigh,
Hampshire. I have an unquenchable thirst for fabric, pattern and colour and love nothing more than knocking up a prototype that's been niggling away
at the back of my brain.
Photo credit: Harry Usborne
Describe your printmaking process.
My designs either begin with a doodle, which I scan into photoshop to play around with to come up with the repeat, or a stencil cut from paper. I then
screen print my fabric in whichever colour or pattern I need for the product I'm making that particular day.
How and where did you learn to print?
I learned to screen print at the London Print Studio on a three day paper printing course. I'd never tried it before so it was all a very new and exciting
experince for me! Once I'd done that I joined the Oxford Printmakers Cooperative, where I battled through months of tears, tantrums and terrible printing
to finally get to a point where I was printing fabric I was actually happy with.
Why printmaking?
I don't really know what attracted me to screen printing originally, as I've said I hadn't tried it before. I think I had a vague notion that it would
be a relatively easy and cost effective way of getting my designs onto fabric. I took me quite a look time to get any good at it, but once I'd cracked
the technique it opened up a whole world of possibilities.
Where do you work?
I have a lovely space at the Sorting Office Studios in Eastleigh. As the name suggests it used to be a sorting office but was converted into 16 studios
about three and a half years ago. After having worked from home for a quite some time it was brilliant to find somewhere relatively local that I could
work surrounded by other artists and makers. As well as all the fab people, we also have screen exposure facilities, a big room we use for teaching
workshops and photography, brilliant managers who source us funding for various projects and a business mentor.
Describe a typical day in your studio.
Rock up mid morning (the joys of being self employed and no alarm!), have a bit of breakfast and do all the boring email admin, then crack on with some
printing. In the afternoon I'll sit down at my sewing machine for some making – the day is usually interspersed with chats with various other members
of the studio!
How long have you been printmaking?
About six years, although it probably took me a good two years to produce anything that I was really happy about selling.
What inspires you?
It's so difficult to say, broadly speaking I think my work has a Scandinavian/mid century feel to it, however I'm usually inspired by colours and shapes
that maybe catch my eye for a few seconds, or a mundane object taken out of context. It's tricky to explain, I think everything I see subconsciously
goes into the mental ideas pot and pops out as something concrete a few months down the line!
What is your favourite printmaking product?
I love bit of Speedball Hot Pink, it's the best shade of neon pink I've found to date.
What have you made that you are most proud of?
I recently made a quilted patchwork wall hanging, I should really probably have it up for sale on my website but it looks so good on my wall and was such
a labour of love that I can't bear to part with it!
Where can we see your work? Where do you sell?
I've recently started adding more products to my website, but I also have work in the Old Fire Station in Oxford, Loop in Islington, Lowie in Brixton and
Paisley and Friends down in St Leonards. I do quite a few fairs and markets over the course of the year, mostly in the run up to Christmas and we also
have open studios twice a year in June and November.
What will we be seeing from you next?
I'm planning something a little bit bonkers to enter into the Festival of Quilts, that'll be the next big project!
Do you have any advice for other printmakers and creatives?
Don't be afraid to play, sometimes the best ideas come from mucking about, and it really doesn't matter if things go wrong – you don't have to show it
to anyone!
See more of Miesje's work on her website: www.miesjechafer.com